TOP STORY: Labor is improving amid other challenges influencing the truckload experience
Labor is central to the logistics experience. Workforce demographics are key to trucking and warehousing jobs. As cited in publications and webinars by C.H. Robinson, the U.S. Census bureau data suggests a broadly aging workforce, with meaningful pressure on trucking as baby boomers continue to retire.
People 45–65 years old make up roughly 40% of trucking jobs. This demographic has been declining since 2018 and will continue until about 2025. It will not expand again until about 2030.
As we think of the trucking labor market however, gains have been made across the industry. Local trucking is up 10.6% from three years ago according to Jason Miller, associate professor of logistics at Michigan State University. Long-haul trucking and LTL markets continue to lag. In October, long-haul job openings improved but were still short 12,700 from same period in 2019 before the COVID-19 pandemic.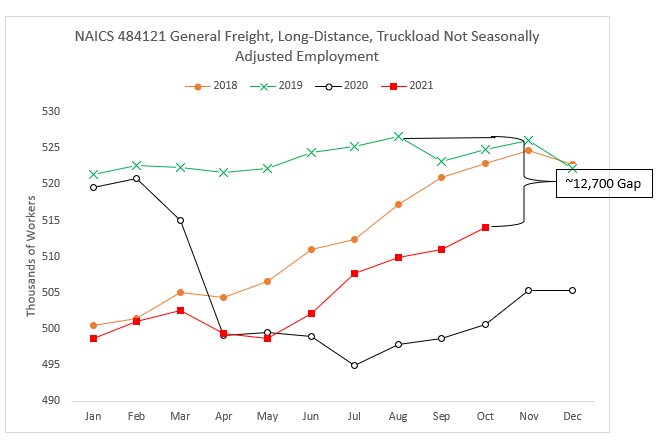 Source: Jason Miller, PhD. Additional reference to this visual on our blog at www.chrobinson.com.
These long-haul and LTL gaps are meaningful to the trucking experience. Expect them to improve in 2022 because of escalating wages and improved lifestyle efforts of the carrier community. Keep in mind, this gap may be slightly better than shown above as some talent migration the owner-operator segment is not reflected in the above figures detail due to self-employment status.
Regional trucking insights
Southeast and Northeast markets are experiencing more traditional seasonal levels
Texas and California markets are experiencing high demand, requiring continued diligence on both capacity strategy and lead time
Year-end seasonal insights
Shippers started tendering loads for the for the last two weeks of the year the week of December 6, 2021
Expect a similar trend as Thanksgiving in the last two weeks of December: tightening market, increased overall demand, increased spot market pricing, and route guide pressure
How the vaccine mandate impacts trucking and LTL
As mentioned in the government update of this report, there are no new updates to the implementation of the two executive orders mandating vaccines and there are many court challenges against them.
Truckload services will likely see minimum impact in United States and Canada for intra-country moves. For details on the potential capacity concerns for less than truckload (LTL) service and cross-border trucking between Canada and the United States, see those sections of the report.
U.S. truck drivers are anticipated to be largely exempt from the OSHA mandate. Source: CNBC, quoting the Labor Secretary
Canadian truck drivers are 85%–90% vaccinated Source: Trucknews.com
Most LTL carriers are subject to two key elements of the mandates: Over 100 employees and holding government contracts
What to know about imports and inland transportation
Container dwell fees continue to be delayed as progress to clear the ports continues
The Port of Los Angeles and the Port of Long Beach announced today that consideration of the "Container Dwell Fee" would be held off another week, until Dec. 20.
Since the fee was announced on Oct. 25, the twin ports have seen a combined decline of 47% in aging cargo on the docks. The executive directors of both ports will reassess fee implementation after another week of monitoring data. Source: The Port of Los Angeles
Ocean's impact on trucking in the near term
Ports will continue to face pressure for trucking and intermodal services well into Q2 2022. Use the following insights to better understand the sustained volumes and efforts to improve port congestion.
Capacity from China and Southeast Asia continues to be very tight, expect this to continue through Q2 2022
Congestion shows an improvement on paper, yet as carriers dwell further upstream, they're not being included in backlog revised calculations
Ocean carriers are pushing more interior point intermodal (IPI) cargo to inland ramps to help with port congestion
Ocean carriers may send extra vessels to clear accumulated empty containers across terminals to enhance the fluidity of offloading and reloading empty containers
Rates continue to be elevated and are expected to stay high before a pre-Chinese New Year rush
Airports continue to experience high dwell for imports
Trucks picking up imported air freight at U.S. airports face lengthy dwell times. LAX is the largest concern with dwell times that can last all day and into the next. In some situations, drivers need to be swapped out while a truck is still in line. As such, more companies seek transload facilities to transfer the load to team drivers to make up for lost time, but this increases cost and takes time to implement.
Spot market, committed market, and capacity insights
Spot market under continued pressure
All three primary truckload segments continue to display unprecedented load to truck ratio (LTR) tension. The charts below show six years of DAT's LTRs. The red line represents 2021.
A 3:1 LTR for dry van can be considered a reasonably balanced market, while balanced for refrigerated is closer to 6:1 and flatbed considers 20:1 balanced.
Throughout 2021 spot markets have been stressed and unique. As capacity continues to enter the market in 2022, these levels could decrease. Additionally, as trailers, containers, and chassis are unloaded and released to rotation, market tension may be improved. This will be a prolonged process of increased optimization. Currently, expect the first half of 2022 to continue with some higher levels of tension. The second half of 2022 is less clear.
Dry van LTR
The graph below shows some downward trending of the dry van national LTR average. The map later in this report provides more detail to regional areas of tension and balance that create the national average.

Refrigerated van LTR
Like dry van, refrigerated LTR shows a slight relaxation of tension, but LTR levels are still at historical highs. Like dry van, refrigerated shipments have areas facing regional pressures and others closer to balance.

Flatbed LTR
As shown below, flatbed is experiencing a favorable trend while at historical highs. See the flatbed section of this report for more insights on the forthcoming flatbed seasons.

Through the upcoming holiday season until the end of 2021, expect active capacity to contract due to holidays and family gatherings. Some carriers are offering incentives to keep drivers at work against the market opportunity. Year-end freight volumes have the likelihood to be strong, especially in the port markets, so tension is expected to be high through year end in the ports and likely across the broader markets.
Be proactive on shipping plans and capacity strategies. Regional inclement weather could be problematic as it was with late winter weather earlier this year.
Dry van DAT LTR by region
The map below clearly shows high pressure in port areas, especially Southern California, cross-border Mexico, and Southeast ports.
Yellow, orange, and red regions are higher tension as they display LTR's over 3:1 (Note that yellow is up to 6.9:1)