TOP STORY: The impact of hurricane season and recent storms on transportation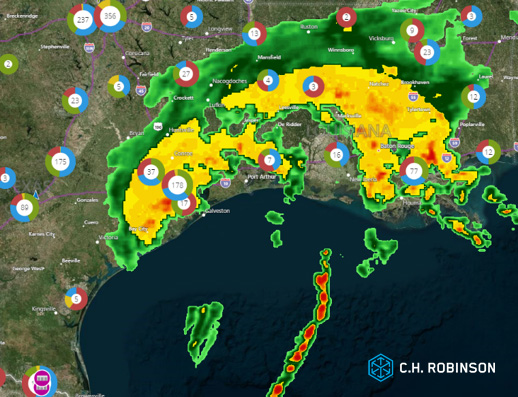 During national holidays and annual events, it's simple to predict when drivers and carriers will take time off and shippers will ship less.
But what about large, unpredictable events, like hurricanes? NOAA has forecasted another active hurricane season. In fact, forecasters suggest 2021 will be a year of higher than normal hurricane activity. While this does not necessarily mean transportation disruption, supply chain professionals should plan for "what-if" scenarios.
Hurricane season in the United States is typically June through November every year. While hurricanes are not scheduled events like national holidays or DOT's annual Roadcheck week, there is a predictability to their impact. This predictability means it's possible—and smart—to use insights gained from past hurricanes to develop more resilient supply chain strategies in the face of disruption.
Harvey, Irma, Michael, Laura, and Delta
Using DAT data during five hurricanes in recent history offers many insights on load to truck ratios (LTR) and spot market cost per mile (CPM).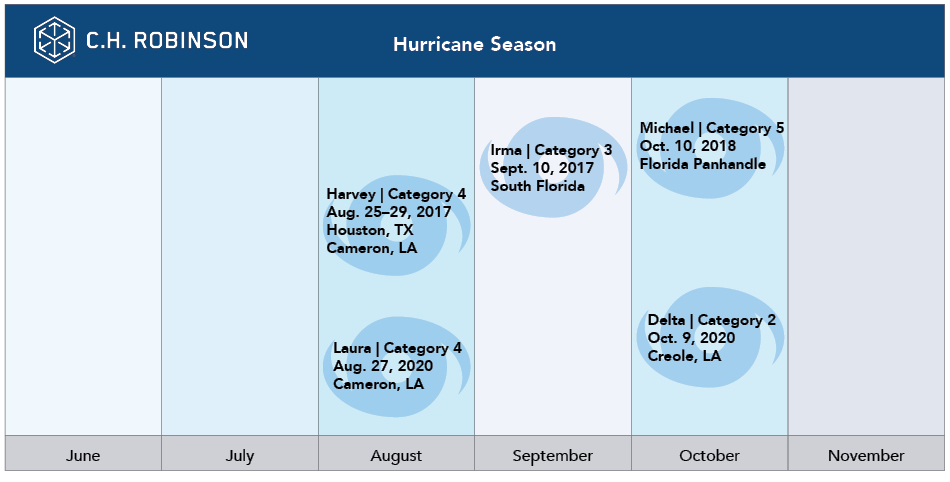 Insights gained from hurricane Harvey
In 2017, hurricanes Harvey and Irma landed back to back and disrupted life and logistics for the southeast United States. Harvey had two landfalls and stalled over the Houston, TX region, dropping unprecedented rain—as high as 60.5". This caused flooding, shutting down logistics hubs, roads, and supply chains for the fourth largest city in the United States.
Two weeks later, Irma landed in south Florida and moved north up the peninsula with gale-force winds and rain to Georgia, before weakening to a tropical storm.
Respectively, the two visuals below show outbound and inbound loads from the Houston area during hurricane Harvey. Both provide an aggregate view of a 150-mile radius and show load volumes and load volume changes as a rolling seven-day average. Here's how to interpret the charts:
Day zero: Harvey's landfall in Texas, the day of impact in Louisiana is not represented.
Gray bars: Change in loads per day in the Houston region.
Orange bars: Change in loads nationally.
Blue line: The DAT outbound aggregate change in CPM for the Houston area.
Orange line: The nationwide aggregate change in CPM.
There is an increase of about 7% in CPM just before landfall, then the CPM increase falls off as the Houston shipping community essentially shuts down from the storm and flooding. By day five, pricing starts to rise as the market works to entice carriers to move freight within the flood area. Pricing continues to rise over 35% from the start of the event to day 11, before finally settling down around day 15.
Note how the overall market rose about 10% during the worst part of the storm and settled to ~5% increase for the period shown. As the fourth largest city in the United States, Houston has an impactful freight economy, which can (and did) disrupt truck flows nationwide. Also, keep in mind that during the peak of the storm, both loads posted and trucks posted in the Houston area fell (similar to some national holidays), making LTR's appear a bit misleading when compared to non-disruptive periods.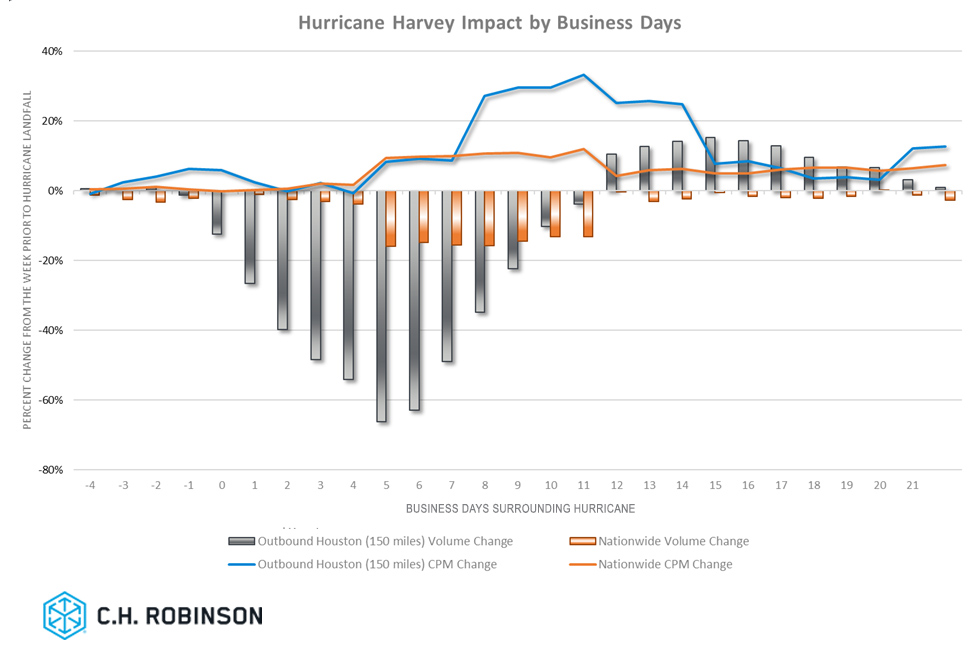 Source: C.H. Robinson seven-day average load volume and rate data outbound shipments from a 150-mile radius region from Houston, TX.
For inbound loads to the Houston area, businesses and carriers curtailed activity and increased CPM three days before Harvey hit Texas. This activity continued upward to day 11 before decreasing.
Note the persistent elevation in CPM for inbound loads compared to the rest of the country after Harvey. Demand into the Houston area was elevated for quite some time beyond what is shown here, first for relief and then for recovery. This imbalance continued to disrupt historical freight flows into the region and contributed to some nationwide disruption of capacity flow.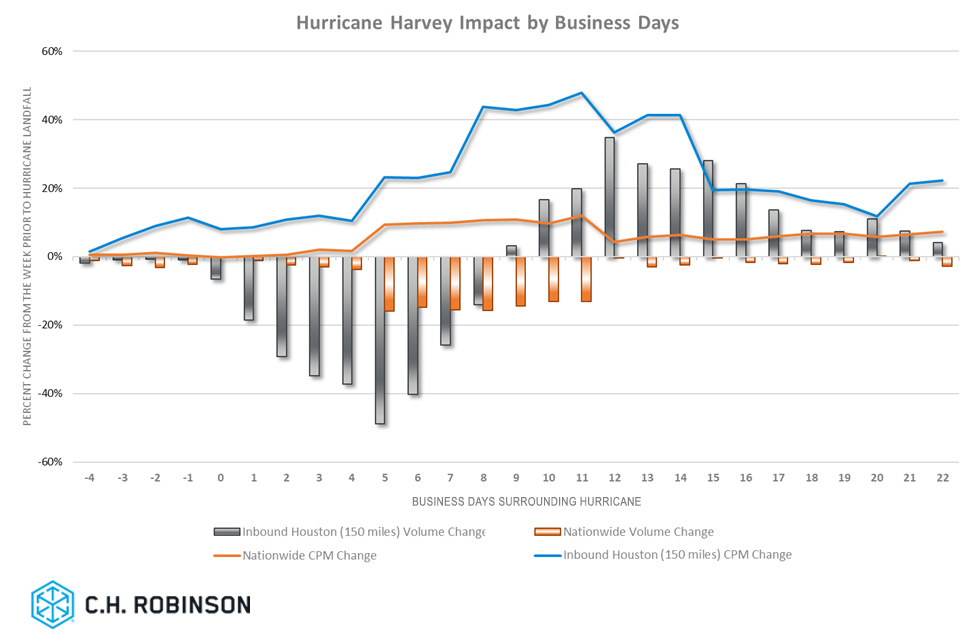 Source: C.H. Robinson seven-day average load volume and rate data inbound shipments from a 150-mile radius region from Houston, TX.
When looking at inbound loads to the Houston area, we see that businesses and carriers curtail activity with increases in CPM occurring three days before Harvey made land fall in Texas and continuing upward to day 11 before starting its way down. Note the persistent elevation in change in CPM for IB vs. the rest of the country. There was elevated demand into the Houston area for quite some time (beyond the time shown here), first for relief and then for recovery that continued to disrupt historical freight flows into the region and contributing to some nationwide disruption of capacity flow.
Comparing Harvey's disruption to other recent hurricanes
The below table demonstrates the varying impact on transportation and logistics that can occur from hurricanes in the United States.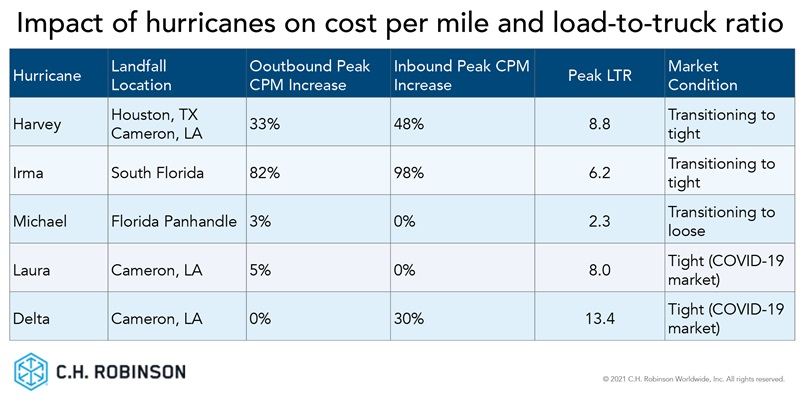 Considerations and best practices for hurricane season
While a more active hurricane season does not mean that the landfall and disruption experience will be like the examples offered, it does afford the opportunity to consider today's already tense market compared to previous years.
Below is a six-year view of DAT's LTR. Displayed by the red line, 2021 has the greatest ongoing tension. When tension is high and a large regional or national disruptive event occurs, the tension is exacerbated. For example, February's winter weather in the South and Southwest disrupted both regional freight and capacity flows as well as national LTRs with a record 12:1 LTR nationwide average.
Another example, DOT's Roadcheck week, a three-day event, this year it was held a month earlier. Held in May 2021, LTRs peaked at nearly 8:1, exceeding even 2018's levels.
Ultimately, it's reasonable to expect a significant hurricane event could greatly impact trucking across the country.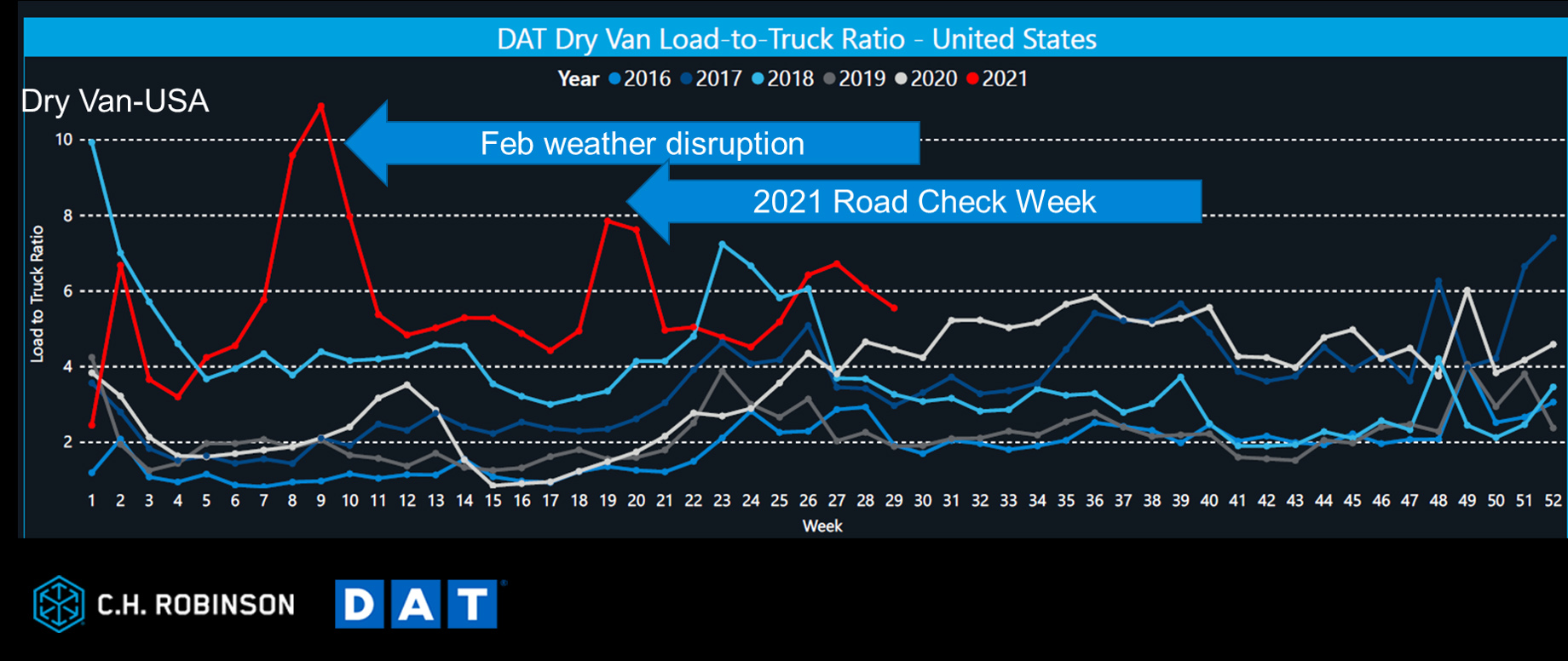 Key insights about hurricane disruption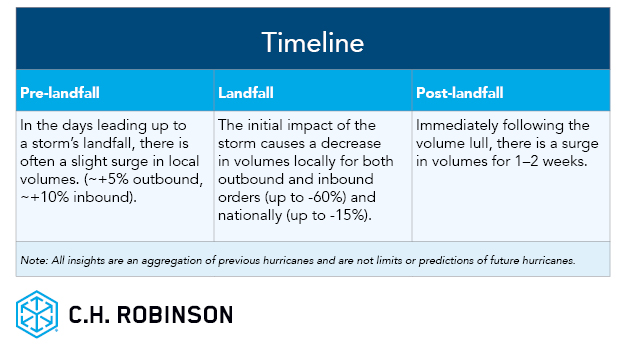 More intense storms have a lingering impact on volumes
Storms like Michael and Harvey both experienced increased inbound and decreased outbound orders.

Carriers tend to keep drivers away from areas with weather issues—for both the safety of the driver and the equipment. Even with volume decreasing, capacity into and out of the region dropped so much that pricing increased meaningfully.

During the volume lull and surge, cost increases are almost a certainty
While the intensity of the storm is a factor of this increase, costs tend to have a greater impact on larger economic markets.

Cost/mile increases out of storm-impacted areas
However, the largest impact on CPM is inbound orders to impacted regions.

Major disruptive events amplify market tension
Develop a proactive hurricane strategy
Each hurricane event has a unique impact on supply chains. When planning and monitoring an impending landfall, consider the following:
Location of landfall
Duration of landfall
Localized or super regional
Other mitigating events such as current market tension
Nationwide impact: The broader supply chain and transportation experience could be disrupted
Consider advanced deployment of inventory and pull forward of orders

Focus on inbound materials and goods from the region
Deploy inventory to a safe location
Create a backup distribution center strategy if a location is shut down

Transportation:

Create a capacity strategy for lanes exiting backup distribution centers
Prepare your budget for sourcing locations that have different costs
Plan for the lingering effects beyond the immediate landfall
Expect increased tension and pricing in the broader market

Collaborate and communicate strategy with supply chain partners (suppliers, customers, warehouse and transportation providers, etc.)
Finally, remember to be flexible. As every hurricane is unique, and this season overlaps with an exceptionally unique and tight truckload market, be prepared for the unexpected—road closures, power outages, bad weather, capacity stresses across surface transportation modes, and pricing pressure to name a few.