TOP STORY: Looking forward to 2022
Since March 2020, the transportation market has been in an unprecedented situation because of COVID-19 and the governmental and market responds locally, nationally, and globally. Participants in the transportation market strive to forecast supply, demand, and performance of strategies and costs.
As the inputs to upcoming forecasts are still rather fluid, and we don't have a historical basis for this type of environment, it's impossible to expect forecasts to be accurate more than a few months out. Nevertheless, forecasts are needed for business planning and serve as reference as the markets and their influencers evolve. An example of the fluid forecasting environment is estimating the class-8 tractor community. ACT Research has been amending their estimate for 2021 net fleet growth each month based on OEM orders and manufacturing. In their September 13th Freight Forecast, they cite a downward estimate again of approximately 38,000 incremental class-8 tractors in the U.S. for 2021, down from approximately 50,000 in their August report. The semiconductor industry shortages continue to be a challenge near term as ACT estimates about 20,000 built but unfinished class 8 tractors are awaiting parts. Also note that these tractors are sold across the industry, not just in long-haul for hire trucking where the industry is experiencing the greatest capacity pressure.
This month's insights offer perspectives and recommendations on forecasting for the truckload environment and a wider suite of services.
Forecasts from analysts
ACT Research and FTR, two leading analyst firms, publish truckload and less than truckload (LTL) forecasts. Their predictions offer an outside perspective to C.H. Robinson's forecasts. With permission from both firms, below are excerpts from ACT and FTR's monthly reports.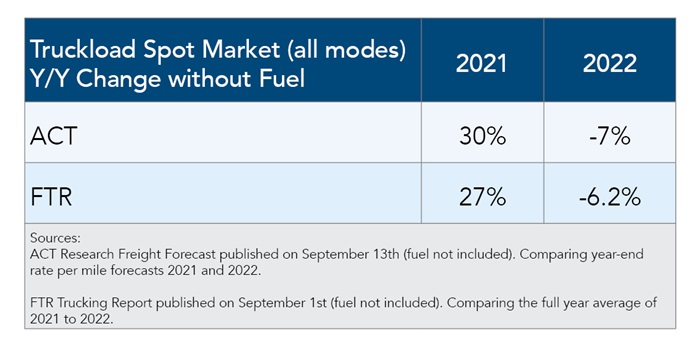 Pricing forecasts for transportation are a blend of modeling and experience. As the data above shows, forecasts for the year over year (Y/Y) change from 2021 and year-end pricing has become increasingly similar as it's already the third quarter of the year.
However, 2022 predictions continue to vary as the modeling inputs evolve. Attributes such as Y/Y change, historical patterns, economic, supply, and volume forecasts as well as industry experience can all influence the possibilities for 2022 pricing.
What's influencing the market right now?
Trucking labor
The Bureau of Labor Statistics published jobs numbers on Friday, September 3, 2021. The broader jobs growth was disappointing; however, transportation and logistics jobs showed stronger numbers. Specifically, in trucking, there are some very interesting insights as summed up by Jason Miller PhD of Michigan State University:
Q1 2021 saw the creation of 2,741 new truck transportation establishments (a very good proxy for firms) with 1 or more employees. This is the most new establishments ever created in a quarter, surpassing Q3 2020 (the prior record).
Establishment size further fell, indicating these new establishments are predominantly small. (This is a pattern that has been worthy of note for 2020 and 2021).
In the end, Jason Miller's analysis continues to show long haul trucking to be most challenged with a shortage of jobs. C.H. Robinson previously provided Jason Miller's estimate of 30,000 fewer long haul trucking jobs from before COVID-19. The latest jobs report indicates the industry is still roughly 25,000 jobs short.
GDP forecast
The 2021 GDP forecast is 6% Y/Y followed by 4% in 2022. Freight volumes are expected to continue to be healthy through the end of the year. It's expected in 2022, volumes will put pressure on capacity, further supporting the carrier community's confidence in raising wages, improving lifestyles for drivers, and purchasing more trucks. .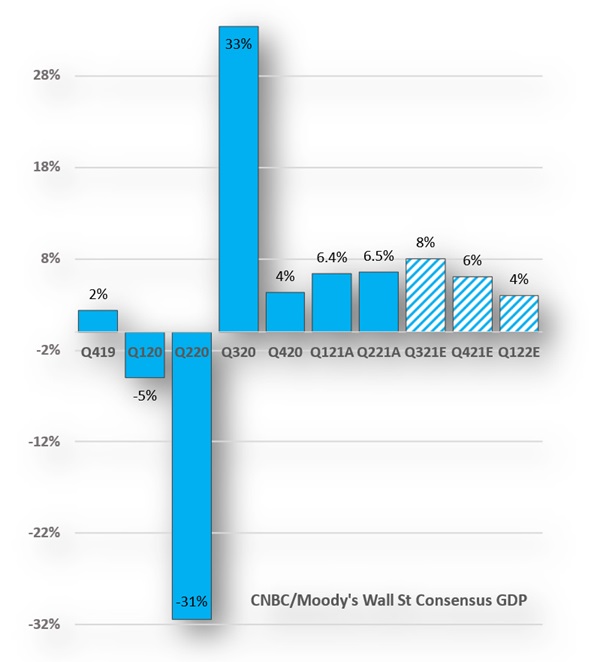 Inventory levels
The above GDP rates have some support from the low inventory to sales ratios for both retail and industrial sectors.
The chart below breaks out the retail ex-auto industry (blue) from manufacturing and trade industries (orange). It clearly shows the challenge of rebuilding inventory many businesses are struggling with.
Freight volume forecasts are a blend of replenishment and rebuilding inventories. It is presumed that the rebuilding process will continue well into 2022 and contribute to strong freight volumes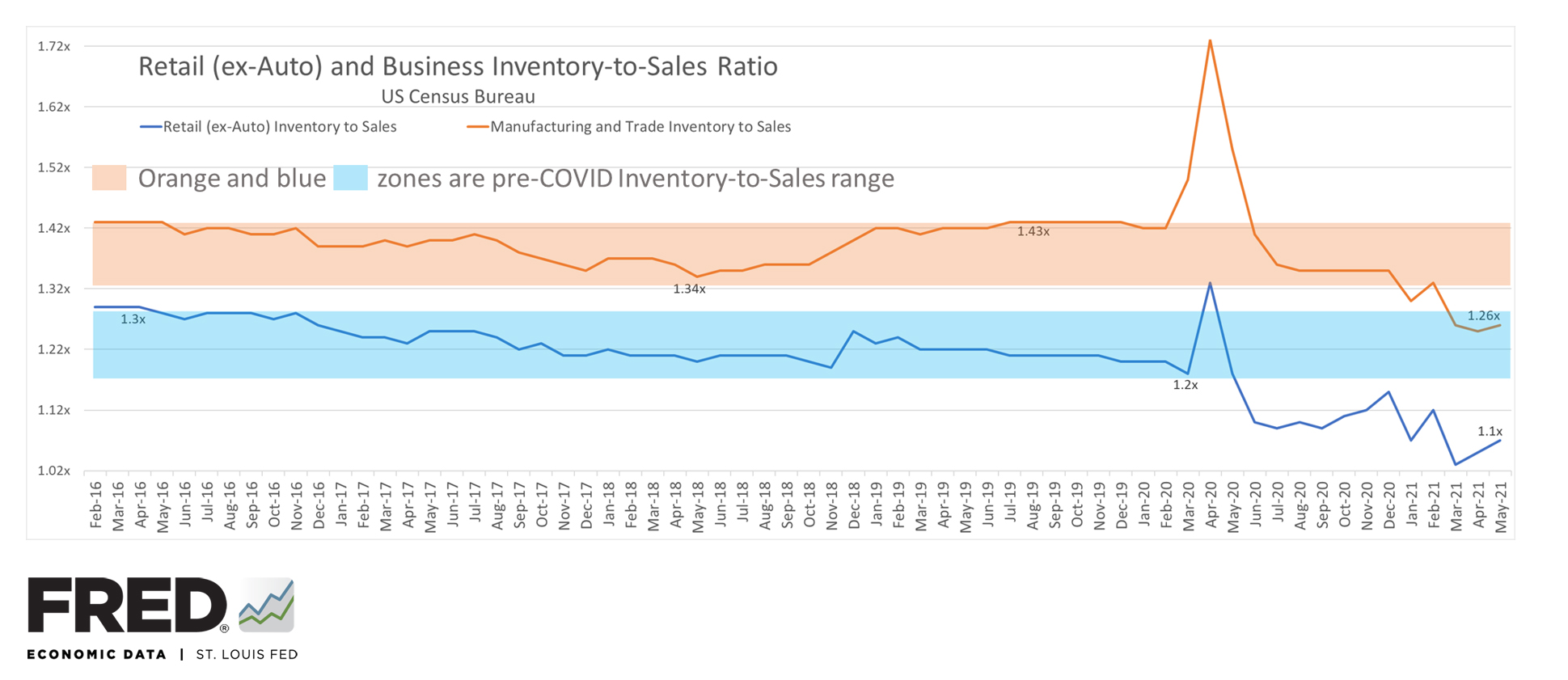 C.H. Robinson's spot market dry van truckload rate per mile forecast
With two external forecasts offered for truckload and some updated insights to the forecast inputs, C.H. Robinson again offers a spot market dry van truckload rate per mile forecast for the rest of 2021 and now extended through 2022.
The 2021 forecast continues its upward course through the end of the year amidst the pressures of supply and shipment volumes. The 2022 forecast presents a net 3% Y/Y average rate per mile to 2021 with the rate per mile at 2022 year-end near the rate per mile at 2021 year-end.
As many model inputs continue experiencing variances, expect this model to evolve as inputs vary. Additionally, C.H. Robinson will continue to apply its broad market costs and market experience to the forecast and continue to present updates on a regular cadence.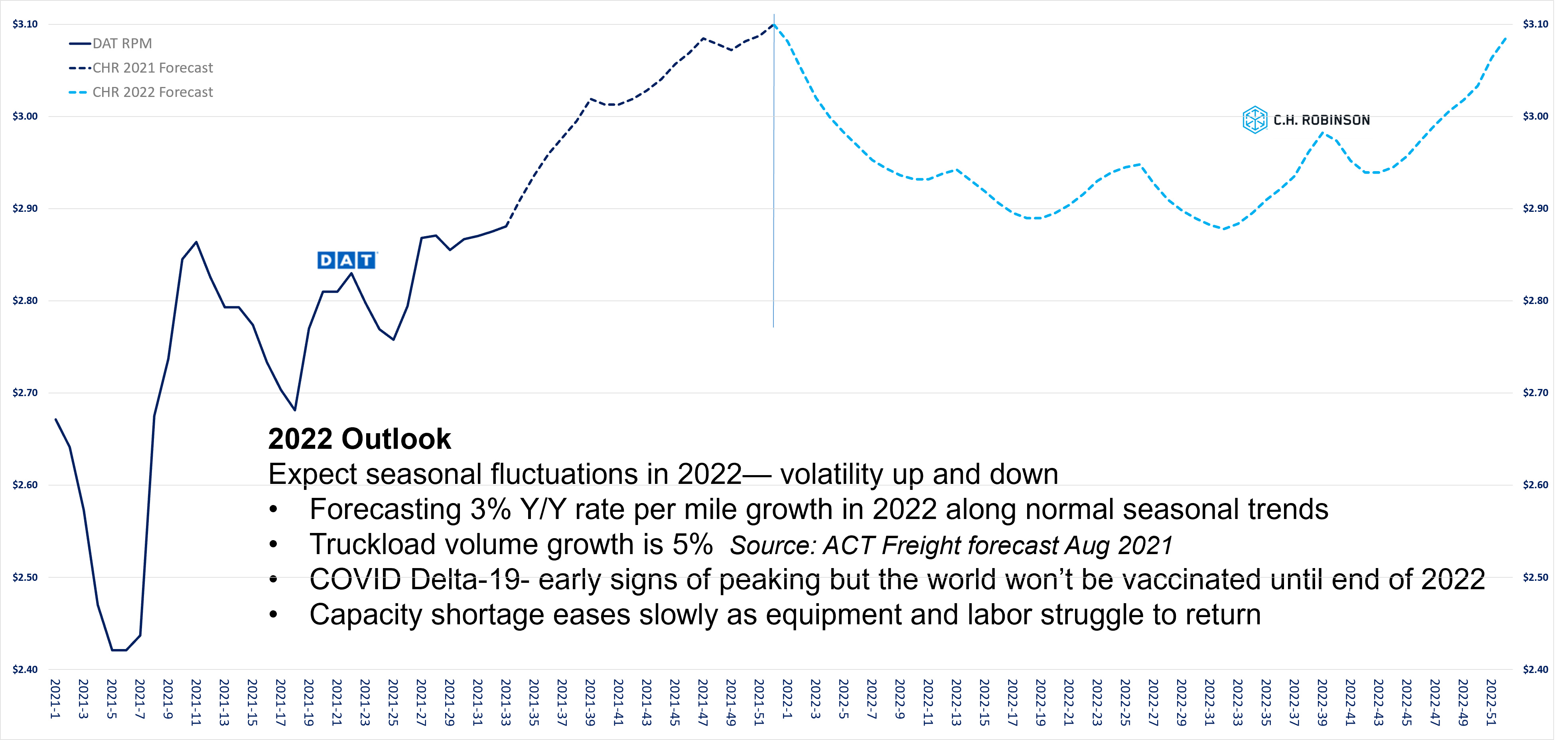 Truckload strategies for success in any market
Improve your truckload experience to better handle any market conditions. Connect with C.H. Robinson's account management teams for more detailed insights on these strategies:
Reduce costs through route guide maintenance
Maintain historical cadence for RFPs and RFQs
Shift or optimize modes
Amend supply chain/distribution sourcing strategies