TOP STORY: Mexico, Canada, and cross-border trucking under USMCA
In July 2020, a law was implemented to support trade across North America. The agreement goes by different names, in Mexico it's titled T-MEC, in Canada it's CUSMA, and in the United States it's known as USMCA.
This updated agreement provides trade certainty between the three countries for at least the next 16 years, during which other global trading relationships are being reviewed. Chapter 7 of USMCA outlines ambitious new requirements and goals that should reduce friction from the border crossing process while ensuring safety.
Our market reports for the coming months will discuss the valuable trade relationships between these three countries.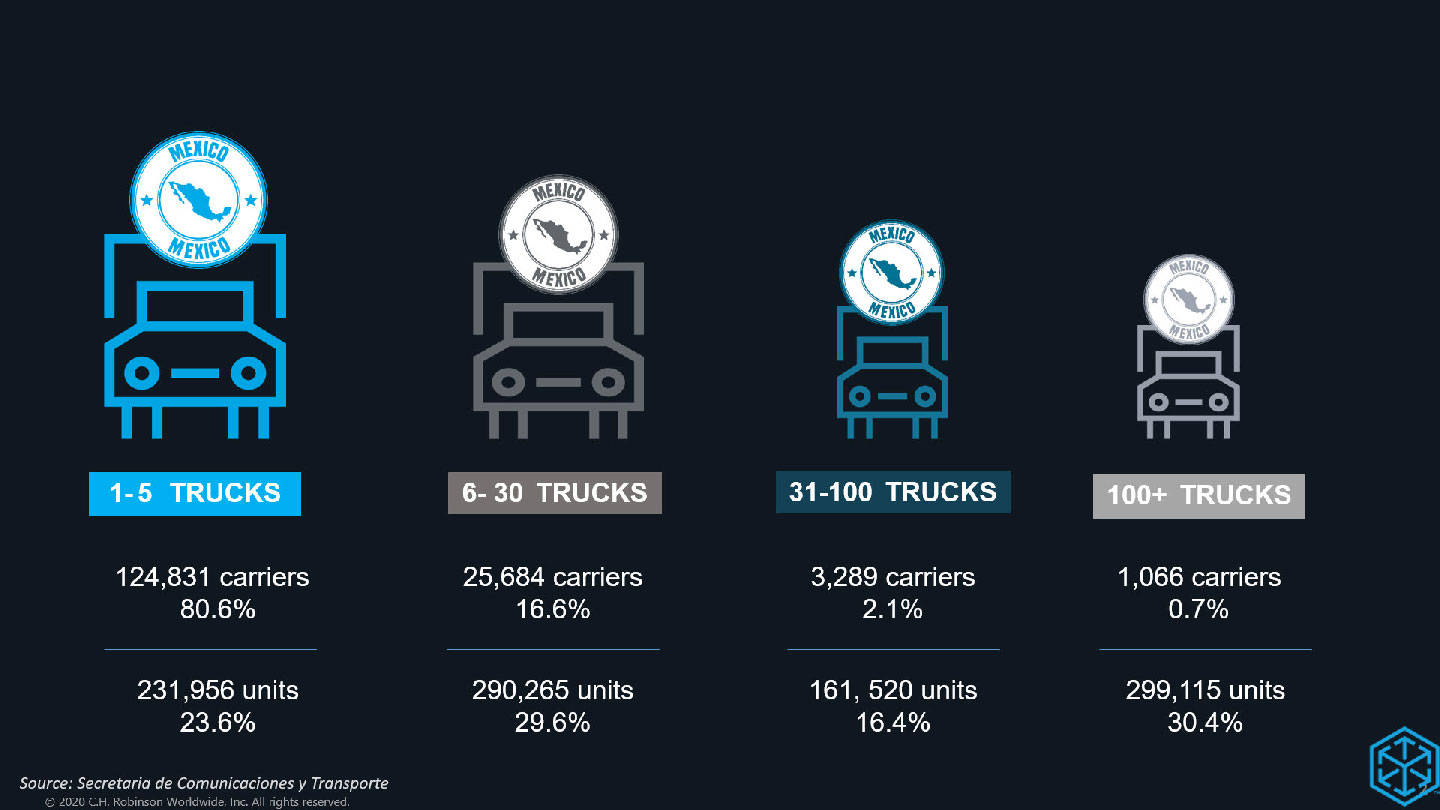 Intra-Mexico trucking market summary
In the United States, demand is outstripping supply at unprecedented levels for longer than historical norms. So how does Mexico's truck market look?
While capacity is strained against demand in Mexico, demand is not growing at the same pace as in the United States. There has been no analogous support in Mexico. Current production growth in Mexico is based in part on the rebound of the U.S. economy as well as businesses choosing to nearshore to Mexico.
Mexico faces a similar supply constraint as the United States: a lack of drivers. But the reason for the shortage is different. The number one reason drivers are hard to find in Mexico is due to an increased risk of security.
Driving a truck with valuable contents can be a dangerous job and security continues to be a challenge on Mexico's roads. The result is Mexico's carriers struggle to grow and unlike in the United States, there isn't a pattern of owner/operator startups occurring.
In addition to the driver shortage, there is an imbalance of freight volumes—especially for northbound capacity. There has always been an imbalance of southbound freight versus northbound, but the economic environment of 2020 and 2021 has exacerbated this imbalance.
As such, we recommend being flexible on planned costs and building in additional lead time to book capacity from the interior of Mexico to border crossing points.
Cross-border services
T-MEC/USMCA codified the trade relationship between the United States and Mexico. It settled investor and business nerves about the continuation of NAFTA and is the foundation to supply chain diversification strategies.
U.S. businesses with supply chains originating in China are reevaluating further expansion in China because of the trade war and higher tariffs. Now, these businesses have increasingly looked at nearshoring in Mexico to leverage cross-border trucking into the United States and Canada. This apparent growth of northbound exports from Mexico is foundational to this month's market insights.
Immigration and jobs also continue to be part of critical conversations about Mexico and U.S. policy. In the United States, the trucking industry discusses the impact of B-1 visas and cross-border truck capacity provided by drivers from Mexico.
B-1 visas
B-1 visas grant Mexico's drivers the ability to deliver freight in the United States. Most drivers provide the service from Nuevo Laredo to a crossdock facility in Laredo transloading to U.S. drivers for final delivery and then return to Mexico empty or with a southbound load. They can also execute "direct" loads from Mexico to the final destination in the United States and take loads from the United States back to Mexico. There is a similar situation for Canada's drivers in the United States and U.S. drivers in Canada.
Today, reports of Mexico carriers hauling intra-U.S. freight—called cabotage, which is not allowed under the B-1 visa—raises concerns for many in the trucking industry. This practice is more concentrated in Texas and the immediate region. Claimants of the activity argue that pricing is compressed in key lanes because Mexico carriers offer lower pricing than U.S. carriers.
The outlined situation is not a new one, but the market is seeing an apparent shift in how B-1 visas are used. The reason for the change is increased enforcement by Customs and Border Patrol (CBP) around the proper use of B-1 visas.
This activity has reduced active capacity for intra-Texas and the surrounding region as Mexico drivers don't want to risk losing their B-1 visa by continuing to run intra-U.S. freight illegally. Instead, many drivers use their B-1 visas legally by running direct loads between Mexico and the United States and benefiting from the current high truckload pricing.
One key trade lane that may benefit from this shift in capacity is between Mexico and Michigan, which supports the automotive industry. Despite added capacity on some direct loads, the market is severely out of balance. These shifts are not yet material enough to be broadly felt.
Direct services
Another reason for the change of capacity is that some B-1 visa holders have shifted to longer direct loads, effectively reducing the available northbound and southbound border-transfer capacity.
While there is some capacity shifting from cross-border service to direct, the actual capacity for direct loads is small and it exists in limited lanes. The real impact is the imbalance caused by Mexico's export traffic, which far exceeds imports.
We recommend continued strategy conversations with your C.H. Robinson account manager about service needs, available capacity, and business processes designed to get the greatest performance from today's market.
Mexico Carrier Demographics Reference: Secretaria de Comunicaciones y Transporte www.sct.gob.mx
Cabotage Reference: https://www.freightwaves.com/news/sources-mexican-b-1-visa-truckers-conducting-illegal-runs-in-us