Global
Global container volume growth is currently estimated at about 3% for 2022, down from 7% in 2021. After a strong start to 2022 on most trades, global demand has shifted downward. High inventory levels built to cushion supply chain delays of the past two years and inflation are decreasing the appetite for imports. While exports from Europe, South America, and Oceania seem to have peaked, they continue to show sustained demand. Asia and Indian Subcontinent demand has slowed year over year, despite this time traditionally being peak season.
On the supply side, port congestion and container equipment fluidity continue to be crucial as they impact capacity and transit time.
Congestion remains a prominent issue in North America and Europe, where strike actions are upsetting productivity. It is important to understand average transit times and how market conditions may impact transit times in order to plan accordingly.
Average delay of late vessels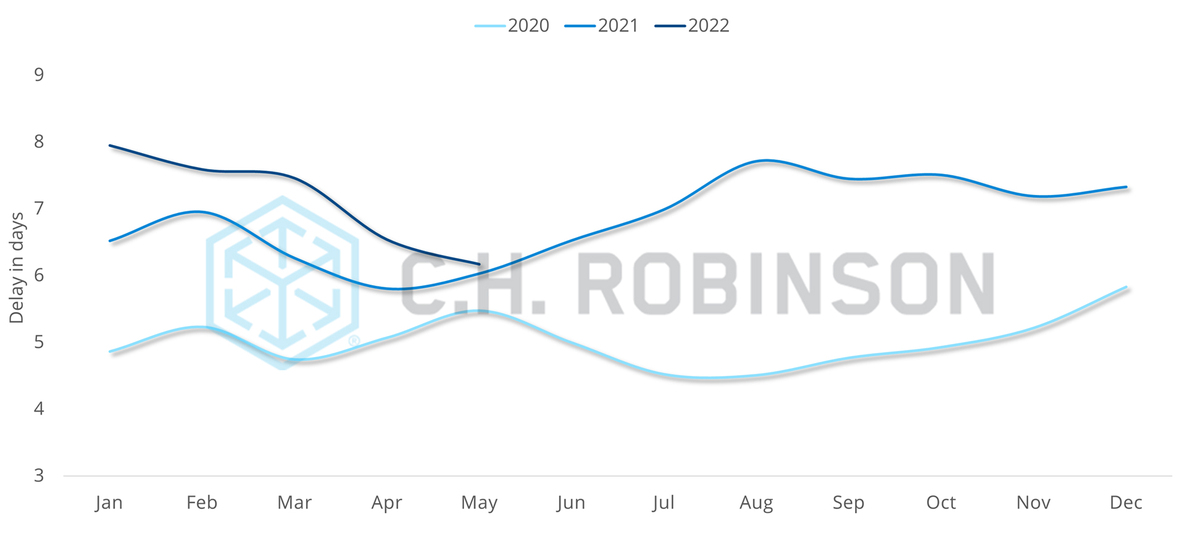 Source: © Sea—Intelligence Maritime Analysis
Average delays have improved month over month
Carriers will use blank/void sailings, port omissions, and service rearrangement to mediate congestion and optimize their network capacity and fluidity
Global schedule reliability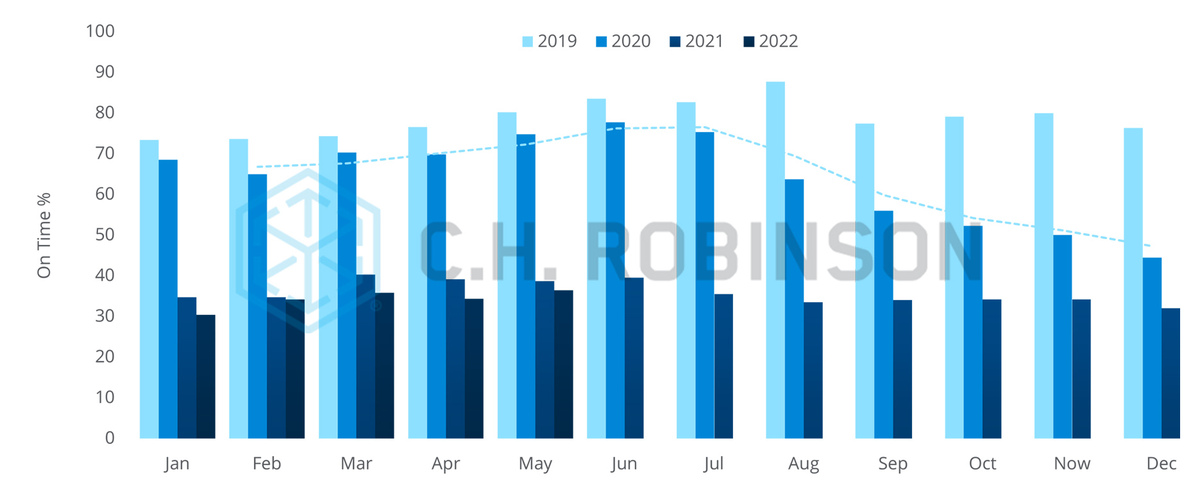 Source: © Sea—Intelligence Maritime Analysis, Global Liner Performance Report
Schedule reliability continues to show gradual improvement month over month. Overall, schedules will continue to remain challenged because of port congestion.
Additional considerations to remember:
Forecast 6–8 weeks minimum
Prioritization
Variability in SKUs/parts
Smooth volumes week to week
Regular communication with C.H. Robinson
Asia
Despite entering the traditional peak season period, export demand out of Asia has been tapering down due to high inventory levels and inflation in North America and Europe. Rates have been following the same trend, with some capacity being introduced.
Europe
Dockworkers in France will be negotiating the renewal of their labor agreements in September 2022. It is expected that these negotiations will be difficult and strike action by the union this fall is very likely.
Look for ongoing delays and congestion in Genoa, La Spezia, and Tuscany, Italy. Yard space is limited, and in-gate traffic is closely metered. With summer tourism, be aware of potential delays because of inbound cruise ships.
COVID-19 restrictions are in effect in Leixoes, Portugal. Coupled with yard construction, only one vessel can be received at a time.
Barcelona and Valencia, Spain are experiencing elevated congestion. A shortage of stevedores to process traffic will impact operations in the upcoming weeks.
Strikes continue in Hamburg and Bremerhaven, Germany. Until a resolution is reached, anticipate delays—delivery of cargo to the port via truck, slow traffic around ports.
North America
The International Longshore Warehouse Union (ILWU) contract expired July 1, 2022, and the dockworkers and ports have been unsuccessful in reaching a labor agreement.
What are the topics being negotiated?
Work disruptions
Employee benefits
Safety protocols
Technology and automation
What can you expect and how can you mitigate supply chain disruptions?
Re-route cargo away from trans-Pacific gateways
Longer vessel berthing time
Long-dwelling import containers will tie up capacity and empties
Consider ways to add increased shipment visibility and monitor freight movement
Port congestion is causing serious delays to ocean vessels sitting at anchor and waiting to berth. It is important to consider the estimated average delays in vessel schedules:
Exports from U.S. East Coast (USEC) ports: 10-to-14-day delay
Exports from U.S. West Coast (USWC) ports: 10-to-14-day delay
Exports from U.S. Gulf Coast (USGC) ports: 7-to-10-day delay
Transshipment ports (particularly in Asia): 15-to-30-day delay
Rails are also backlogged causing additional schedule uncertainty. These delays should be added to the overall expected transit time to ensure proper planning to meet required delivery schedules.
South America
Services to East Coast South America have been impacted by congestion and COVID-19 implications. However, space has remained open to the East Coast whereas carriers have suspended some of their service offerings to the West Coast.
Exports from South America have strong demand. Adverse weather conditions, inadequate port/terminal infrastructure, equipment shortages, and port omissions are keeping the market relatively tight to most destinations.
South Asia
Export demand out of India Subcontinent is decelerating with improved space availability.
Schedule reliability and congestion is still a prominent issue, which affects transit times and capacity on some trades, such as to United States Pacific Northwest. Transshipment services also face risk of delays from congestion.
Oceania
The Southeast Asia market continues to be stable, although it has softened some in July. Demand is expected to continue a steady trajectory. Capacity is opening. Pre-planning is still essential, and it is recommended to book four weeks, or more, in advance to avoid interruptions. Equipment availability remains tight, particularly for 40' High Cube (HC) containers.
The Northeast Asia market has softened. Both added capacity and new services have had a negative impact on rates. Expect this trade to remain challenged into the second half of 2022. Repositioning of equipment has alleviated some of the difficulties in prior weeks.
Trans-Tasman market remains strong with limited capacity, the addition of the new shuttle service out of Brisbane, Australia will add tonnage to the trade. Carriers continue to replace smaller vessels with larger ships.
North Europe, Mediterranean, Oceania (NEMO) services are experiencing heavy vessel delays. The weekly change of rotations will continue through the end of the quarter. Expect the strong market to endure, along with the elevated rate levels on direct services.
Advanced bookings are still required 5–6 weeks out for the United States. Equipment availability in the main ports has improved. Decreased Asia import volumes will continue to impact equipment availability.
The demand in the trade is steady. However, we have seen a shift in export volumes which may assist in easing of congestion at rail and port terminals.