Ocean freight demand on most trade lanes is generally flat. To compensate on the supply side, steamship lines continue to void sailings to balance the supply. They are also slow steaming on the backhaul legs of major East-West services. This allows them to allocate more vessel/capacity per service and save on bunker costs.
Average speed—all containerships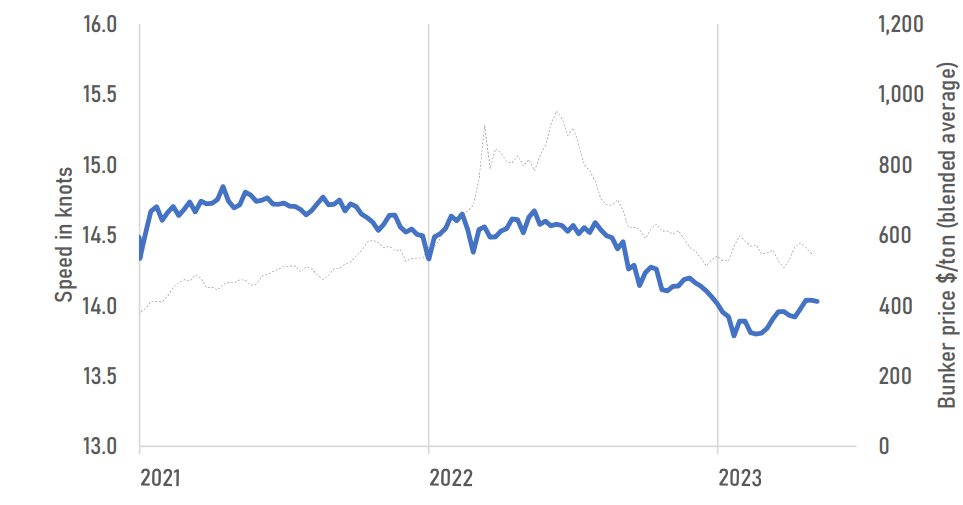 Source: Linerlytica
While congestion is mostly gone, the need for some flexibility remains as blank sailings and service adjustments continue to impact lead times.
As congestion eases globally, ocean carrier schedule reliability improved to 62.6% in March 2023. It is interesting that carrier schedule reliability on the U.S.-Asia trade lane is far below the average, at only 42.4% to/from U.S. West Coast (USWC) ports and 44.6% to/from U.S. East Coast (USEC) ports in March.
Global schedule reliability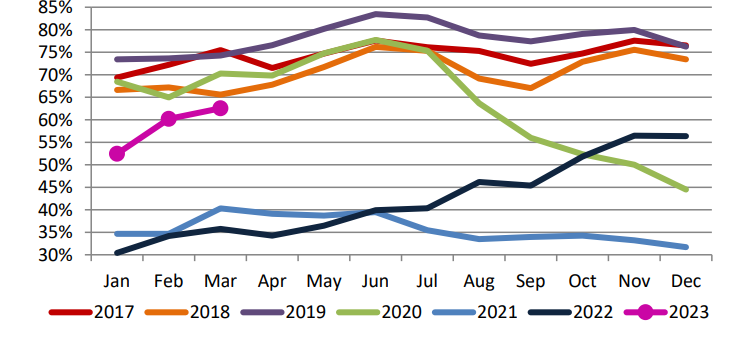 Source: © Sea—Intelligence
The Panama Canal is imposing lower draft restrictions due to drought conditions/falling water levels at nearby lakes that form part of the waterway. The restrictions went into effect at the end of April. This means container ships seeking to cross the canal connecting the Atlantic and Pacific Oceans must reduce their payloads. This will have the impact of tightening vessel space as carriers will have to load less cargo on these routes.
Asia
Carriers successfully implemented the mid-April general rate increase (GRI) on Transpacific and Asia-Latin America trade lanes, however rates are under continued pressure.
With the idle fleet continuing to shrink, carriers are reversing the slow steaming program introduced in the first quarter. The active containership fleet has reached a new record high this spring as the new ships delivered have added more than 360,000 TEUs of incremental capacity.
Asia-Europe spot rates are still holding steady, despite the high-capacity utilization and relatively healthy demand on European routes.
The frequency of blank sailings on the export trade, especially on the USWC, increased in April. On many service strings, the sailings are reduced to almost fortnightly.
Europe
There is generally more capacity supply than space demand on trade lanes out of Europe. There are many national holidays in Europe in May, which will only reinforce the current imbalance.
The backhaul trade to Asia has reached very low rate levels, while export rates to North America are almost back to pre-pandemic levels.
Dockworkers in France have reached a new agreement, so no further labor strikes are expected. The daily four-hour strikes, which had been ongoing for weeks, are now over. It will still take some weeks for the ports in France to clear out the congestion and completely resume normal operations. However more union workers continue to participate in the general strike action over the increase in the retirement age.
North America
Imports remain soft year over year due to inflation and normalizing demand from the largest importers, including retail, furniture, electronics, and home improvement, which represent over 50% of U.S. imports.
Many shippers are waiting to order more, while seasonal shippers have not yet started to increase their volumes.
April U.S. container import volumes increased over 2 million TEUs (~9%) from March. This is up 5.3% from pre-pandemic April 2019. If the curve keeps following the 2019 trends, May should see an increase over April, even if it is small.
While Los Angeles and Long Beach terminals spot slowdown actions are not significantly impacting cargo flow, shippers keep looking to USEC and Gulf ports as alternatives. This solidifies the shifts occurred during the pandemic.
U.S. export capacity is generally open, and rates continue their downward trend. Expect additional capacity entering the market in the coming months to support increased travel demand.
Oceania
Trans-Tasman
The trans-Tasman market has softened. Space and equipment availability is open. Rates are dropping with the introduction of new options on this trade lane.
U.S. to Oceania
The market continues to soften. Rates will continue to slowly decline as carriers compete for market share. Space continues to be tight on the USEC but easing on the USWC.
Port calls to New Zealand for exports from the USWC have been upgraded to weekly, and transshipment service options are increasing with reduced congestion through Asian ports.
Europe
The Europe export market remains stable, with space and equipment readily available for dry cargo. Rates are still gradually being reduced by all carriers as supply continues to outweigh demand.
Asia
Ocean carriers operating between Northeast Asia and Oceania still experience bottom rates. To prepare for the upcoming GRI in mid-May, they have begun to implement certain measures—increasing blank sailings (canceling entire vessel sailings) or even temporarily suspending services to bolster their position.
Asia-Europe
Up to 17% of available capacity has been cut in the Asia-Europe trade so far in 2023 according to Drewry.
Rates decreased marginally by 4% in April despite the cuts in vessel capacity, signaling a continuing weak market demand. As a result of the carriers' capacity management, rates have remained relatively stable and spot rates remain 20% higher than pre-pandemic levels.
Southeast Asia
The Southeast Asia rate decline has slowed. There is no inclination of a potential GRI, but there may be one if the increases in Northeast Asia rates hold. Blankings on Southeast Asia (origin to transship port) continue to be the main issue.
Carriers caution that vessels are approaching full capacity due to increased blank sailings, despite no reports of congestion in Singapore or Malaysia. This has resulted in some shipment delays, caused by both origin service and port of destination blanking, which means that the vessel will not be calling at that port.
South Asia, Middle East, and Africa
The recent political unrest in Pakistan continues to evolve. The city of Karachi is under control. In the north, (Lahore, Faisalabad, Islamabad, and Sialkot) the situation is slightly elevated, and suppliers/shippers are exercising caution to ensure the safe transportation of goods. Expect more updates as they become available.