Global
Demand for ocean freight in most trades continues to decrease or remain flat, with shipping rates following the same pattern.
Traditionally, volumes and rates increase ahead of the Chinese New Year as market demand increases, particularly for spring commodities. However, this year, market demand remains uncharacteristically soft, with no significant volume or rate increases for trades in and out of Asia. As such, the typical frontloading effect is not expected to happen this year.
In an attempt to slow or prevent rate decreases, steamship lines will continue to rationalize services and use blank sailing to adapt capacity to demand. Global schedule reliability finally reached 50%, with room for improvement to reach the more typical 70–90%.
Global schedule reliability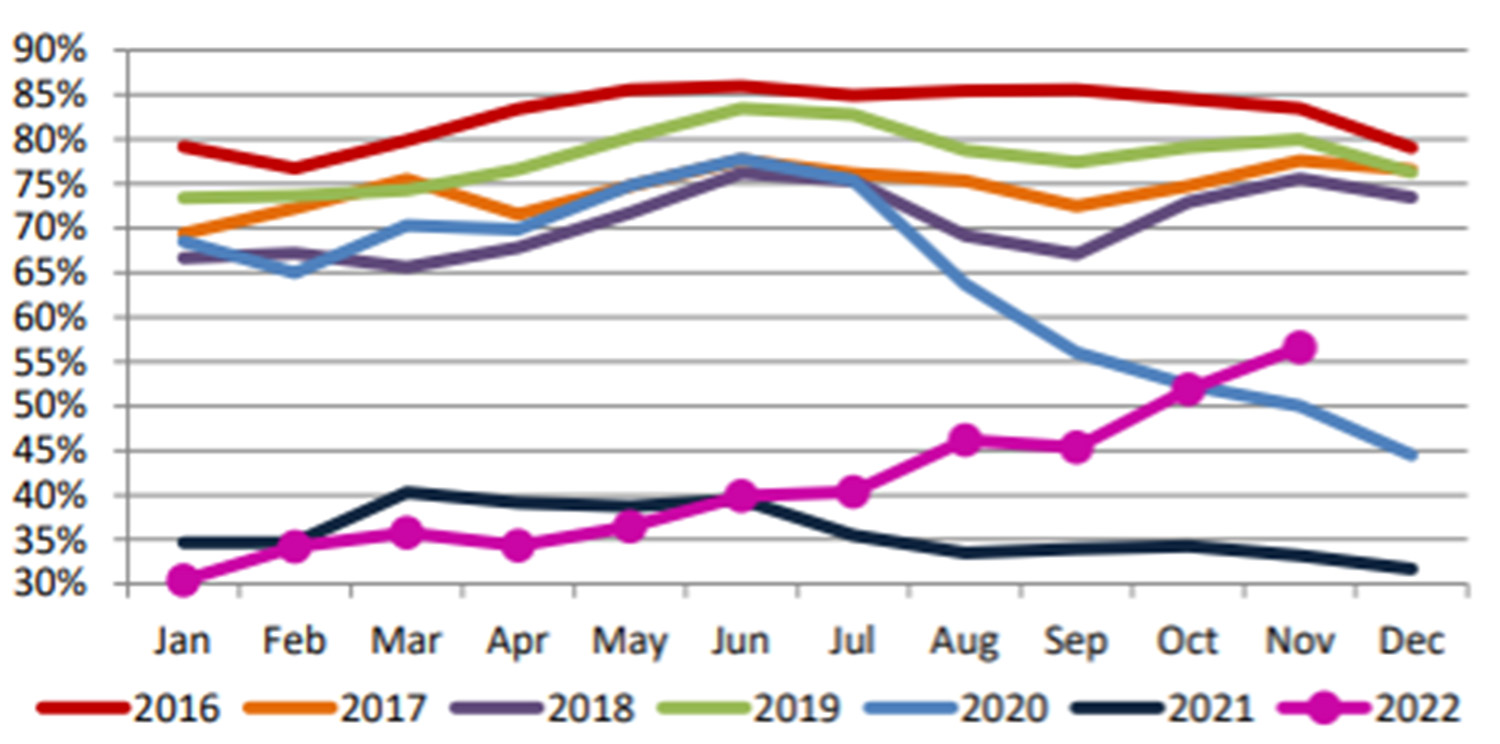 Source: © Sea—Intelligence
Asia
Carriers continue to remove trade capacity with blank sailings. Capacity utilization across the key trade lanes remains varied, with Asia-Europe standing out as full (due to capacity removal), while the rest of the trade remains open. Further rate reductions are expected after the Chinese New Year, as several shippers delay contract negotiations until after the holidays. Expect increased blank sailings during the holidays. In addition, some shippers are closed and will stay closed longer.
Export space availability is improving to North Asia ports, in particular China and Japan, especially with respect to direct export services from U.S. West Coast (USWC) ports. However, due to expected lower demand on the transpacific eastbound trade, vessel capacity may be cut up to 50% on this trade after the Chinese New Year.
Congestion at transshipment ports in Asia remains significant, with 10–14-day shipment delays at most major transshipment ports, including Busan, Kaohsiung, and Singapore. Busan congestion has been more significant due to the 10-day trucker strike in December 2022. Congestion at China ports also increased due to COVID-19 outbreaks reducing the port labor pool. All the delays and congestion at transshipment ports are leading carriers to push for business on direct services only. Congestion is expected to ease in the coming months as volumes on the Asia trades continue to decline.
Europe
Congestion at Europe ports is easing as volumes start to fall due to reduced consumer demand. This drop in volume should improve port fluidity over the course of Q1 2023. There may be more blank sailings on these trades if the fall in demand increases.
North America
Imports remain soft year-over-year due to inflation and normalizing demand from the largest importers, including retail, furniture, electronics, and home improvement, representing over 50% of U.S. imports.
U.S. congestion improved at ports and rails, though some locations— including Houston and Savannah ports, as well as Omaha and Santa Teresa rails—continue to struggle.
On the USWC, congestion at the Los Angeles/Long Beach port is improving with less than 10 vessels on average waiting outside to berth. The current congestion level is expected to remain stable.
U.S. container imports from main Southeast Asia origins vs. China (2008–2022)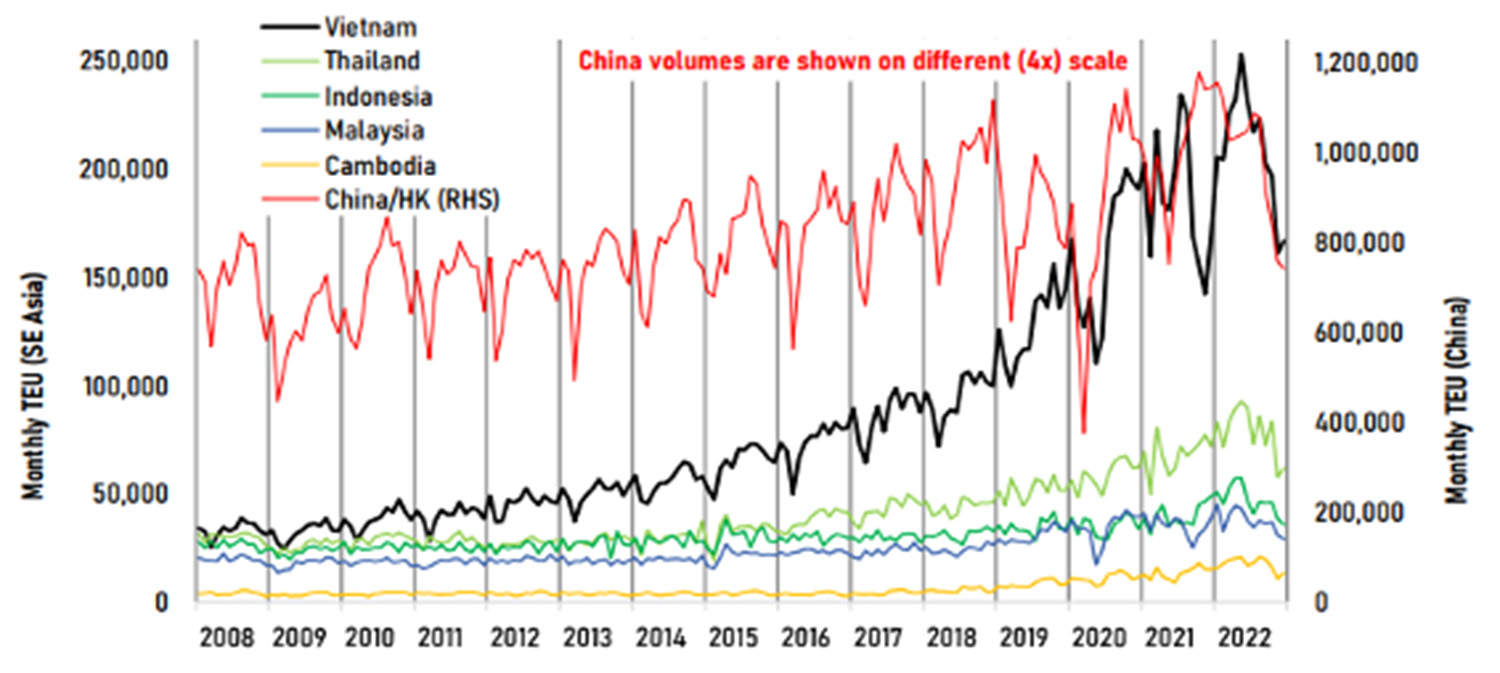 Source: Linerlytica
Latin America
Exports demand remains steady. Schedule reliability, limited carrier options, and blank sailings keep supply and demand fairly balanced to most destinations, with exports to Europe and Oceania remaining the most challenging.
South Asia, Middle East, and Africa
Overall demand for exports out of this region is stable, but softer compared to the past two years. There is more capacity than demand, and space is generally available with stable or decreasing rates.
Space to the India subcontinent (ISC) and Middle East markets is very tight across all U.S. ports, but most readily available for U.S. East Coast (USEC) port exports, where there are more direct services. Among USEC ports, space is more available for New York and Norfolk. Severe congestion at Bangladesh ports continues. Many carriers have either suspended or severely limited available space to this destination. Ocean carriers are applying congestion surcharges at Chittagong/Chattogram port that must be paid at origin.
Space continues to be very short to meet U.S. export demand to ISC and Middle East locations. It is very important to book four-to-five weeks in advance on this trade. However, several carriers announced they are re-opening space and service into this market, so space availability should greatly improve throughout Q1 2023.
Oceania
The Trans-Tasman market softened over the holiday period. With customers reopening in mid-January, this should pick up . The new shuttle service out of Sydney and Brisbane has added tonnage to the lane, while the Focus Container Line to the Trans-Tasman service introduction has increased options. Rates are expected to remain stable through Q1 2023.
U.S. to Oceania
The market is likely to further weaken, and rates will continue to slowly decline as carriers compete for market share. However, the demand for refrigerated containers remains strong. Space is tight but is starting to ease on the USWC. Some steamship lines reduced their capacity on certain services in December, causing tighter space on exports from the USEC. The traditional peak season on the U.S.-Oceania trade is expected to wind down by the end of February, easing space issues.
Port calls to New Zealand for exports from the USWC continue on a two-week basis, and transshipment service options are increasing.
Europe
The Europe export market remains stable, with space and equipment readily available for dry cargo.
Asia
Northeast Asia to Oceania continues to be in flux. Carriers are attempting to increase rates, but demand is not at a level to sustain increases. The period after the Chinese New Year will likely be the next indicator as to whether carriers attempt more increases or resort to blank sailing programs.
Southeast Asia is in steady decline as demand weakens. Carriers are now looking at amending services, such as rationalizing port calls, to limit space and increase demand.
There are currently no reports of congestion in Singapore and Malaysia, with feedback from the lines reporting operations are normal and without major delays.