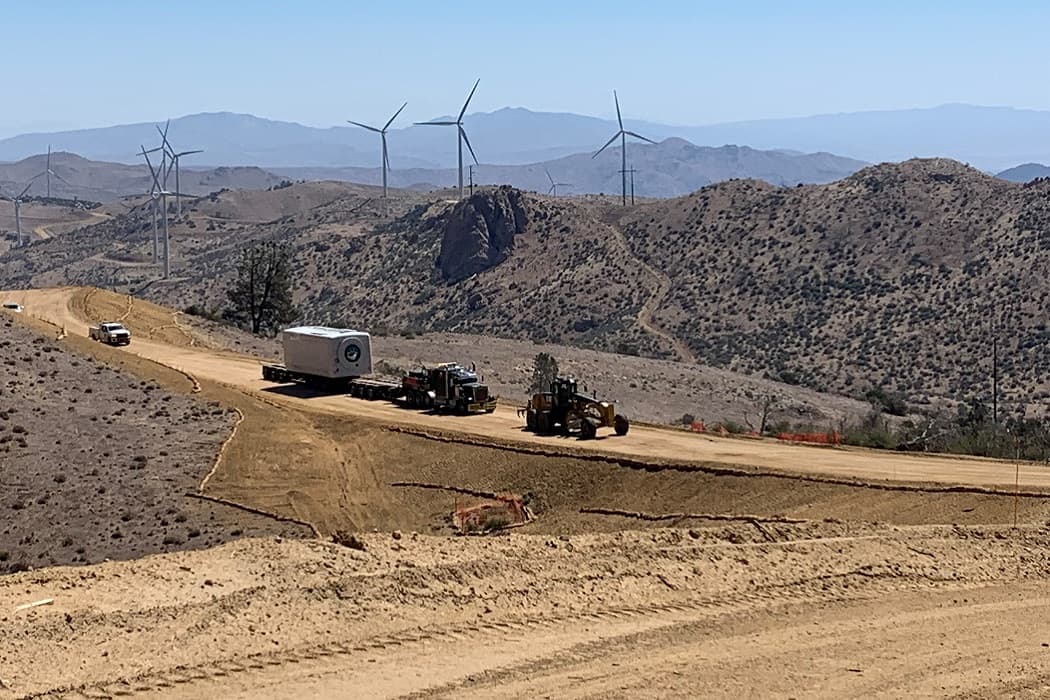 Renewables are expected to account for 90% of new power generation globally through 2022. But the world's demand for clean energy is running up against some hard realities in the global supply chain and one of the most erratic transportation markets in history. Here are the five key project logistics challenges we're seeing in renewable energy and how to overcome them.
Tighter budgets for renewable energy projects
The cost of wind and solar energy has been declining relative to fossil fuels for years, making it more attractive to more investors. That's good news for climate change, but some new factors could throw that trend off track.
The shortage of semiconductors plaguing the auto industry has become a problem for the renewables sector as well, because semiconductors are needed to convert wind and solar into electricity. Scarcity of steel is driving up prices for wind turbines and the mounting systems that point solar panels toward the sun. Polysilicon, an essential building block for solar panels, is the world's second most abundant element but the cost has recently quadrupled.
Rising material costs and historically high freight rates can eat into the profitability of your renewable energy project. That makes it even more important to avoid unexpected costs in your project logistics.
The supply chain for wind and solar farms is vast and complex, starting in precious-metal mines and culminating in some of the most remote places on Earth. To make sure you come in on budget, choose a project logistics provider that has deep and specific industry knowledge.
When you're renting a crane for $100,000 a day, you can't afford for the wind turbines to be three days late. Every county those will travel through requires a permit, which is typically granted for just a few days. If you miss that window, those permits must be renewed in every county. Meanwhile, you're paying the installation crew to wait.
These projects have too many moving parts and variables to try to piece it together yourself, and it exposes you to too much financial risk to count on the disparate processes of multiple vendors. An experienced provider can deliver end-to-end project logistics. That includes making sure manufacturers upstream of your project can reliably get raw materials. That includes anticipating every possible contingency to mitigate disruptions in shipping. That includes technology to track every piece of equipment's path to the installation site.
Renewable energy logistics has been a specialty of C.H. Robinson's for more than a decade. That expertise helps you avoid the unexpected costs that can easily erase your project's profit margin.
Unpredictability in shipping
The majority of solar equipment manufacturers are in China, Vietnam, Thailand, and Malaysia. Four companies dominate more than half the manufacturing of wind turbines, with most production in Asia.
Five years ago, the movement of containerized goods out of Asia was high volume, low cost and consistent. For breakbulk cargo, you could call to book space on a vessel for next week. That world—where you could plan week-to-week—is gone.
Now, ship capacity is scarce and exponentially more expensive because of the contraction of shipping lines and a global container shortage. Port congestion is making it hard to know when incoming ships will be able to berth. It's gotten to the point where schedule reliability has dropped from about 80% at this time last year to 5%.
New disruptions can make it even more challenging to get everything for your renewable energy project where it needs to be when it needs to be. Congestion at China's Port of Yantian is a case in point, creating massive backlogs of shipments to North America, Latin America, Europe, and Oceania that could take months to clear.
When capacity is this tight, you need more foresight in planning. For shipping your wind farm components, count on booking a vessel as much as 180 days in advance and use a project logistics provider with a global suite of services so you're not stuck without enough trailers to move your turbines and blades after they arrive.
When the market is this volatile, one plan isn't enough. Your vessel may skip a scheduled port and move on to the next, leaving your freight farther away from your project site than expected. A knowledgeable renewable energy logistics provider will have accounted for that scenario. Switching between ports, modes, or trade lanes may also be part of a more active strategy to adapt to unpredictability. For example, we're helping some of our solar customers switch to breakbulk or roll-on-roll-off as an alternative to container ships. An ocean or air charter is another option.
As the largest non-vessel-owning importer of goods from China and the largest mover of truckload freight in the world, C.H. Robinson is better positioned to manage the unpredictability of today's transportation environment and limit the unpredictability inherent in renewable energy projects.
Lack of supply chain visibility
No one wants their supply chain to be a black hole – especially when you're bringing in parts and equipment from across the globe, and everything needs to come together in one place in the right order at the right time.
Get together with your logistics provider to determine what a "perfect delivery" would look like. That's your blueprint. Make sure you have in-depth route studies and site studies. Commit to having boots on the ground to troubleshoot and escalate at all critical points of handling: at the port, at the laydown yard, during loading, at installation. That's part of C.H. Robinson's proprietary project logistics model.
But the biggest favor you can do for your project is to take advantage of real-time visibility technology. It pulls data and status updates from all vendors and suppliers—plus weather, traffic, and geopolitical monitoring—to give you a real-time view of your supply chain.
Limiting unpredictability is so crucial that we developed a version of this technology specific to wind-energy projects. You as a project owner, developer, construction company, equipment manufacturer, or installer can tap into the dashboard. You can see where each part and each piece of equipment is at any given moment. Plus it has predictive analytics enabling you to respond to potential disruptions before they have a chance to impact your projects.
Navisphere® is technology built by and for supply chain experts, and the enhancements we built for wind projects were designed by our experienced wind logistics team. You're not just getting some software off the shelf.
Special equipment needs for renewable energy logistics
Wind turbines keep getting bigger, with some as tall as an 85-story building. The sweep of the blades can be more than an acre. Moving these oversized parts requires both special expertise and equipment.
Transporting just one wind turbine takes nine shipments: The tower has to be moved in three sections, typically on a double or single Schnabel trailer designed for wind towers. Each of the blades is hauled separately on a trailer designed only for blades. The machine head is moved with a specific type of 13-axle trailer. Then the rest of the components are moved on flatbed trucks, which have been in exceptionally short supply. This year has seen load-to-truck ratios over 100:1, meaning 100 loads waiting to be delivered for every flatbed truck available.
Line up your equipment well in advance to protect your project timelines and budget. But also make sure you're working with a project logistics provider who can flex with your needs when things change. What if your freight comes into port 20 days later than expected and the trailers you counted on are tied up on another job? We work with 18,000 flatbed carriers and manage 325,000 flatbed shipments a year. Scale matters even more in a tight market.
Solar equipment, on the other hand, has sensitive electronics and glass easily subject to damage. This is another area where supply chain know-how matters. By switching to specialized carriers and reducing transfers, we've helped solar customers lower their damages to 1%.
Technology can help here, too. Navisphere's internet of things (IoT) integration allows you to monitor for and immediately mitigate any damage during shipping.
The strict timelines for renewable energy projects
Between the enormity of climate change, companies making timebound sustainability pledges and investors trying to meet tax-credit deadlines, there are plenty of good reasons for the rush to get renewable energy projects completed.
Size and complexity alone add risk to the timelines. If you're a supplier, contractor, or installer a renewable energy developer is counting on, you can't afford liquidated damages—the penalties built into the contract for delays.
Your best bet for bringing your project in on time is centralized management. Use a project logistics provider with end-to-end services. Consulting, contingency planning, and risk mitigation up front will always pay off. When the same team is also managing the execution of those plans and connecting you with the technology for direct visibility into your project, that gives you peace of mind and your best chance of success.
Learn more about C.H. Robinson's renewable energy logistics services on our website or connect with one of our renewable energy experts.