Companies commonly use waterfall (or hierarchical) route guides to manage awarded freight on lanes with some level of demand pattern predictability. The following insights are derived from TMC, a division of C.H. Robinson, which offers a large portfolio of customers across diverse industries throughout the United States.
Two key metrics of route guide performance are first tender acceptance (FTA) and route guide depth (RGD). RGD refers to how far into a route guide a shipper must tender shipments before carriers accept loads, or the average number of tenders per load. FTA is a percentage of how often the first awarded transportation provider accepts their shipment tenders.
These insights are from the week of March 5–11, and also reflect on RGD from the month of February 2023.
RGD by U.S. region
The regional view continued to show the Northeast displaying the most challenging RGD, while also offering the greatest improvement. The February national average RGD improved by 3% M/M and resulted in a 31% reduction in RGD compared to February 2022.
The week of March 5–11 offers a virtually unchanged RGD report compared to four weeks prior. The Northeast pattern continues with the highest RGD of 1.28 against the national average of 1.15.
Broadly speaking, route guides are performing well, with primary service providers accepting loads at pre-pandemic levels and the first backup provider accepting rejected tenders most of the time.
The chart above from TMC, a division of C.H. Robinson, reflects weekly RGD regionally across the United States through the week of Feb 5–11.
February FTA for North America improved a point to 90%
This FTA is much improved from February 2022 at 81%. January 2023 was 89%.
February RGD across distance bands
Broadly speaking, today's market is flush with capacity. Load tenders from hierarchical route guides are typically accepted by the primary awarded supplier. When rejected, they tend to be those that are unattractive to carriers for one reason or another.
Aside from load attribute issues, such as unpredictable load tenders or short lead time, route guides continue to show the Northeast region is underperforming in comparison to the balance of the country.
Loads with length of haul under 400 miles continue to show higher FTA and lower RGD than other distance bands. Carriers are accepting all distance bands much more readily with a recent correction as shown in the image above.
For February, all three distance bands saw improved route guide performance over December.
Short haul (less than 400 miles) posted an improvement in RGD of 2% from December and 21% improvement Y/Y—about 1.1.
Middle distance (400–600 miles) improved 1% from December at ~1.23. This is a 35% improvement from February 2022 and the best route guide depth performance for February in the past six years.
Long distance (over 600 miles) RGD improved 3% from December to 1.18. At 33% better than February 2022, this also is the second lowest route guide depth performance for February in past six years.
U.S. spot market dry van truckload rate per mile insights
The latest dry van spot market cost per mile forecast is updated with the results of the typical January softness due to drivers being back from vacation, which effectively increases active capacity from the holiday season. This, combined with rather normal pattern of reduced freight volumes in January and early February, result in a familiar truckload market softness.
The result during this period in most years is lowered market tension. This year's freight experience is similar to 2019 and early 2020, which was the market's last oversupply year before the shutdown of economies in March and the introduction of the pandemic period.
Dry van is showing just slightly more tension than 2019 and refrigerated and flatbed are below 2019 levels.
FTR Transportation Intelligence offers freight volume forecasts at the truckload sub mode level with dry van forecasted at 0.0% increase in loadings for 2023 and refrigerated at 1.7% increase Y/Y. Other sectors are forecasted down in their February 2023 trucking update with the exception of "specialized," which is forecasted at a 0.7% increase in loadings.
Other analysts offer an aggregate of blended volume modal forecasts that are low to mid-single digit lower Y/Y. Forecasting the trucking market in any year is a study of supply and demand. Supply is seemingly still very strong and freight volumes muted. As the year evolves, forecasts will be adjusted based on the carrier community response to the market in terms of adding or removing assets from active use and the accuracy of the freight volume forecasts.
C.H. Robinson 2023 dry van spot market cost per mile forecast
Shown below is the C.H. Robinson 2023 truckload dry van spot market cost per mile forecast without fuel. Like others, this forecast has been and will continue to be amended as economic forces shape freight volumes and the capacity community responds.
The dark blue solid line is DAT's broker cost per mile paid to carriers without fuel.
The light blue dotted line is the C.H. Robinson forecast for 2023.
The forecast is bounded on the bottom by the estimated cost per mile to operate a truck.
When looking at previous market cycles, the cost per mile to operate a truck has been the bottom of the market. Then supply tends to contract, creating tension and pricing inflection. The length of time a market is at the bottom varies by the economic conditions and the level of oversupply.
The C.H. Robinson forecast shows normal seasonal downward movement of cost per mile in January and bottoms out at the estimated cost per mile to operate a truck. This monthly update includes the March forecast, which anticipates more price movement in the van spot market later in the year than was forecasted in early January.
There have been subtle tweaks to this month's forecast, but it is largely similar to February's.
C.H. Robinson will continue to apply its broad market costs and market experience to the forecast and continue to present updates on a regular cadence.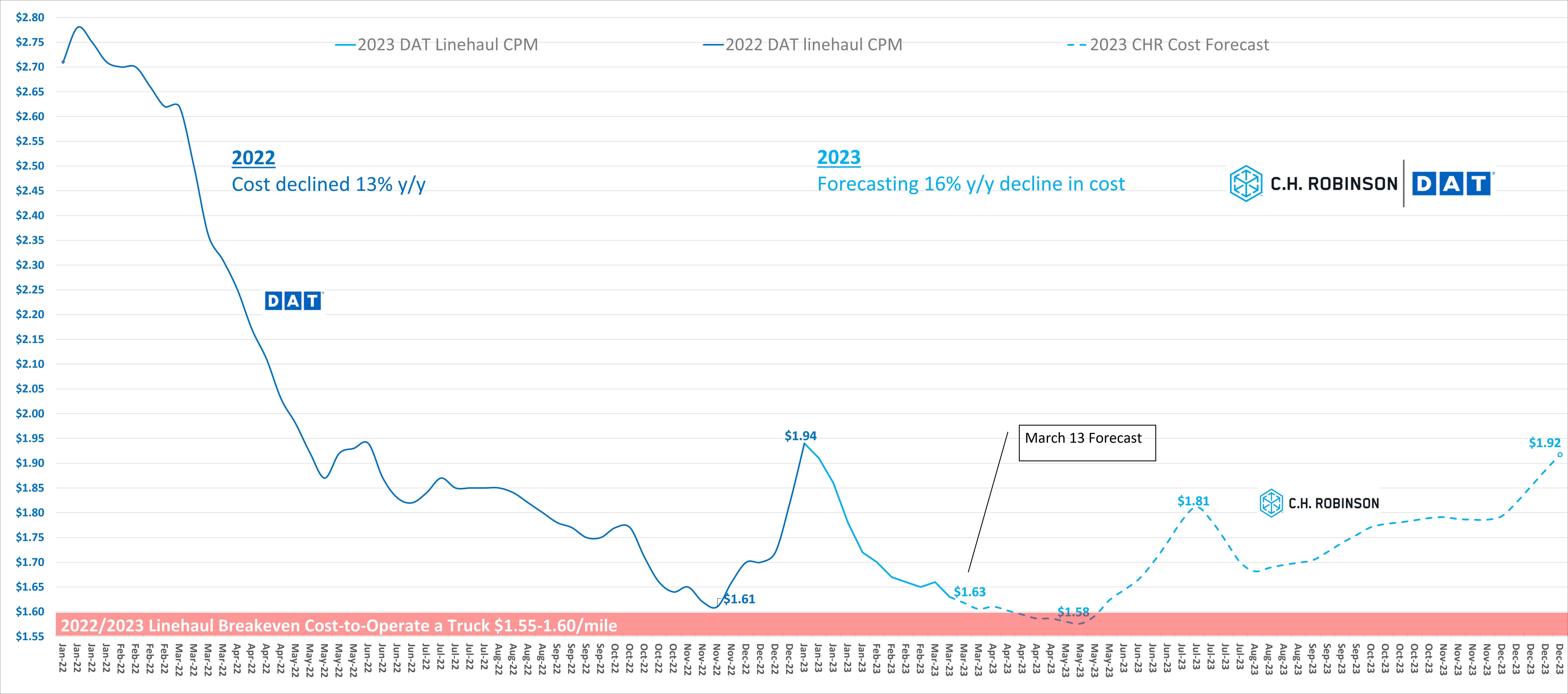 DAT National dry van linehaul cost per mile is the broker price paid to carriers per mile, which excluded fuel surcharge. The C.H. Robinson forecast is an extension of that cost. Estimated cost per mile to operate a truck is a C.H. Robinson forecast based on the American Transportation Research Institute (ATRI) historical costs to operate a truck through 2021
When reflecting on the average cost per mile to operate a truck, note that this is a national average across the carrier community. Accordingly, it aggregates carriers of all sizes—from owner-operators to the largest fleets.
Each carrier will have a different cost to operate per mile based on a host of variables with a key variable being the amount of empty (non-revenue generating) miles the carrier experiences.
The large portfolio of shipments C.H. Robinson handles is just one of the reasons carriers choose to haul for us. With so many load options, carriers can more easily find loads that decrease operating expenses. This in turn creates more capacity options for shippers that work with C.H. Robinson.
Diesel fuel retail pricing
In their March 7, 2023 Short-Term Energy Outlook, the EIA estimates March 2023 real retail diesel pricing at $4.34/gallon, down from $4.42 in February. For perspective, March 2021 was at $5.37. Finally, in March 2020, the beginning of the pandemic period, diesel was $3.19/gallon . The report also forecasted December 2023 at $3.98. Shown is the EIA's forecast for 2023 and into 2024.