TOP STORY: Today's market may be going through a shift
In 2021, the U.S. trucking market saw exceptional expansion of new carrier startups. Over 100,000 new companies with fleets of 1–5 trucks were started.
This new carrier community works mostly, if not exclusively, in the spot market and is facing the pressure of falling spot market rates, record diesel costs, and decreasing spot market freight volumes.
The capacity market tends to begin to cycle in these environments as seen in the following market indicators:
Used truck pricing in April started contracting from record heights for the first time in the pandemic period. This tends to be an indicator of carriers not expanding their small fleets or not updating equipment in an environment of less opportunity..
Less freight is migrating to the spot market from route guides as shipment tenders to awarded carriers/brokers is increasingly accepted and when rejected is most often covered by the first back up. (Source: TMC, a division of C.H. Robinson)
Voluntary revocations of operating authority have been increasing. The second quarter of 2022 rates are now more than double the rate seen in the first half of 2021. Source: FMCSA. Voluntary revocations do not offer the business reason why the carrier voluntarily gave up their operating authority, but are considered signals of lessening market opportunity.
Trucking labor is experiencing growth when unexpected and not needed. (Source: BLS) Presumably as self-employed (owner-operators) discontinue operations and select the safety of employee status of a larger carrier.
Today's truckload spot market has not collapsed, it has corrected
From the exceptional tension of Q1 caused by COVID-19 related absenteeism to today's market, it is tempting to suggest that the truckload market as indicated by the spot market, has collapsed and gone into an oversupplied situation.
Perspective is helpful at this mid-year reflection and forward planning point. Shown below is DAT's load to truck ratio (LTR) for dry van year to date. The correction from Q1 to present is evident.
The five-year average pattern, however, is well established now at about 19 weeks since the drop. The volume of freight in today's freight market is reduced as displayed by load postings dropping from a high of about 2.25 million per week earlier in the year to just a bit over 1 million per week as a sustained pattern through last week.
Truck postings have been holding a narrow pattern with some downward and upward variance. This pattern is being watched closely by all market participants, but does bring perspective to the change in the market.

What comes next in terms of freight volumes and capacity shifts?
The following insights offer perspective of the spot market to help reflect and plan for the second half of 2022:.
Economic environment: Key to this pattern is freight volume. Each business will need to discern their thoughts on H2 2022 and the resulting freight volumes.
Supply response:

Will supply contract?
If it contracts, how fast?
Does the 2021 growth of 100,000 carriers mean more fragility than previous cycles?

Spot market tension and pricing shown is national, individual markets and lanes can have much tighter and looser experiences, suggesting value in segmented strategies.
Stay close to the market dynamics. The spot market is a good leading indicator of the broader contract market.
Spot market, committed market, and capacity insights
Spot market settled into more balanced position around five-year averages
The three primary truckload segments have seen greater balance return to the spot market load to truck ratio (LTR) with some stability in their weekly variance.
The charts below show six years of DAT's LTRs. The red line represents 2022. Between 3:1 and 4:1 LTR for dry van can be considered a reasonably balanced market, while balanced for refrigerated is closer to 6:1 and flatbed considers 20:1 balanced. The spot market is a leading indicator of the broader contract market, providing insights to market tension and direction of evolving price
Since about week 13, the van and refrigerated spot markets have offered little variance in LTR. The van market has been bouncing above and below 4:1 and the temperature controlled market somewhere around 6 or so.
The market continues to show some reluctance for additional free fall of pricing at these ratios as pricing is getting rather close to the estimated cost of operations in week 29.
The C.H. Robinson dry van spot market forecast, presented below, shows the current broker to carrier cost per mile and how it is closing in on the operations expense per mile estimate. Historically, the cost of operations has been the bottom of the market.
Dry van LTR
The dry van LTR is in the range of a balanced market. It is currently bouncing around 4:1 nationally and on a multi-week increase in LTR. Individual markets range from oversupplied to as tight as 26:1 LTR. The five-year average for week 29 is about 3.6:1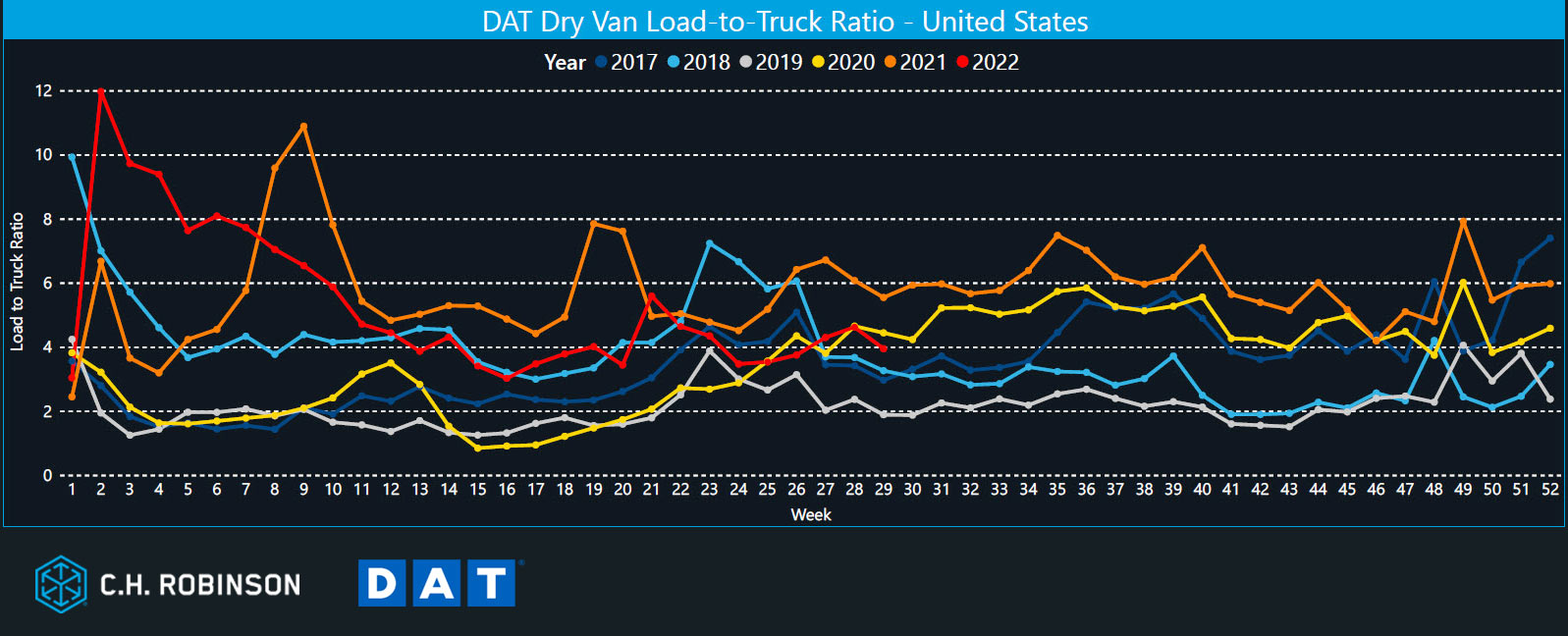 Refrigerated van LTR
Temperature controlled truckload has stabilized in the early produce season at a balanced market level of 7:1 LTR, and bouncing between 6:1 and 9:1 with a 5-year average of 6.8:1. Key growing regions across the midwest United States show ranges largely between 3:1 and 35:1, with some markets such as West Texas and Southern California displaying some of the greatest tension at the high end of the national range.
The fresh produce harvest season appears to be less robust than most seasons as a result of inflation. In the refrigerated truckload section below, this is discussed in more detail.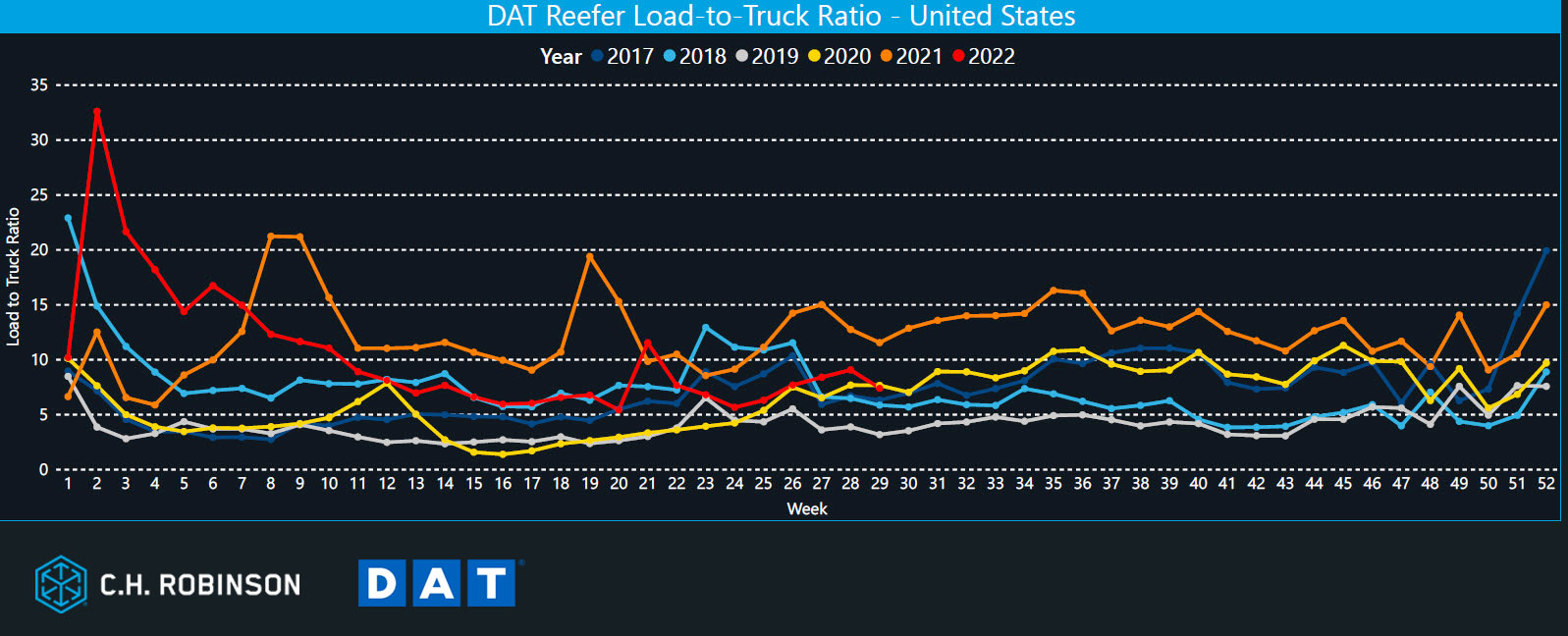 Flatbed LTR
Flatbed, like van and refrigerated capacity, has seen meaningful market correction, and is largely at a more balanced market. The current 23:1 LTR presents a capacity market well matched to the demand for flatbed services and below the 5-year average for this week of 30:1.
The Southeast continues to be notably tighter than other parts of the country and influences the national LTR. Please see the flatbed section of this report for additional insights.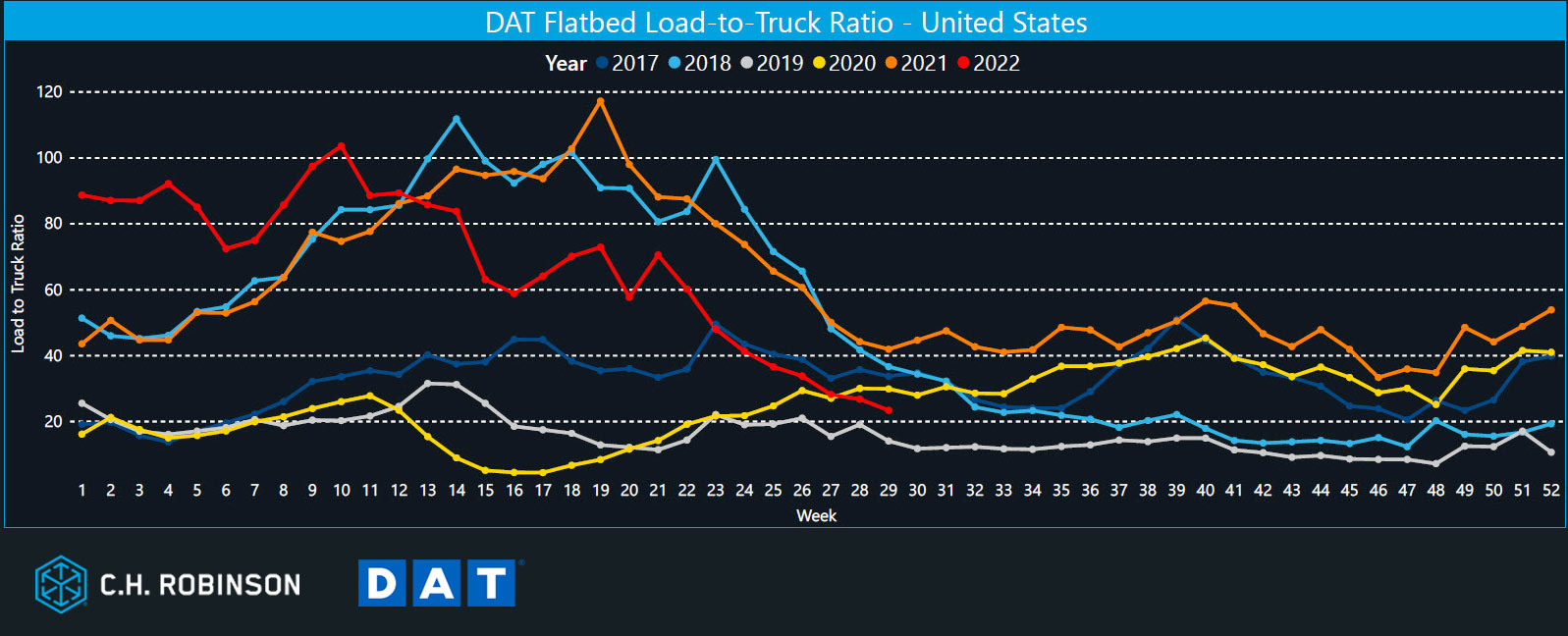 The first half of 2022 continues to offer a shifting experience as the forces of supply and demand are unfolding. It may take until July to gain a sense of what the second half of the year might look like.
Dry van and refrigerated DAT LTR by region
The 6-year aggregated view of the U.S. spot market above is broken down below for the dry van spot market by 3-digit ZIP code regions for the week of July 10-16. This view helps demonstrate the meaningful variance of markets—some have plentiful capacity while others struggle materially to keep up with demand.
The current national average is roughly 4.1, with a range of 1:1 to over 19:1 across 3-digit ZIP code areas. Most notable are key markets of Los Angeles, CA and Laredo, TX seeing LTRs in the 13:1 to 15:1 range.
The refrigerated market is displaying a similar pattern to the van market, being near the 5-year average for spot market tension. The most tension as a result of the produce season in the Midwest as well as coastal regions. Though a muted produce season LTRs in yellow to red zones range from 7:1 to over 50:1.