TOP STORY: Now is the time for focused strategy improvements
Truth be told, any time is a good time to reflect on your truckload strategy. However, today's market is an especially appropriate time to engage your top suppliers and plan for the next cycle shift. The next cycle will come, but the precise timing and what the experience will be is difficult to predict.
Four insights about truckload strategies
This month's report will feature four insights about truckload strategies from the C.H. Robison portfolio of academic research. These insights are offered to help achieve better acceptance of tenders to the transportation provider ranked first in a traditional hierarchical route guide. Often, when tenders are rejected, backup providers and the spot market are used, introducing increased costs and potential service issues.
For a closer look at some of these strategies, check out our published white papers and watch for new publications featuring the latest research. Connect with your C.H. Robinson representative to discuss how these and other strategies may benefit your supply chain and transportation goals.
Smooth demand patterns when possible
Research shows lane volume and cadence of shipments is correlated to acceptance. First tender acceptance will be at its highest when the demand pattern can be predicted by your primary awarded service provider.

Today's truckload route guides are performing very well (see the contract truckload section below), but research shows that even in markets such as today's, lanes with the highest rejection of shipment tenders have a pattern of low demand predictability.

Segment your transportation portfolio
The demand pattern attribute introduced above is one top segmentation strategy, another is the actual markets or corridors in which your freight travels. Corridors may be oversupplied, under supplied, balanced, or without a lot of trade.

Segmenting your portfolio into the markets of contract and spot will help ensure the most predictable performance and best price in any market cycle. Talk to your C.H. Robinson representative about introducing you to Procure IQ™ and our experts can help with this process.

Rationalize your supplier base
Research shows rationalized trucking supplier base of top performing suppliers will outperform a highly fragmented pool of suppliers. Use your supplier scorecards and strategic relationships to develop a resilient and top performing route guide and spot market strategy.

Maintain your route guide
The best laid plan will be introduced to change. Supply chains evolve and with those changes so does the carrier network that planned on awarded volumes.

As such, assets are not where they were planned to be and route guides can demonstrate some failure, even in a market like today. Research supports the effort to fix underperforming lanes by way of mini-bids or other similar approaches. This will yield a lower price paid than the results of the underperformance.
Spot market, committed market, and capacity insights
Spot market continues around five-year averages
As reported last month, the spot market volume decline coincided with the return of drivers from COVID-19 related illness in the first quarter. Like any market, there is some week over week change in spot market volumes, but the pattern of change has narrowed since about week 13.
Truck postings have varied week over week and are slightly higher today than earlier in the year. Accordingly, the spot market has corrected and continues to offer a load to truck ratio (LTR) at the 5-year average with only minimal variation week to week since week 13. This is most evident in both the dry van and refrigerated segments.
National LTR averages
Offered this month are national 2022 LTR averages by week with 5-year average comparisons. The following section displays the regional variances within a national average.
Dry van LTR
Dry van is the largest segment of the truck market. It is performing well in most markets across the country.

Refrigerated van LTR
While the 2022 fresh produce harvest season is somewhat muted in the key growing market when compared to previous produce seasons, the national average continues its pattern of the 5-year LTR.

Flatbed LTR
Today's flatbed spot market offers plentiful capacity in most markets with a load to truck ratio of about 15:1, well below the historical average of 26:1.

Regional LTR averages
Regional perspectives can help you understand and plan for optimal market performance. Shown here are LTR at the point of origin for the week of August 7–13.
Note how the colors indicate different ranges of LTR by each of the three truckload services. Some lanes from an origin may perform better or worse than the LTR might indicate. Our research and experience confirms that an origin-destination pair can have more or less attractive features to the capacity market than the regional average tension might indicate.
Regional dry van LTR
Dry van is displaying a great deal of yellow (3.4 to 6.9:1 LTR) with a national average of 3.6:1. Of note, PA has been experiencing significantly greater tension for several weeks in a row.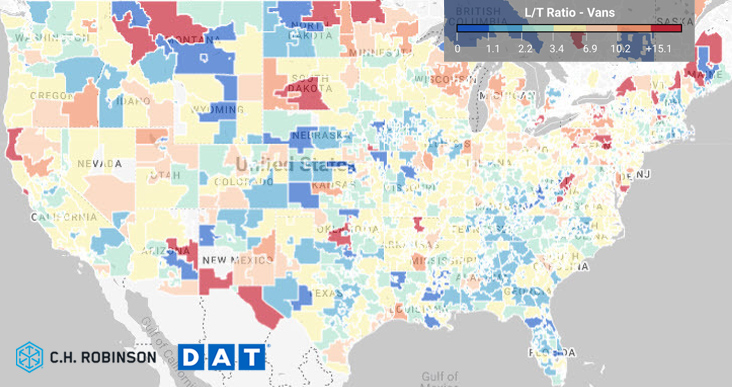 Regional refrigerated LTR
The national LTR at the 5-year average between 7 and 8:1 is showing some greater tension in the Midwest due to harvest season of fresh produce.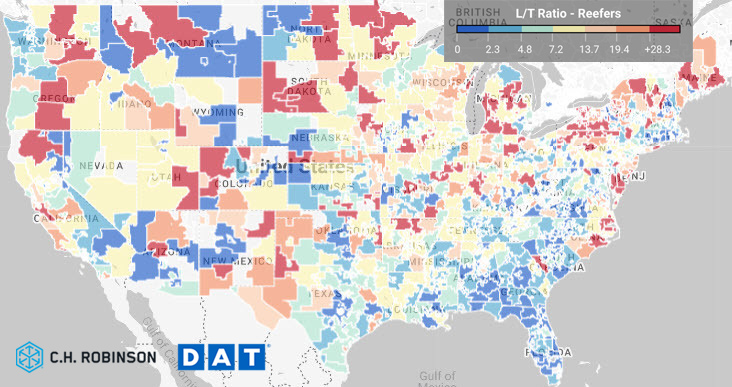 Regional flatbed LTR
Today's flatbed spot market LTR of ~15:1 shows meaningful tension in the Southeast.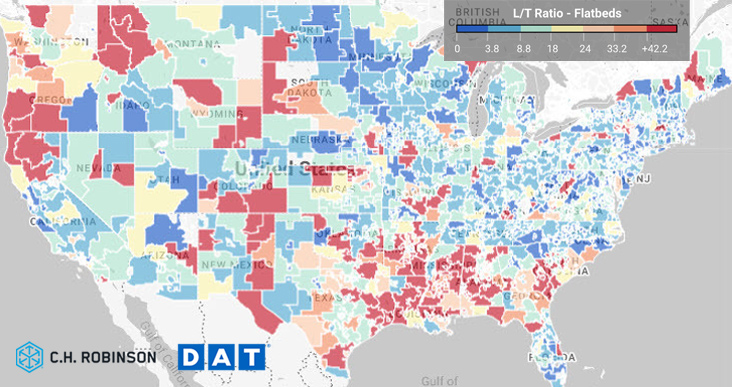 Labor day insights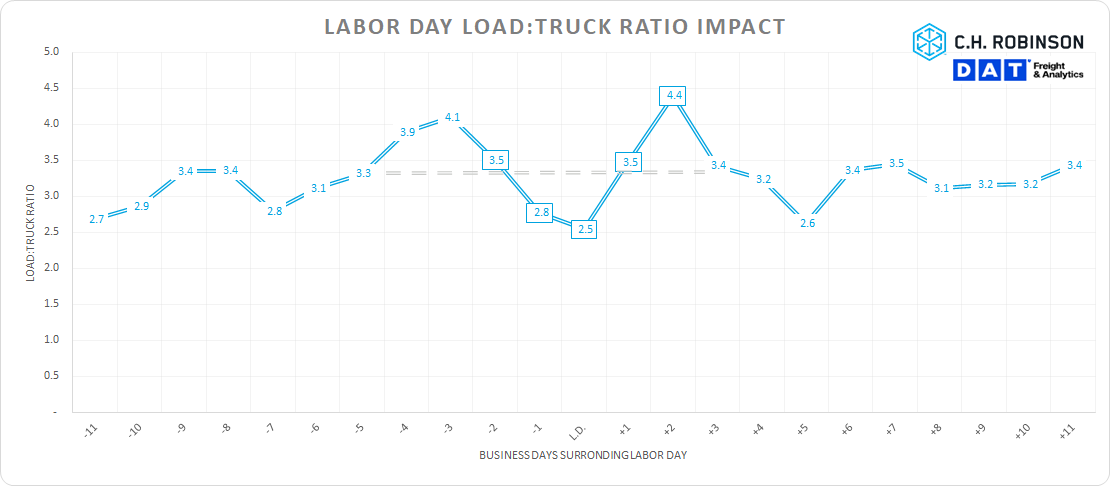 C.H. Robinson has been studying the impact of disruptive events and their impact on spot and contract truckload markets. Depicted here is the DAT LTR around the Labor Day holiday.
This is an 11-year average showing the days prior to Labor Day (depicted as L.D.) and the days after Labor Day. All days shown are weekdays. In all years, regardless of market tension the pattern shown is: Increased tension prior to the holiday, a slump at the holiday, tension returning, and then settling back to pre-holiday tension levels.
It would seem for this Labor Day, the market can expect performance similar to the average. The van spot market has been performing at the five-year average for LTR since week 13.
The experience is created by shippers putting additional loads into the spot market on Tuesday and Wednesday before slowing down shipping nearing the long weekend. There of course is not additional capacity, so tension increase is the result. And then tension declines on Thursday and Friday as both load and truck postings drop.
As in any industry, there is a percent of drivers/employees that extend the holiday weekend, and active capacity is reduced between Thursday and Wednesday the next week. So as shipping volumes ramp up on Tuesday and Wednesday after the holiday, tension is high, waiting for the full active capacity back in the market on Thursday.
This spot market experience also occurs in the contract truckload market. Route guides tend to underperform around the holiday for the same reasons of driver vacation. As proven in our research with MIT's Center for Transportation and Logistics, lanes of higher volume and greater demand pattern predictability weather this and all holidays better than those lanes with lower volume and less demand pattern predictability.
The lower volume lanes tend to have the greatest exposure to rejection of shipment tender and end up being moved by carriers deeper in the route guide or in the spot market, both bringing price and service variance to the load/lane.
The recommendation is to be mindful of this market pattern and plan accordingly. As noted, this pattern occurs in soft and tight markets. The softer markets display less change than an average or a tight market, but still follow this pattern.