TOP STORY: The expansion of truckload capacity
Trucking jobs returned to pre-pandemic levels
February's report from the Bureau of Labor Statistics (BLS) offered that trucking jobs were about 2.5% greater than pre-pandemic. The primary growth area for trucking jobs is the local trucking sector, with long-haul and LTL just over pre-pandemic levels and specialized trucking like flatbed, tanker, and dry bulk still lagging pre-pandemic employment numbers.
The BLS Preliminary March numbers appear to show little change from February. This apparent ongoing struggle with trucking employment seems a bit incongruent with the growth of the for-hire truckload market in 2021.
Capturing the self-employed trucking jobs is a bit problematic and it is accepted that BLS figures miss some percent of those jobs, suggesting that trucking employment is likely even stronger than shown in these figures.
The growth of small carrier fleets
The below graphic shows the company sizes that make up U.S. for-hire truckload fleets for 2021.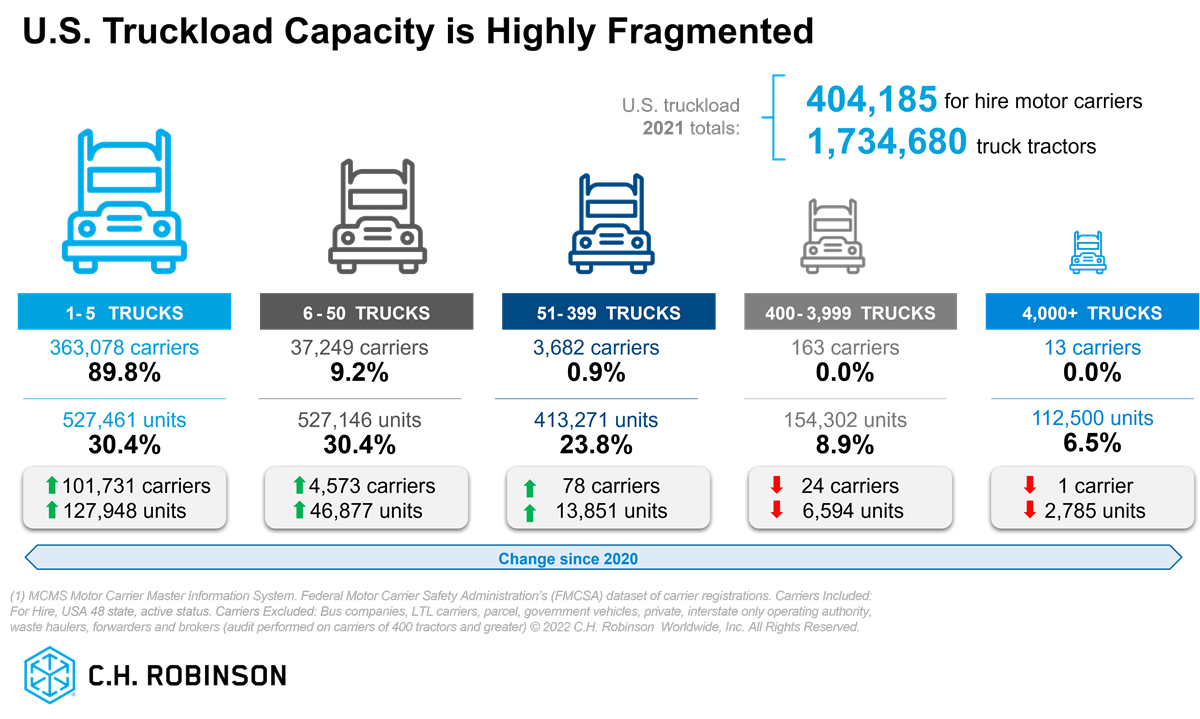 Here are some top line insights from this work:
Capacity growth continues to be concentrated in the smallest fleets
Within each fleet size segment shown, the distribution of companies is concentrated to the smaller sized fleets
The U.S. truckload market continues to fragment—with an increasing company count and tractor count in the owner-operator community
Registration data suggests that growth in the 2021 fleet was driven by new entrants or returning drivers versus solely migration from large to small carriers
How we develop the graphic
Using the MCMIS data from FMCSA, C.H. Robinson works with the data to discern the for-hire truckload capacity from the vast array of transportation companies in the dataset.
When studying the carrier market, one challenge is in discerning the market role of the smallest carriers. Are they serving as an owner-operator or as an independent contractor to a larger carrier?
As capacity migrates, it leaves the possibility of some tractors being included in a larger carrier count both as independent contractors and as an owner-operator. We have continually improved our methodology since 2015, but largely follow a similar process, giving confidence in the broad market trends and consider these insights directionally accurate.
We encourage you to engage your C.H. Robinson representative with questions about this work and insights on the market.
Market speculation: Will there be another shift in capacity?
With the lessening of tension in April, there are some forecasting material contraction of capacity due to bankruptcy. The argument is that the combination of the rapid rise of diesel pricing and the softening of tension will result in lower cost per mile in the spot market and cause undercapitalized carriers to experience negative operating ratios and file for bankruptcy.
The apparent correlation between rising diesel costs and bankruptcy
The rapid change in the price of diesel is problematic for carriers as they can't amend pricing fast enough to offset the portion of diesel expenses (empty/repositioning, idle, and looking for parking miles) not included in fuel surcharges.
Data to prove this out is problematic, but looking at voluntary revocation of operating authority supplied by the DOT, we see that through Q3 2021, roughly 4% of revocations of operating authority were voluntary each month. Q4 brought increases of 5 and 6%.
It is likely that the current environment will cause some percent of the smallest carriers to either leave the industry or sign on to a larger carrier as an independent contractor. The first results in some loss of capacity while the latter shifts capacity.
Of note, a driver leaving the industry does not necessitate that the tractor is parked or scrapped. Especially in today's robust used truck market, the likelihood of the tractor being sold and put into service at another carrier is very plausible (and at that, carriers still could face a loss because these new entrants, likely purchased the equipment at a premium). As such, reduction of the active carrier community does not necessarily reflect a one-to-one loss of capacity.
Please connect with your C.H. Robinson account team to discuss the market further and discern if your transportation strategy might benefit from some amendment to address today's capacity market and long-term trends through the cycles of an ever-expanding small carrier industry.
Roadcheck 2022: an opportunity to prepare
The Department of Transportation (DOT) schedules a three-day event each year to focus on roadside safety inspections of commercial vehicles. Historically this event has been in June. In 2020 due to the pandemic, it was rescheduled to September and in 2021 it was moved forward to the first week of May. This year, the annual event is scheduled for May 17–19.
Historically, the trucking market has seen some undefined percent of truckload capacity takes some time off during this annual event, effectively reducing the active truckload capacity in the United States.
Planning insights for this year's Roadcheck event
Using our insights on the spot market during past Roadcheck weeks and early insights from active research C.H. Robinson has sponsored at MIT's Center for Transportation and Logistics, here is some perspective to plan for the annual event.
DAT's load to truck ratios during Roadcheck week are shown in the visual below for the dry van spot market. The key insights are this:
There is a notable reduction in posted trucks to DAT for four days, showing a one-day lag after the three-day event for capacity to return
When the spot market is at exceptional tension levels (like 2018 and 2021 shown here against an 11-year average) the impact is substantial
The 11-year average shows an immediate contraction of active capacity that lasts roughly four days (Day 1 through Day +1)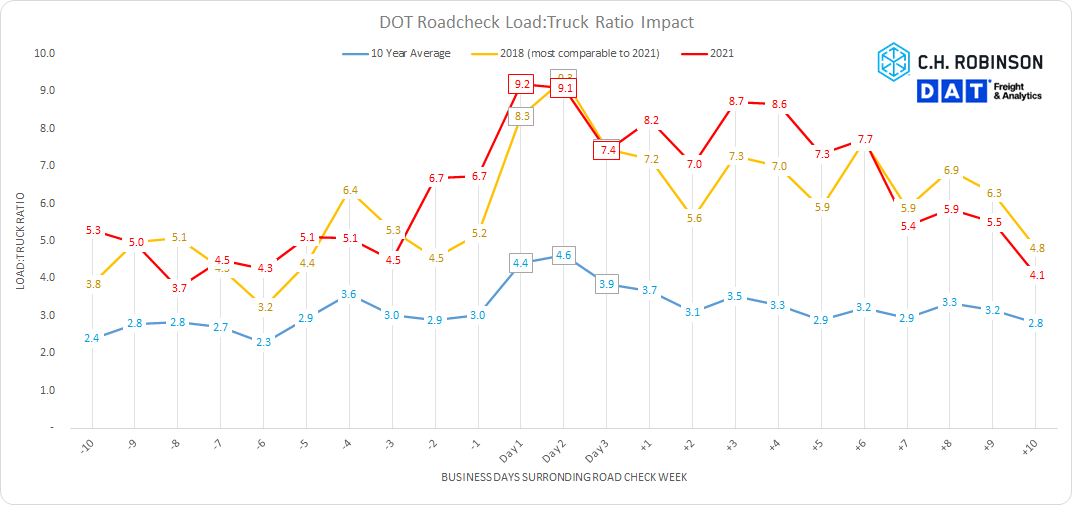 Preliminary results on current research sponsored by C.H. Robinson with MIT-CTL on route guide performance suggests Roadcheck week impacts route guide performance as well. These are only preliminary findings, final results will be available later in 2022.
Route guides do experience some reduction in first tender acceptance (the tender to the primary/awarded provider).
It is the lower volume lanes that see the greatest rejection of tenders from primary suppliers leading to coverage from back-up providers or the spot market.
Be prepared for some capacity challenges in any market during this period. Our research of spot and contract markets covers both low- and high-tension markets. The higher tension markets see many more issues than low tension, but all markets show consistent underperformance for four days.
Spot market, committed market, and capacity insights
Spot market under continued pressure
As discussed in the opening of this report, all three primary truckload segments are showing improvement in load to truck ratio (LTR) tension in the spot markets.
The charts below show six years of DAT's LTRs. The red line represents 2022. A 3:1 LTR for dry van can be considered a reasonably balanced market, while balanced for refrigerated is closer to 6:1 and flatbed considers 20:1 balanced. The spot market is a leading indicator of the broader contract market, providing insights to market tension and direction of evolving price.
The year opened with January and early February showing the impact of reduced active capacity because of increased absenteeism from COVID-19 Omicron infections. As absenteeism has subsided, more stability has come to the active capacity market and LTRs for van and refrigerated equipment have lessened.
March brought a trend of fewer loads being posted in the spot market against reasonably consistent truck postings, resulting in lower load to truck ratios and with it, a lower tension experience.
Normally, the broader contract market would see this as indicative of price relaxation forthcoming. The current lessening of the spot market, while notable, will likely not see as severe contraction in pricing as some might expect due to the very real increases to the cost of trucking in 2021, which was around 16% and forecasted for 2022 at roughly 9%.
These increased costs come from increases in labor, new equipment, repair and maintenance, finance charges, and insurance. The floor cost of operations correlates with the market floor. As pricing approaches the cost of operations, capacity exits the market through business closures and retirement of aged assets. This in turn brings tension back to the market and pricing stability for carriers.
Note that the cost of operations forecasts are C.H. Robinson estimates, averaged with and without fuel, and are based on the ATRI annual cost of operations report. Final 2021 costs will be published by ATRI in November 2022.


Dry van LTR
The dry van LTR is currently in the range of a balanced market. Watch the economy, any resulting load volumes, and potential contraction in capacity.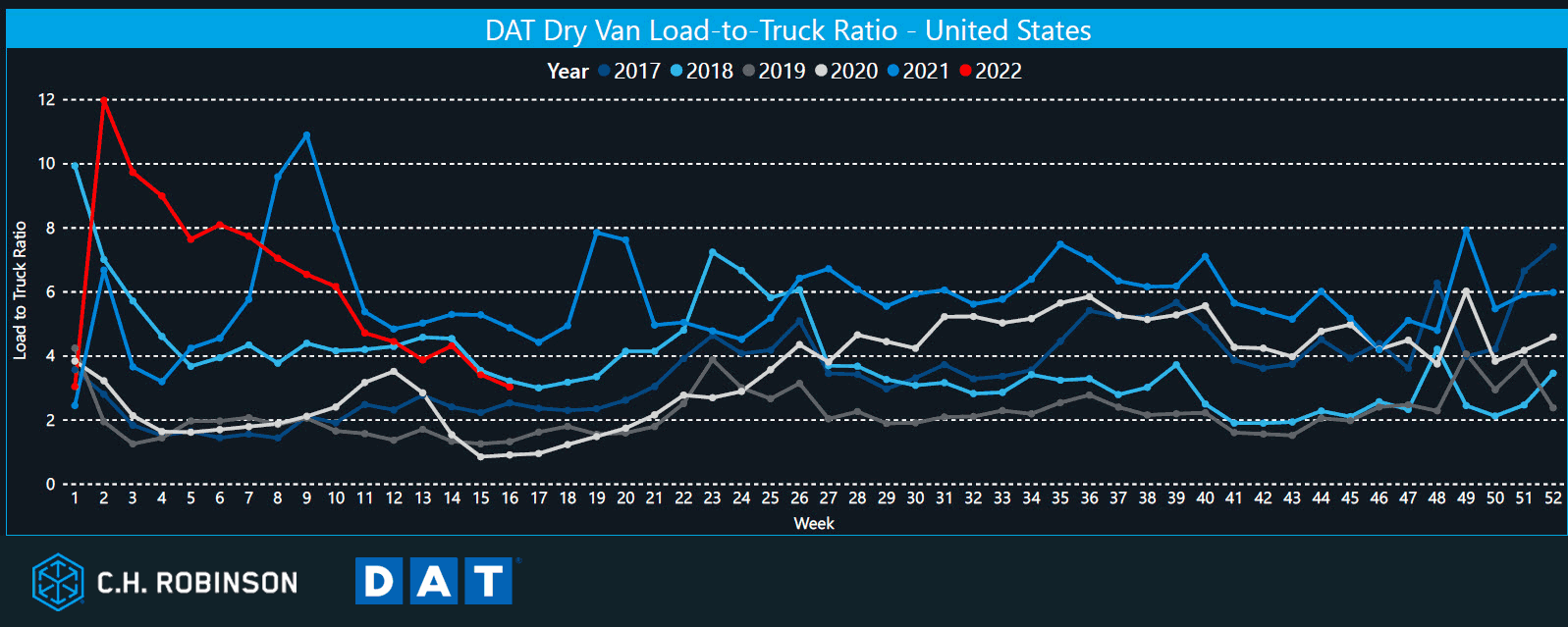 Refrigerated van LTR
Like dry van, refrigerated LTR shows a similar pattern of softening to a more balanced market. However, the refrigerated market is at the beginning of produce harvest season. There is normally a slow drift upward on this LTR visual from this point forward due to the increased volume of fresh produce shipping.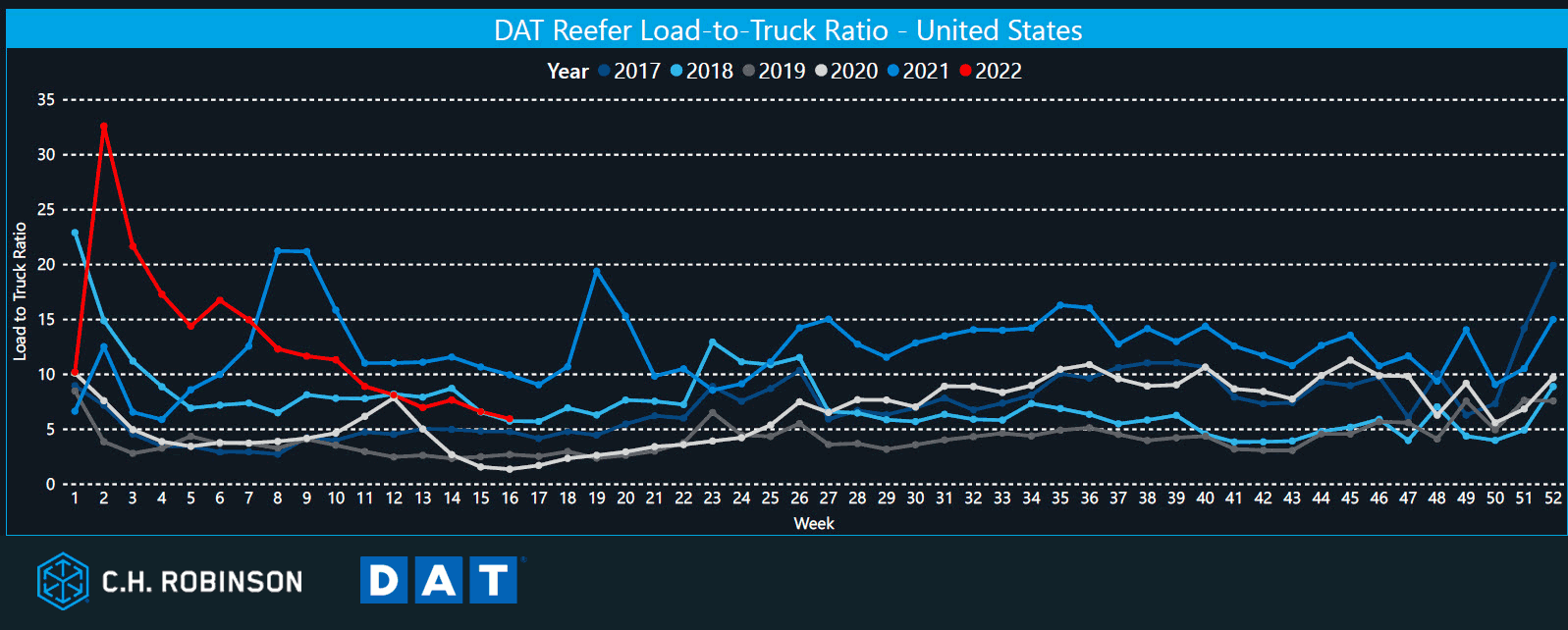 Flatbed LTR
As shown below, flatbed started the year greatly elevated from historical norms with improvement starting in week 11. This lag in softening as compared to the other modes may be a result of the persistent driver shortage (as compared to pre-pandemic) in specialized transportation that the Bureau of Labor Statistics has been citing. See the flatbed section of this report for more insights on the industries/products driving the flatbed experience.
The first half of 2022 is offering a shifting experience. Keep a close eye on these early forecasts due to key influencers on the economy and freight market. Inflation, consumer shifts in purchasing, and the Russian invasion of Ukraine, are just a few influencers with a possible impact on supply chains and the global economy.
Dry van DAT LTR by region
The 6-year aggregated view of the U.S. spot market shown above is broken down below for the dry van spot market by 3-digit ZIP code regions. This view helps demonstrate the meaningful variance across markets—some have plentiful capacity, while others struggle to keep up with demand.
The 3:1 national average has regional ranges between 1:1 to over 16:1. Most notable is the relaxation of pressure on the West Coast after months of record capacity issues. This relaxation of pressure exiting California has however made inbound routes to California problematic as carriers struggle to find loads back inland.
Mexico's cross-border situation continues to be out of balance with the flow of goods Northbound being double to triple those moving Southbound.