Global
Expect rates to rise in the next several months. There will be increases to the Bunker Adjustment Factor (BAF) charged by carriers to account for sharply rising fuel costs. We expect carriers to begin to make BAF adjustments monthly, as opposed to previously making these assessments quarterly.
Average delay of late vessels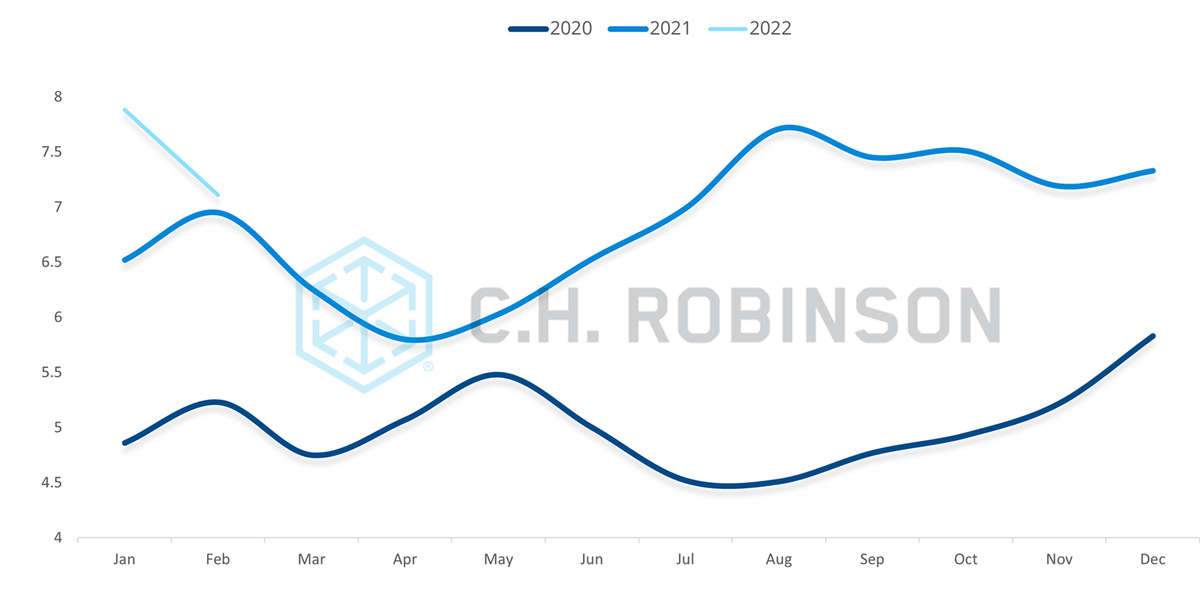 Source: © Sea—Intelligence Maritime Analysis
Average month-over-month improvement in February 2022
Delays continue to be highest across each month when compared historically
Demand has increased, creating vessel bunching, berthing delays, and reduced-yard capacity
Blank/void sailings are used by carriers to mediate congestion
Global schedule reliability
Source: © Sea—Intelligence Maritime Analysis, Global Liner Performance Report
Schedule reliability improved February 2022, the first significant recovery month-over-month since March 2020. Overall, schedules will continue to remain challenged because of port congestion.
Additional considerations to remember:
Forecast 6–8 weeks minimum
Prioritization
Variability in SKUs/parts
Smooth volumes week-to-week
Regular communication with C.H. Robinson
Africa
The port in Durban, South Africa closed after heavy rains caused severe flooding and mudslides in the city. All terminal operations were on hold and rail lines in parts of KwaZulu-Natal province were operating at limited capacity. Floodwater carried away shipping containers as bridges and roads collapsed. Durban port is the largest and busiest shipping terminal in sub-Saharan Africa.
Asia
Space at Port of Shanghai is critical for temperature-controlled and hazardous cargo. Carriers are refusing new bookings and diverting containers already destined for Shanghai.
Congestion at transshipment ports average 15–30 days in Busan, Kaohsiung, and Singapore.
Europe
Port omissions in Europe have increased, particularly at ports in Hamburg, Rotterdam, and United Kingdom.
Growing congestion is worsened by containers destined for Russia, Ukraine, or Belarus that are now being terminated at transshipment ports until re-routing instructions are received from cargo owners.
A report by the United Nations Conference on Trade and Development (UNCTAD) warns that 1.5 million containers of Asia-Europe rail cargo could be converted to ocean freight because of the Russia/Ukraine conflict. Should this occur, space will become very tight and freight rates will rise.
North America
Export space availability from United States to North Asia ports has improved, especially direct service and port-to-port business from United States West Coast (USWC).
Carriers have shifted vessel capacity from USWC to United States East Coast (USEC) ports to address the significant congestion felt on the West Coast. The move will also provide alternative routing solutions in the event of labor disruptions at Los Angeles/Long Beach when the current union contract expires June 30, 2022.
Full Container Load (FCL) terminals in Northern Europe and USEC have had constantly shifting vessel schedules and low on-time performance. This will undermine stability on the Trans-Atlantic trade, creating bottlenecks that will make the USEC the next hot spot for high congestion. This will lead to intermittent vessel backlogs outside the ports of Charleston, Savannah, New York, New Jersey, and Virginia.
South America
Congestion at East Coast South America (ECSA) ports is significant because of an increase in COVID-19 cases and strong northbound demand. Space remains open to ECSA ports.
Space to West Coast ports is extremely reduced as many carriers have suspended services.
South Asia
The congestion at Chittagong, Bangladesh port persists, and space is limited. A congestion surcharge is in effect. Rates are significantly higher from USWC ports to Indian Sub-Continent (ISC) as carriers try to encourage routing of cargo from USEC or United States Gulf Coast (USGC) ports where there are more direct services.
Space continues to be limited. We recommend booking 4–5 weeks in advance.
Oceania
The Southeast Asia market remains very strong, with demand continuing to strengthen. Expect this trade to remain strong in the months ahead.
Post-Lunar New Year (LNY), the Northeast Asia market has softened. Both added capacity and new services have also had a negative impact on rates. We anticipate this trade will remain under pressure until at least May/June 2022.
The Trans-Tasman market continues to be strong with limited capacity. Carriers plan to replace smaller vessels with larger ships in the upcoming months.
Carriers have announced omissions to Auckland, New Zealand from USWC. To assist in easing congestion, look for:
Return of Seattle fortnight call
Weekly Oakland, CA service
Intentions to drop Long Beach, CA to fortnight rotation in June
Weekly service from USEC has been reliable, although vessel delays in Australia has caused both Melbourne and Sydney port omissions. As capacity shifts from USWC to USEC to sidestep the West Coast congestion and delays with Transpacific Eastbound (TPEB) trade lanes, we will see the USEC ports deteriorate over the next 4–6 weeks.
Heavy vessel delays in Europe and Australia will continue to cause weekly change of rotations until the end of Quarter 2. Recent flooding in Brisbane, Australia has added another obstacle to an already complex timetable.
The Easter holiday will have an impact on all facets of the supply chain—delays and congestion will be more noticeable. Holiday and weekend surcharges will be enforced by carriers to recover costs.