Global
Various economic trends and disruptors are affecting different regions around the world. While production in Central China is resuming after the COVID-19 lockdowns, the increased export demand from Asia may not be fully measurable until July. Transatlantic trade is still strong. The fruit season out of Africa, South America, and India is ongoing. The Russia/Ukraine conflict is still impacting oil prices—and therefore, vessel bunker costs—in the Black Sea and Mediterranean. Port congestion and container equipment fluidity will be crucial to watch in the upcoming months.
Average delay of late vessels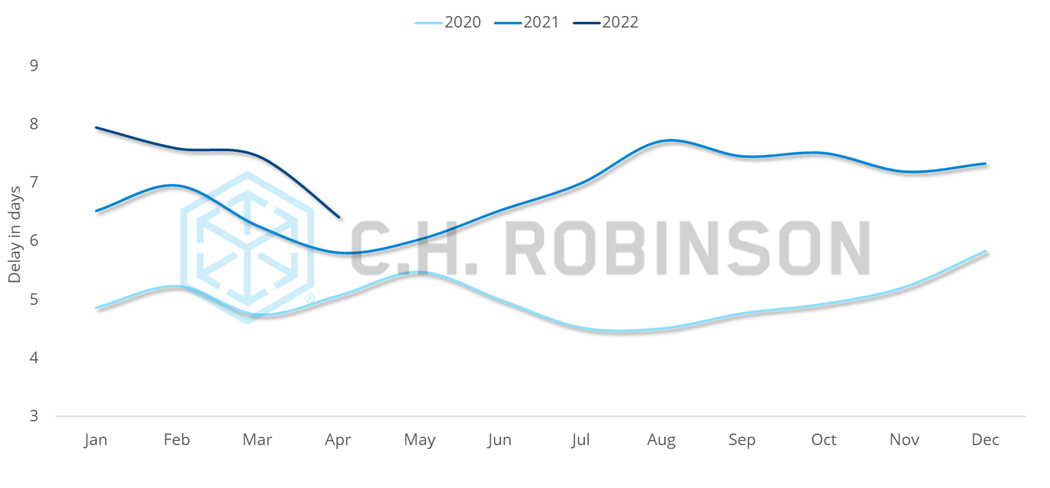 Source: © Sea—Intelligence Maritime Analysis
Average delays have improved month over month
Carriers will use blank/void sailings, port omissions, and service rearrangement to mediate congestion and optimize their network capacity and fluidity
Global schedule reliability

Source: © Sea—Intelligence Maritime Analysis, Global Liner Performance Report
Schedule reliability shows gradual improvement month over month. Overall, schedules will continue to remain challenged because of port congestion.
Additional considerations to remember:
Forecast 6–8 weeks minimum
Prioritization
Variability in SKUs/parts
Smooth volumes week to week
Regular communication with C.H. Robinson
Asia
With the termination of COVID-19 lockdowns in Central China on June 1, 2022, production has gradually resumed. Uncertainty remains with new COVID-19 outbreaks weeks following the reopening. The increased export demand will start to manifest toward the end of the month and into July.
South China is experiencing a seasonal lull.
Production in Southeast Asia has also been reduced by the shortage of raw materials sourced in China—such as furniture, auto parts, and electronics. Export demand is expected to increase next month.
Europe
Terminal operations in Germany have been in decline, particularly in Hamburg. As a result of constantly changing pick-up and delivery windows at terminals, anticipate additional pre-carriage costs to be incurred.
Growing port congestion in the region is a result of containers destined for Russia, Ukraine, and Belarus, now being terminated at transshipment points, and awaiting re-routing instructions from cargo owners. Schedule unreliability also contributes to backlog at European ports' terminals.
Congestion still plagues the Mediterranean region—Genoa, La Spezia, and Valencia, Italy being chiefly affected. This has resulted in equipment shortages as well.
Steamship lines have attempted to help service fluidity by reshuffling and creating new services. The AT3 service introduced end of May, connecting North Europe to Saint John, NB, Canada, is a prime example. It aims to bypass the United States Northeast port congestion and offer an alternative into Canada and the United States Midwest.
North America
Port congestion is causing serious delays to ocean vessels sitting at anchor and waiting to berth. It is important to consider the estimated average delays in vessel schedules:
Exports from U.S. East Coast (USEC) ports: 10-to-14-day delay
Exports from U.S. West Coast (USWC) ports: 10-to-14-day delay
Exports from U.S. Gulf Coast (USGC) ports: 7-to-10-day delay
Transshipment ports (particularly in Asia): 15-to-30-day delay
These delays should be added to the overall expected transit time to ensure proper planning to meet required delivery schedules.
South America
Tropical fruit season is underway, bolstering overall demand. However, ocean services are distressed by adverse weather conditions, weak port and terminal infrastructure, and operational challenges. Shifting service rotations and port omissions will compound the container equipment shortages at many origin locations.
South Asia
Although fruit season is near conclusion, export demand in India remains robust for many other commodities. Pakistan demand has witnessed a decline in recent weeks.
Space options are available, particularly on direct services. Transshipment services face risk of delays from congestion as they compete with local exports.
At times, equipment and space can be more challenging out of Inland Container Depots (ICD) and South and East India.
Plan to book 3–5 weeks in advance to secure space and equipment.
Oceania
The Southeast Asia market continues to be strong and will remain stable. Demand is expected to continue to grow and remain strong in the months ahead.
The Northeast Asia market has softened. Both added capacity and new services have also had a negative impact on rates. Expect this trade to remain challenged into the second half of 2022.
The Trans-Tasman market remains strong with limited capacity. Carriers continue to replace smaller vessels with larger ships.
North Europe, Mediterranean, Oceania (NEMO) services are experiencing heavy vessel delays. The weekly change of rotations will continue through the end of the quarter.
Carriers have announced omissions to Auckland, New Zealand from USWC. To assist in easing congestion, look for:
Return of Seattle fortnight call
Weekly Oakland, California service
Intentions to drop Long Beach, California to fortnight rotation in June
Weekly service from USEC has been under considerable pressure. The service is starting to deteriorate with vessels omitting ports to try and maintain schedules where possible.
A new Excess Dwell Charge will be introduced at the Ports of Auckland (POAL). As of July 1, 2022, fees will be introduced in two stages to improve the flow of containers through POAL. The fees will:
Drive operational efficiency and reduce the number of import containers stored at the port
Be assessed in addition to any applicable demurrage
Apply to laden imports at the Fergusson Terminal and multi-cargo port
Target the longest dwelling containers first