Top Story: Trans-Pacific Trade Recovery Experiences Shaky Start to New Year Amid Surges in COVID-19 Omicron Variant
"As COVID-19 surges in multiple countries, factories may be forced to shut down and airport and ports may impose restrictions that handicap operations," said Airfreight Director, Vincent Wong.
Strict measures were implemented to control Omicron's spread. In China and Hong Kong, stringent quarantine requirements will have an impact to supply chain operations and further reduce flight capacities. Buyers in the U.S. should plan ahead to mitigate interruptions to their supply chains.
Following a brief decline in early January, air freight rates are expected to increase into the Lunar New Year (LNY). Capacity will continue to remain tight, especially as standard, routine cargo is planned, and prioritized, in advance of upcoming holidays.
Flight cancellations with carriers like Cathay Pacific have already pushed Hong Kong rates up by 10-15% in the first week of January.
Trans-Pacific air cargo rates climb above previous records
Weekly average air freight spot rate per kilogram (2.2 pounds) from Shanghai to North Europe and North America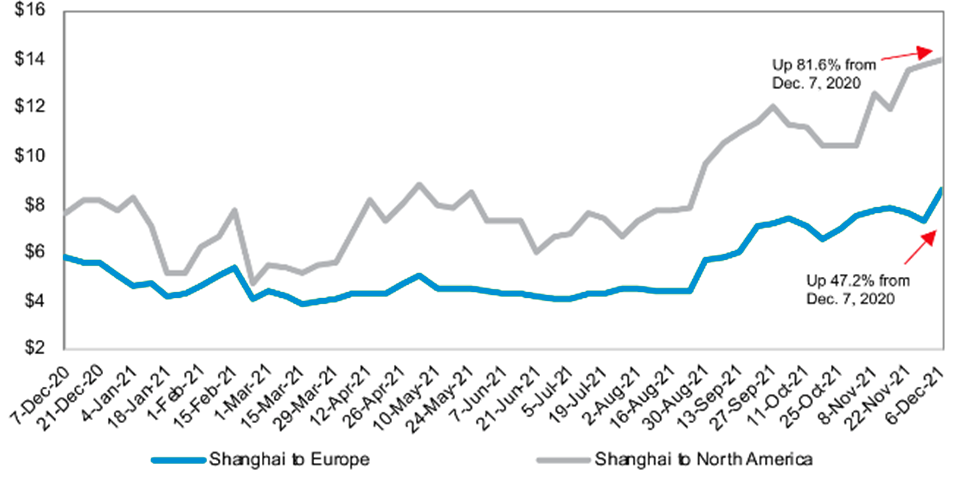 Source: Baltic Air Freight Indices powered by TAC
In Asia, shippers will attempt to load ocean-bound cargo in advance of the LNY. Therefore, the month of January will show strong demand and increasing rate levels on the Transpacific and Asia-Europe trades.
COVID-19 outbreaks have amplified the existing challenges in the ocean market, as seen in Ningbo, China. Equipment movement is going to become more difficult locally as travel restrictions shape truck movements.
Beilun district lockdown has heavily impacted loading Less Container Load (LCL) cargo
Warehouse operations suspended
Space and sailings pushed post LNY
Delivering directly to Shanghai is an option via alternate trucking options
Port congestion in the United States continues to strand vessels and limit equipment availability.
Los Angeles/Long Beach has more than 100 vessels offshore with average 20–30-day dwell
Seattle and Tacoma average 15 days to berth
Oakland congestion continues to increase
The implementation of additional dwell fees at Los Angeles/Long Beach has been postponed nine times but will be reviewed January 17, 2022.
Southeast Asia transshipment ports are impacted, causing delays on non-direct services via Asia. Outport capacity is being constrained by limited feeder capacity. Carriers have suspended feeder space from Indonesia and Manila because of high charter costs for smaller feeder ships.