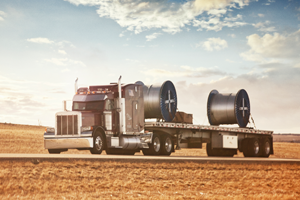 After a strong finish in 2017, flatbed demand has continued to soar in 2018 resulting in historic supply and demand imbalances across North America.
Flatbed shipping is known for its cyclical and seasonal trends, fragmented marketplace and carrier demographics, and variability in demand. If you routinely require flatbed transportation, you're probably familiar with the challenging market landscape flatbed presents.
Today, broader truckload content often covers the thriving ecommerce space, digital disruption, and other factors that correlate more closely to the dry van segment. However, if you're shipping material on open deck trailers, these topics aren't the primary drivers of flatbed demand.
Some commonalities across macro trends (i.e., driver shortage, truck utilization, etc.) do exist, but there are delineations relative to specific industry sectors, regulatory impacts, and legislation for the flatbed market.
3 Factors driving flatbed demand
Here are the top three areas currently driving flatbed demand:
1. Regulatory Changes—specifically ELDs
While almost all surface transportation in the United States is experiencing challenges with the electronic logging device (ELD) mandate that went into effect at the end of 2017, flatbed carriers and drivers are feeling a greater impact from the mandate for a variety of reasons.
Freight is often project based with seasonal demand. This means flatbed carriers have limited opportunities to build a "freight network" or plan routes that optimize drive time.
Flatbed carrier demographics. Typically, flatbed carriers operate between 1-20 trucks and have 1:1 tractor to trailer ratios. This eliminates many of the process improvements dry van fleets are implementing to increase efficiency (i.e., drop trailer pools, driver relays, and slip seating).
Pickup and delivery locations. Job sites, ports, mills, and other unique places often result in longer dwell times for drivers.
Securing and protecting cargo. Securing and protecting a multitude of commodities that ship on open deck trailers is labor intensive, resulting in decreased drive time and yield to the truck.
2. Ongoing and future legislation changes
The current administration has proposed and already passed legislation that will drastically impact flatbed demand now and into the future. Some of the most notable are:
Tax reform. In lieu of applying cash to the balance sheet, many corporations are finding ways to invest in the form of stock buybacks, cash dividends to shareholders, and capital expenditures. Capital expenditures often result in significant flatbed demand for plant modernizations, Greenfield projects, machinery upgrades, etc.
Energy sector support. The administration is opening avenues for offshore oil drilling in many coastal regions across the U.S. This, coupled with the emergence of liquefied natural gas export activity and ongoing tax breaks for renewable wind energy, means that demand for flatbed will remain high in the energy sector.
$1.8 Billion Infrastructure Bill. This bill is not passed or funded yet, but improvements to our nation's roads and bridges is a known need—one that would directly lead to more demand for flatbed equipment.
Steel/aluminum import tariff. Effective March 23, 2018, this tariff's full implications remain to be seen. It's likely we'll see a disruption in capacity networks as less import activity and more inland steel production may drive higher demand and shift capacity away from ports.
3. Economic and industry influencers
In addition to regulatory changes and legislative activity there are also positive economic trends within specific industry sectors that heavily influence the demand for flatbed shipping.
Oil and gas sector. After a couple lackluster years, major oil companies focused their efforts on efficient production to drive profitability. With the price of oil improving (crude oil is north of $60/barrel), onshore and offshore drilling activity picking up, and more efficient operations, many are comparing today's activity with what we saw in 2014 (when crude was $100+/barrel).
Industrial/agriculture machines. Tax reform will also influence commercial/industrial machine production as CAPEX is allocated to equipment upgrades. In addition, while commodity prices remain weak, growth in global population and aging equipment fleets are resulting in increased agriculture machine sales activity. Global markets and government subsidies can also have an impact on North American agriculture machine production.
Manufacturing and automotive industry. Manufacturing continues to see positive trends contributing to GDP >3%. This will result in additional demand for many commodities hauled via flatbed. In addition, the automotive sector will get an uptick in activity from the increase in class 8 truck order trends seen in early 2018.
Housing & Construction. Housing market continues to remain strong and the recovery efforts from last year's catastrophic natural disasters are ramping up as insurance settlements are finalized. This will result in strong demand for building materials hauled via flatbed.
Supply and demand imbalance is here to stay for now
With Q1 demand for flatbed equipment already defying normal cyclical patterns, it's safe to assume this near-term supply and demand imbalance is going to stick around through the "typical" peak season. Predicting when the imbalance will subside is challenging to determine due to the natural (and drastic) ebbs and flows of this space.
We hope you found this information helpful, stay tuned for additional insights on how to drive better performance in your flatbed supply chain. Contact us if you need help navigating today's challenging flatbed market.