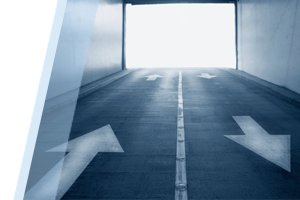 One of the most popular downloads from the C.H. Robinson website in 2015 was the Do "Favored Shippers" Really Receive Better Pricing and Service? white paper that was based on research conducted by Iowa State University in conjunction with C.H. Robinson. In the white paper, the researchers measured which characteristics make an impact on transportation costs for "favored shippers." The results identified the three most important characteristics as dwell time/asset utilization, contract terms and liability, and the driver experience. The content has driven a lot of dialogue on our end and, hopefully, it has driven new ideas for many shippers as they strive to become favored by their carrier community. After reading the white paper, I realized there is a major opportunity in every shipper's day-to-day processes to impact drivers' experiences. That opportunity lies in how they handle delivery exceptions and over, short, and damaged (OS&D) events.
I work with a broad range of shippers and have heard from many carriers about their experiences in getting delivery exceptions resolved. Most often, I'm amazed by the large disparity in how exceptions are handled. Many carriers are frustrated toward shippers that do not have processes in place to manage OS&D events. Those same carriers also expressed how exceptional it is when a shipper's OS&D process is effective in resolving a delivery exception in a timely manner.
A Real-World, Food & Bev Example
A food and beverage manufacturer is shipping into a large retailer. The driver has 24 pallets to deliver. In the process of unloading the freight, the dock workers notice that one pallet shifted during transportation and appears nearly ready to fall over. Based on its condition, they refuse to accept delivery of the single pallet.
After the remaining pallets have been unloaded, the retailer dock workers inform the driver they won't accept the final pallet and he needs to leave the yard. The driver, who was initially only paid to deliver a product from point A to point B, is now stuck with the pallet until he is given disposition by the shipper.
For the sake of this example, let's assume that the driver waits three hours—pretty typical—and is then told to donate the pallet to a food bank. The driver will bill for three hours of detention and miss his next load.
Ongoing Costs of OS&D
The example includes all of the characteristics that the white paper details as important: The time it took the driver to get disposition (dwell time), driver is liable for the last pallet (liability), and the driver having to wait around and miss his next pickup (driver experience). So with all of those aspects, you can see why the cost doesn't end with three hours of detention. That driver, the dispatcher, and his company will all remember losing that next shipment and the time they waited. So because disposition took so long, the carrier experience was diminished and that shipper's relationship with their carrier may be forever altered. It certainly doesn't lend itself to "favored shipper" status.
Why Disposition Can Take Time
When a delivery exception occurs there are several options for disposition. Maybe the product will be dropped at a local warehouse to be restacked, reworked, and redelivered. Or, it could be donated to a local food bank. It may even be thrown in a nearby landfill. It also could mean that the driver needs to bring the freight back to the origin or another location so the product can be returned or sold to someone else. In general, the disposition process takes time. Determining product value, potential for rework, locating nearby warehousing solutions, locating a nearby food bank—this can take anywhere from minutes to days depending on the effectiveness of the strategy in place. All the while, the driver most likely has another load to pick up that day. If he isn't given disposition immediately, chances are, he will miss his next pickup.
What Makes an Effective OS&D Strategy?
Frankly, the potential cost savings of an effectively run OS&D program can be significant. But when you couple that savings with the potential to have cheaper outbound freight costs by becoming a "favored shipper," having an effective OS&D event strategy becomes that much more important.
The top five most important aspects of an effective OS&D program are:
• Experts taking detailed information immediately via a consistent process
• A calculated and deliberate rule-set and disposition tree that includes an understanding of recovery value vs. return costs
• Ability to flexibly adapt logistics capabilities to unique exceptions
• Timely disposition—immediate disposition over the phone is best
• Accurate documentation and data to drive future avoidance
Revisiting Our Example
Let's revisit our initial example but what it might look like with an effectively run OS&D program. When the driver is notified of the refusal he calls a unique OS&D service number that's available on his bill of lading (BOL). After explaining the situation and presenting all necessary information, an immediate disposition of donate would be provided. The driver donates the product and is able to make his pickup later that day.
Since the driver did not have to wait three hours, he won't bill for detention or miss his pickup. In fact, he had a pretty positive customer experience, which he will remember the next time he accepts a load from that shipper.
OS&D: Going One Step Further
By evaluating historical data of all OS&D events, shippers can make changes to avoid future issues, which should decrease the total number of exceptions in the future. This in turn creates more attractive freight for carriers.
Now like any areas of optimization, the potential impact of an OS&D program can be directly linked to how often delivery exceptions occur. If your organization only has one or two delivery exceptions each month, this likely isn't the area that you would focus on to become a "favored shipper." On the other hand, if exceptions happen once or twice every hour, then this could be a major opportunity to impact your relationships with carriers. Remember, as you start the process to become a "favored shipper," refocusing your OS&D processes should be a natural byproduct of the process.