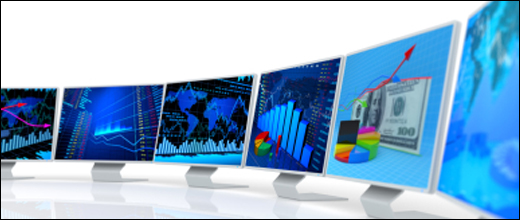 Shippers often buy freight transportation on the spot market as a last resort when they have exhausted all of their route guide options or capacity is in short supply. Does that mean that these movements can't be tracked and managed in much the same way that more regular shipments are managed?  The answer is no – particularly if you are using a comprehensive transportation management system (TMS).
There are different ways to gain visibility and apply metrics on spot bid or market rate shipments under a TMS umbrella.  One possibility is to introduce meaningful scorecard reporting in order to quickly identify problem areas that need to be addressed or given attention.  A second could be having access to a robust business intelligence (BI) platform that includes all spot bid activity and detailed data down to the transaction level.
Scorecards and dashboards are tools that can provide high-level snapshots of freight activity and help the user to quickly understand cargo flows, problem areas, and trends.
Scorecards and dashboards are tools that can provide high-level snapshots of freight activity and help the user to quickly understand cargo flows, problem areas, and trends. These typically come in either standard form developed from years of ongoing best practice, or customized formats for the analytical user who requires more specific types of analysis. Regardless of which type you prefer, don't underestimate the range of investigative options available.
Derive Insights from Spot Bid Data
Insightful and useful trend charts and summary tables can be derived from the data, for instance. These might include:
 Month-over-month trends that compare total shipment volume vs. spot bid counts.
 Summary tables that aggregate weekly and monthly numbers of market rate shipments, offers by market rate, number of participating carriers, average winning bids, median submitted bid, and cost variance data.
A view of the top 10, 20 or 30 lanes by the number of spot bid shipments per lane and cost versus the standard or contracted rate.  This can also be supplemented by the number of offers, average winning bid, rate per mile, and min, max, or median bids.
A carrier ranking that shows the top 10 or 20 by bid count or acceptance rate.
Additionally, a scalable BI platform can be a valuable online tool for slicing and dicing information on spot shipments to provide both a broad and detailed picture of how these movements fit into your freight network. The data can reveal much about how you are relying on the spot market to meet your transportation needs by week, month, year, or over a longer period.
For example, tables and charts can be generated that display spot bid activity over a given time period and the circumstances under which these types of shipments frequently occur. The breakdowns indicate which parts of the network are being served consistently well by carriers in the route guide, and where you still have to fall back on spot capacity. You can delve further by, say, breaking out information on which of these spot bids were actually booked and which were offered but not accepted.
More detailed information can be obtained by using BI filtering, drill-down, and other reporting capabilities. Some of these options might include:
 Details of spot market activity by lane.
 Volume data at the individual load and stop level.
 Information on the carriers that accepted the loads and the ones that declined the business.
Aggregated cost information to gain a better understanding of cost drivers and trends.
Make Better Decisions in Managing Shipments
Armed with this type of information you can create a nuanced picture of spot market usage. In examining the data, ask yourself these questions:
Do these shipments represent a growing proportion of your total shipment traffic, and if so, why, at what cost, and which customers/carriers are involved?
How do these costs compare to the contract rates you've negotiated and what does this say about the integrity of your route guide?
If too many carriers are rejecting bids what are the underlying causes? An analysis of shipment lead times might reveal that you are not giving carriers enough notice of new bids, for instance.
Final Thoughts
The spot market may not be your first choice when procuring transportation and your approach to these shipments may be ad hoc. But the analytical rigor you bring to managing freight generally can also be applied to spot bids – and the potential benefits are the same: more proactive, faster decision making, lower costs, and improved service. Moreover, your network will be better balanced if you use the full power of a TMS to manage all types of cargo movements.