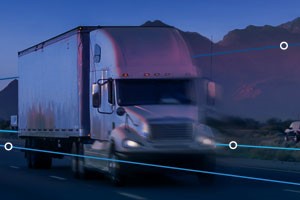 Our industry's cyclical pattern of tension and slack has become familiar to many of us. Freight volumes (demand) and active supply (trucks, drivers, trains, and containers) seek balance, but often fall somewhere across the balance spectrum. Currently, we are early in a shift from high tension to low. As such, there are several new trends to keep an eye on as we move into the second half of 2019. You can read the most up-to-date blog post here.
Below, we explore 9 trends that will influence the truckload market in early 2019.
1. Carriers accepting freight strategically
Lately, I've found the earnings releases for public truckload and less than truckload (LTL) carriers to show something rather interesting. Many of them cite increased yield. Even as the market softens from last year, carriers continue to strategically accept the freight that allows them to have more revenue generating miles and hours because this leads to more loads per truck (essentially creating capacity), greater pay for drivers (if they're paid per mile), and ultimately a higher profit.
2. Truckload fleets are growing
While it's hard to discern exactly how much more capacity is available today, various reports all support the idea that both trucking jobs and truck sales—for both replacement and incremental growth—have increased.
The level of orders for new truckload trailers has been strong. Even better news is that these trailers are not going to private or dedicated fleets. They're entering the general market.
Carriers with trailer pools are also striving to get more loads per tractor, which in turn increases available capacity. By increasing the ratio of trailers to tractors, they're able to achieve this goal. Of course, these types of initiatives require shippers and consignees that have little dwell time and keep trailers moving. Keeping drivers and trailers moving is pivotally important to this process.
3. Truckload labor is up too
The Bureau of Labor Statistics, show 38,500 more trucking jobs in the past three years—and that does not count owner/operators or the smallest carriers. And by looking at new FMCSA registration data, we see it's the smallest carriers that have grown the most.
One contributor to this change is increased driver wages. It seems we have found the necessary compensation to entice people from other industries into trucking.
Labor in our industry still has longer-term challenges—like addressing the baby boomer retirement bubble and the lack of female drivers. We will need to continue to watch several factors, like the shared labor pool with manufacturing, oil and gas extraction, housing, immigration policy, and wage increases to truly understand if the labor increase will stick.
4. The changing economy leads to changing demand
To understand whether demand for truckload capacity will be up or down, it's critical to watch the economy. With slower growth forecasted for 2019, we could expect a more historically normal level of market balance than we had last year.
5. Average length of haul is declining due to ecommerce
A recent article on Heavy Duty Trucking featured some interesting information from The American Transportation Research Institute. The research shows a declining length of haul, which is generally attributed to the rise in ecommerce and the omni-channel model, as many companies try to move closer to customers.
As businesses continue to evolve the structure of their supply chains to be closer to consumption, shorter length of haul leads to faster replenishment. From there, we see trucks at docks more often and additional dwell time, which puts pressure on efficiency and revenue that carriers are continually working to manage.
6. Fuel prices are a bit of an unknown
As normal, it's difficult to predict what will happen with oil prices in the coming year. We do know that the Energy Information Administration currently projects a flat year—around $3.00/gallon for diesel. Transportation teams would do well to have a freight rate based budget and a fuel budget that add up to a total budget. This will help mitigate risks if there are drastic fluctuations in pricing throughout the year.
7.Expect Washington's influence to continue
Tax reforms had an incredible impact on 2018. We can expect Washington's influence on the trucking industry to continue in 2019.
In particular, the first government shutdown showed signs of slowing the economy and thus the demand for trucking. Two other important topics coming out of Washington are the looming March 2, tariff deadline and the pending United States-Mexico-Canada agreement (USMCA). While imports and exports will largely be affected by the outcome of tariff changes, the impact may well extend into domestic truckload service.
8. There's the potential for change in sleeper berth flexibility
The FMCSA recently completed an initial phase of investigation on the effectiveness of the current split sleeper berth provision (which specifies drivers can only take their off-duty hours in a consecutive 10-hour chunk).
The results clearly showed there were benefits—both to a driver's health and business efficiency—in providing more flexible options. While this is no means definite, it's an interesting bit of news to keep an eye on, one that could ultimately lead to better quality of life for drivers, greater efficiency, and more capacity in the market.
9. Companies creating new strategies to handle market changes
How a company handles the ongoing changes typical of our industry can influence that company's success. Rather than reacting to changes that happen, the best companies develop strategies that provide the best possible outcome for any market cycle. Dedication to a strategy can contribute to differentiating a company's supply chain performance and customer experience.
At C.H. Robinson, we believe that a consistent approach to supply chain excellence through carrier management, supply chain technology, internal collaboration, and balance of price and service is a positive way to be prepared for when the market changes again. We understand your specific business needs and have people you can trust to help translate those needs into solutions.
Final thoughts
I look forward to seeing what the year has in store for us. As always, the ability to adapt using a mix of modes to optimize business will help prepare any company, no matter the outcome of some of these trends and changes.
There are ways you can succeed in any market conditions. Bringing C.H. Robinson in as an expert is just one. After all, our people have experience working with the largest, most sophisticated shippers in the world and are ready to translate your needs into solutions.
Connect with one of our supply chain experts today to learn more about handling your shipments in today's market—even at a moment's notice.