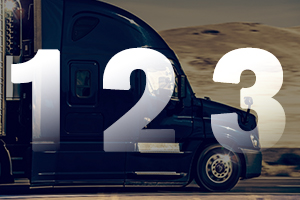 The Road: Top 3 Blog Posts of 2016.The Road by C.H. Robinson
From the ELD mandate to autonomous trucks, 2016 has been an eventful year for the trucking industry. As things continue to change in the transportation industry, we'll keep covering the topics that impact and recognize carriers. Let's take a look back at the three most popular posts published here on The Road over the last year.

The Secret to Small Carrier Profitability
Profitability is crucial in owning and operating a small business. In this post, Kevin Rutherford, who has firsthand experience running a small business, shares his most valuable piece of advice and tips to help boost profitability.
Carrier Spotlight of the Month: Fortune Transportation, Inc.
Fortune Transportation, Inc., of Windom, MN, was featured in our Carrier Spotlight of the Month series last February. In this Q&A, Mike Udermann, Fortune Transportation's executive vice president, shared great insight into the company and the industry.
Top 10 Truck Stops in America
We highlighted 10 truck stops that have more to offer than the average stop—from special amenities, like $5 movies and laundry facilities, to rewards programs. Read the list and let us know if we missed any of your favorite stops.
Thank you for reading and engaging with us on The Road. We're looking forward to another year of great conversation about all of the issues and topics that impact you and the trucking industry.
There's more to discover on our other blogs, all authored by industry experts and supply chain professionals with unique insights and diverse perspectives. Visit Connect for timely posts on supply chain and technology topics. Join in conversations with our logistics experts on Transportfolio®. And look to Freshspective™ for fresh ideas and news in produce and cold chain logistics.