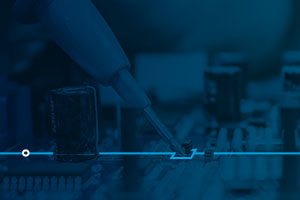 Supply Chain Solutions: What You Can Learn From the Semiconductor Industry | Transportfolio
Companies in technology-based industries are vulnerable to becoming obsolete unless they can quickly assess their biggest supply chain challenges and apply the right resources to solve problems. It helps to have a reliable, global logistics provider that understands what's at stake—a provider that works closely with the organization to meet special industrial logistics requirements. The semiconductor industry offers lessons for all in how any technology business can develop reliable, cost effective approaches that help them compete.

3 Familiar Issues Facing Semiconductor Companies
If you think demand for semiconductor devices, equipment, wafers, supplies, raw materials, and capital equipment is growing, you're right. The manufacturers, key suppliers, and customer industries of semiconductor device makers are global, with a strong Asia presence. Like many industries, however, this one has experienced a shakeup in where various components are manufactured, with important and game-changing implications. Specifically, semiconductor companies are looking at these three issues, which will likely sound familiar to companies in many industries. All have considerable significance for global supply chain managers:
Manufacturing is shifting to North Asia. Historically, U.S. semiconductor manufacturers have focused on technologically sophisticated high-margin products, and Chinese manufacturers have produced lower-tech products with thinner margins. With demand growing for these simpler products, many buyers have established facilities in North Asia to take advantage of lower labor costs. As a result, semiconductor producers have followed them to the region.
There is more pressure to reduce costs. Growing demand for mobile phones, wearables, and automotive devices is projected to increase demand for semiconductor products. However, prices for these devices are expected to decline as competition increases. To compete with Chinese operations, companies outside that country can expect more competitive pressure and more emphasis from upper management to reduce costs to offset pressures on their profits.
Equipment requires specialized handling. Many of the key inputs to this industry are shipped by air—something that will be familiar to many tech organizations. This sensitive equipment requires careful packaging and special handling to prevent damage. Some of this equipment is regarded as Dangerous Goods—a category that can include lithium ion batteries and magnetized materials—which also requires specialized handling for shipment.
What all of these challenges reveal is a critical need for tech companies to improve their value chains—from inbound raw materials to manufacturing facilities to final distribution. Many transportation capacity planners also need to develop far more robust capabilities between Asia and other regions of the world.
Turning Pain Points into Selling Points
As in other industries, a strong collaboration with logistics providers can help address these major pain points. During our longstanding relationships with a number of companies in this industry, for example, we've collaborated and developed best practices that not only have helped alleviate some of the changes the industry faces, but also addressed unique organizational objectives. Here are some real-life examples of how some companies have turned their major challenges into selling points:
Smooth flow of goods around the globe and inside Asia, supported by a robust, global transportation network, plus strong local presence and expertise in Asia. One client is a renowned maker of automatic material handling systems with global semiconductor clients. We coordinate their air, ocean, and PO management processes. Working closely together, we help them transport tools to our joint customers. Because our offices are positioned around the world, we have deep knowledge, both locally and internationally. Our offices in Japan, Taiwan, and Xiamen, China, enable a smoother flow of goods for this customer.
Cost reductions, without sacrificing product quality and speed to market. We help a leader in semiconductor test systems to move tools into Taiwan from the U.S. and China. Speed to market is an essential competitive advantage in this instance, so we worked together to develop a merge in transit program. Regular shipments of large, oversized freight move by ocean on a consistent schedule, with more sensitive shipments moving by air as customers place orders. The program ensures ocean transit times are consistent and the freight arrives in time to meet customer needs. The program moved air shipments to ocean and saved the company $1 million without compromising their speed to market. Exceptions management has also improved. Some equipment is shipped in crates fitted with four labels that detect potential damage. If shock watches are triggered when the equipment reaches Taiwan, the product must be returned to the U.S. for examination. Multiple audits by the quality team at this company revealed that sometimes, no internal impact to the equipment had actually occurred. Today, we check these shipments for damage and work with the company to assess whether the equipment actually was damaged or not. This protects the company's outstanding reputation for quality and eliminates the inconvenience and cost of shipping the equipment to the U.S. to perform unnecessary checks.
Safety and security for equipment that requires special handling. We work with another organization, transporting capital equipment and tools from Asia and the Americas into a new factory in Xiamen, China. We coordinated international freight forwarding, customs clearance, trucking, and Dangerous Goods handling, and the company was deeply involved in our transportation management during the initial setup at their plant. We also developed procedures for loading their expensive and sophisticated equipment into the contours of various aircraft models. For safety and security, all the equipment is fitted with shock watch and tilt indicators during transit.
These examples highlight possible pain points and solutions for those in tech. Regardless of your industry, your logistics provider should be able to help you create an end-to-end, seamless global supply chain solution that includes visibility, compliance, and maximum security of goods. Your ideal solution may also require value added services, like rig in/out, repositioning, clean room logistics, or onsite logistics to meet specific needs.
If you are in the tech space, you might even work with your provider and experiment with IoT applications to obtain an even more efficient, profitable supply chain overall. Learn more about IoT for the semiconductor industry. You'll find more information about IoT for the semiconductor industry in a new research paper, "Make Global Supply Chains More Effective with Internet of Things," prepared by Dr. Shardul Phadnis of Malaysia Institute for Supply Chain Innovation.