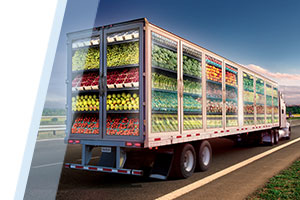 It bothers me that poor cold chain management leads to so much fresh produce being thrown out before it even hits the shelf. During a TPA Supply Chain Conference presentation, I explained that it doesn't have to be that way. You can use these 6 key concepts to build a better cold chain and reduce waste.

1. Secure the right expertise
Cold chains require trained temperature controlled specialists even before the product is picked up. Specialists who understand both temperature requirements of the shipment and who have a strong working relationship with the shipper and carrier can help balance unattractive load qualities like multi-pick, multi-stop loads by filling empty backhauls.
2. Determine capacity requirements
Whether transporting temperature sensitive goods by road, ocean, air, or rail, you'll need to carefully consider the pros, cons, and price—especially when coordinating across multiple types of transportation. Some commodities—those with higher price points—can benefit from a more expensive, yet faster shipping option.
3. Set clear expectations early in the process
If a trailer's temperature increases by only 2 degrees Fahrenheit, it can reduce produce shelf life by as much as 50% [1]. That's why the shipper, carrier, vendor, provider, and other key stakeholders must agree on their roles—from acceptable temperature ranges and continuous temperature versus cycle settings, to proper seals, contingency plans, equipment expectations, and processes for returns and rejections.
4. Share responsibility when loading and unloading
Product that arrives at its final destination at the wrong temperature can be rejected. Before accepting loads, carriers should double check the temperature, including items deep within a pallet, which may minimize the risk for rejection. Thorough inspections by both carrier and shipper before loading can verify the trailer is in good working order. Shippers should watch for tears in chutes that can prevent consistent temperatures. Shippers should also check for proper container air flow. All observations should be carefully documented by both parties.
5. Balance cost and technology
As technology advances, so do the capabilities of temperature controlled equipment—from cooling/heating technology to monitoring capabilities. Proactive notice achieved through monitoring allows for fast action to minimize deterioration of refrigerated or frozen products. More expensive or sensitive products may be worth the added expense of state of the art technology.
6. Establish standard operating procedures (SOPs)
All SOPs should clearly outline:
Who is responsible
What needs to happen
How checks and balances occur
All parties should agree to comply with, adhere to, and regularly review the SOPs as requirements shift.
That's just a sneak peak. You can learn more in our white paper, Maintain the Cold Chain: Six Supply Chain Best Practices for Temperature Sensitive Freight, and do a better job of boosting efficiency, mitigating risk, and helping deliver a higher quality product to the end consumer.
[1] DeltaTrak. "Produce Shelf Life: Issues and Extension Methods from Harvest to Retailer." http://www.deltatrak.com/index.php/produce-shelf-life-issues-and-extension-methods-from-harvest-to-retailer. 2014.