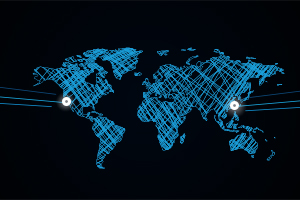 In a typical year, shipping by air and ocean follows a fairly predictable pattern of peak and slow times. However, this year is different as companies try to get ahead of new tariff implementations in the Transpacific Eastbound (China to U.S.) lane. Many shippers in this lane have ramped up their shipping early, while others are choosing to pay higher spot market rates in their preferred shipping times or waiting to see what will happen next.
The current situation in the Transpacific Eastbound lane
A typical year in the Transpacific Eastbound lane usually looks like this for ocean shipping:
May 1: New service contracts in this lane go into effect.
August-September: Peak season volumes ramp up. Ocean rates increase at this time.
October-December: Ocean carriers announce their winter program adjustments to account for what is normally a slower time of the year.
January or February: Volumes ramp up before businesses close in China for Chinese New Year; spot rates spike.
February/March: After the holiday, there are slower volumes during the slack season. Space opens up and spot rates deteriorate.
This year, the United States proposed and implemented tariffs on goods coming from China:
List 1 tariffs on $34 billion of products went into effect on July 6.
List 2 tariffs on $16 billion of Chinese products went into effect on August 23.
List 3 tariffs on $200 billion of Chinese goods: the 10% duty effective on List 3 products went into effect on September 24; the 10% duty on List 3 products increases to 25% January 1, 2019.
On Labor Day Weekend, the President said they are working on List 4 tariffs on $264 billion of imports.
For ocean shippers in the Transpacific Eastbound, peak season started early this year. Shippers front-loaded their shipments in June and July to avoid the new duties. U.S. import volumes through August increased 4.8% compared with 2017. As volumes increased, carriers removed 6.7% of their capacity on the West Coast and 1.5% of their capacity on the East Coast. The result was tight space and higher rates on the spot market.
As news emerged that List 3 tariffs would increase to 25% on January 1, 2019, companies began to move up shipping deadlines to avoid those tariffs, as well. Many want their suppliers to ship before the deadline so they can avoid as much of the additional tariff as possible.
What to expect next if you ship in this lane
In a typical year, the peak season would be followed by one with lower shipping volumes and rates. This year's slack season may be different. Space, already in short supply, is likely to remain tight. Currently, East Coast loops are running near full capacity, and West Coast loops are expected to run full through the middle of November, and possibly even into December.
Customers have asked us if there may be enough surplus inventory on the move so that Chinese New Year will have less of an impact on shipping than in previous years, in spite of the tariffs. We believe that even with a strong October/November season and higher inventory levels, Chinese New Year will continue to be strong.
Even if the demand starts to dip, the ocean carriers will look to increase the amount of blank sailings in order to preserve their profits. For example, carriers announced blank sailings for the start of October to keep space demand high and rate levels elevated. While carriers will bring in extra loaders to clear some of the backlog, new bookings continue to surge.
If you ship in this lane, you will need to weigh what is best: ramping up your shipping early, paying higher spot market rates during your preferred shipping times, or holding out until after Chinese New Year to see if anything has changed by then, tariff-wise.
Longer-term considerations
Some shippers are also thinking longer term about changing suppliers from China to countries where tariffs don't apply. It takes time to find new suppliers who can meet product specifications and provide the volumes a shipper might need. And some materials can only be sourced from China.
In addition, some companies I've spoken with are considering a shift in manufacturing locations to avoid the tariffs. A few have already started importing from Thailand, Vietnam, and India instead of China. This type of move is not an option for everyone. It can take years to bring new manufacturing facilities online, and those locations must have the right infrastructure to support shipping activities. In any case, moving manufacturing locations may not eliminate all tariffs; even if you ship from Shanghai, if the materials used in manufacture were from China, the tariffs still apply.
Other shippers will continue to operate the way they always have, accepting the tariffs as the new norm. Overall, shippers and consignees will need to keep a close eye on every single dollar, from ocean freight cost to drayage to chassis to free time and more. If tariffs continue, companies will likely need to increase their overall cost of goods. Still, at the end of the day, the United States and China could still come back to the bargaining table and remove the tariffs eventually.
Final Thoughts
Until that day comes, all of us need to continue to adapt to the new reality. The most important thing you can do now is to understand your forecast volumes and speak to your provider (NVO/BCO) to ensure you have the necessary allocations. Your provider can help you move away from standard fixed models that put your supply chain at risk and focus on market adjusting rates. The result for your supply chain should be competitive rates, as well as secured space.
Learn more about how a third-party logistics provider can help you optimize the global shipping processes, whether you choose to use ocean shipping or air freight.