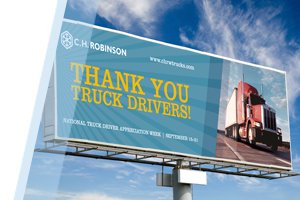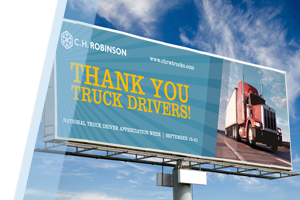 Truck driver appreciation week is upon us once again, last year I wrote about my appreciation for America's truck drivers. This year I feel it is still just as important to declare my continued appreciation for the 3.5 million men and women who drive trucks. Take a look around at everything you see and use. The coffee mug you just took a sip from, the keyboard and mouse you used to get to this blog, even the clothes you're wearing are all a result of a truck driver's hard work. As the holiday season approaches, most of us don't even think about being away from family and friends. For truck drivers, they're often on the road, a thousand miles from home—even during the holidays. Talk to any driver and odds are they miss out on big events like anniversaries, birthdays, and weddings. Whether you work in the transportation industry or not, we should all be grateful for the hard work drivers do to keep America moving.

If you want to think of it another way, consider what the world, and your life, would be like if there were no truck drivers. How would products get from the manufacturers to your door? What would happen to the world's economy? Truck drivers are a key piece of our economy. They provide access to everyday necessities, conveniences, and even luxuries. With the added pressures of regulations, soaring costs, and higher service expectations, things certainly aren't getting any easier for drivers. They deserve our thanks and so much more.
C.H. Robinson is always proud to recognize drivers during National Truck Driver Appreciation Week. This September 15-21 will be no exception. As a small way of thanking professional truck drivers for their hard work and dedication, each of our employees will take the time to thank the truck drivers they work with. We're also committed to showing our appreciation in other ways. Drivers can receive a C.H. Robinson model truck from one of five consolidation centers across the U.S.—Los Angeles, Portland, Chicago, Laredo, and Miami—and through Facebook. Throughout the week, listen for C.H. Robinson ads running on two Sirius XM Radio channels—Road Dog Trucking and FOX News. Look for billboards on Interstate 45 in Corsicana, Texas—both north and southbound—and a print ad in Internet Truckstop. If you follow C.H. Robinson on Twitter or Facebook, please give a shout out of thanks to the truck drivers in your life.
The C.H. Robinson Foundation is once again offering a Truckload Contract Carrier Scholarship Program. Up to ten $2,500 college scholarships will be awarded to qualified students of employees at eligible contract carriers of C.H. Robinson. Applications for the 2014 scholarships will be accepted starting in January 2014. Please visit the scholarship website to learn more about the program and 2013 recipients.
Please take a minute this week to think about and appreciate the importance of truck drivers in your world. Be sure to thank a truck driver in person or leave a comment below.
On behalf of C.H. Robinson, Thank you!