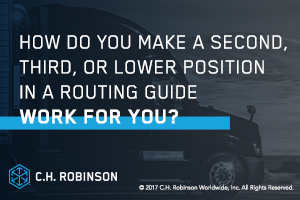 This is the second installment of my "winning bid season" series. We've already covered the importance of annual bidding and what that can mean to your business. By now you should know that a successful and strategic bidding season requires more than submitting the lowest rate.

Today I want to talk about what happens when your bid doesn't land you at the very top of a truckload routing guide. Even if you don't make the top of the list, there are ways to make it work. You just need to know what to expect.
Plan for the next truckload bid season
Find a balance when accepting loads rejected by other carriers and committing your capacity elsewhere
Accepting loads while lower in the routing guide can showcase your superior service levels, but it can also go unnoticed; get noticed.
A history of excellent service could help you secure a higher spot in the routing guide next time, despite being more expensive.
Look for the next post in our series
In the coming weeks, we'll add to our series with a post about how to talk to shippers about increasing the lead time they provide. Take a look back at our first part of the series about how to strategically prepare yourself with regular bidding cycles.
For those of you who have found yourself with a lower position in a shipper's routing guide, how do you make it work for you? Leave your comments below.