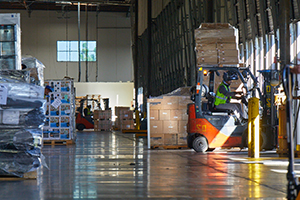 What Is Retail Consolidation & Is It Right for You? | C.H. Robinson
Handling ever-changing consumer and retailer demands can be overwhelming—especially if you're working with multiple retailers across the country or the world. Maintaining inventory levels and optimizing order quantities, while keeping compliance requirements in mind, requires a strategic approach. If you're currently shipping less than truckload (LTL) or underutilized truckload freight, a retail consolidation program might be the answer you need.
The right shipping strategy is vital to ensure your products are where they need to be when they need to be there, especially in times of disruption. The right retail consolidation solutions can help you optimize inventory and get your products to the right location in the most efficient way, leading to better outcomes – such as improved savings, reliability and visibility.
What is a retail consolidation program?
Simply put, a retail consolidation program combines shipments to make the process of delivering into a retailer more simple and efficient. This helps meet consumer demand, as well as any retailer compliance programs that may exist, such as on-time, in full requirements.
Retailer compliance programs are unique to each company. These programs specify how shippers must set appointments, maintain on time delivery performance, and deliver in full. Activities such as these help the retailer improve efficiency, lower inventories, focus on an omni-channel approach, and respond most effectively to the consumer's demands. A retail consolidation program can help you get your products where they need to be, eliminating unnecessary waste and expense, regardless of the retailer standards or the current market dynamic.
How a strategic retail consolidation program works
In retail consolidation, a consolidator has an order level solution for less than truckload shipments—one that spans across multiple suppliers all delivering to the same retailer. Most programs include a consistent shipping schedule and alignment with lead time and retailer delivery expectations. The program should be fully compliant with the retailer's expectations from ordering patterns, to appointment scheduling requirements, to on-time, in full performance measurements.
For example, if your dock space is limited, a regular schedule through the consolidation program eliminates the need to accommodate pickups of small order quantities from multiple transportation providers.
You can send less-than-truckload (LTL) or partial truckload shipments based on consolidation delivery schedules. Once ready to move, your products are sent to a consolidation center where they are optimized with deliveries from other shippers and delivered to retailers in time to meet tight delivery windows.
Top benefits of retail consolidation
Retail consolidation programs can help improve the speed of delivery, which is critical in times of disruption, and especially in the delivery of essential goods. You may turn to retail consolidate on to align with specific retailer compliance initiatives, improve your on-time delivery performance, and add connectivity across supply chain partners (think manufacturers, suppliers, transportation providers, consolidator, and retailers). It's also a solid cost-saving initiative for less-than-truckload or order level business. Many shippers also discover a reduction in total lead time, which in turn can reduce inventory carrying costs.
And because your products move more quickly off the books on a prepaid basis, you might notice an improved cash-to-cash cycle that leads to profits. These benefits can also add to your ability to precisely address metrics that retailers use to gauge performance, which leads to fewer missed delivery appointments and reduced out of stock incidents.
Why you should work with an experienced consolidator
The key to a successful retail consolidation program is high volumes of shipments, which is why retail consolidation works best when handled by an experienced consolidator who has nationwide consolidation coverage and substantial expertise within the retail industry. This experience, expertise and scale helps consolidators understand requirements, initiatives, and behaviors of retailers, making them uniquely positioned to best serve your needs.
C.H. Robinson works with many established, well-known retailers. We can help you begin or enhance a retail consolidation program by combining your freight with freight from other companies who are also shipping to the same retailers. And because we operate globally, we have significant volumes to make consolidation efficient for you. Our recent acquisition of Prime Distribution Services adds to our global suite of services and expands our existing retail consolidation business while providing additional scale, capabilities, and expertise.
C.H. Robinson also has the largest network of contract carriers in North America and nationwide consolidation services. This helps you meet consumer demand in this unpredictable market and plan for unexpected shifts in the future. We know transportation strategies require planning, especially when it comes to the needs of retail and food and beverage supply chains. We help ensure you are achieving the best outcomes possible by customizing solutions to best fit your unique supply chain needs.
In addition, when you choose C.H. Robinson, know that you are working with a global network of experts who understand the compliance requirements. Our experts often connect retailers and customers—from appointments to business intelligence. And our technology built by and for supply chain experts provides tailored solutions that work for supply chain professionals. Our global multimodal transportation management system, Navisphere®, connects our entire network of 200k companies to provide companies with greater supply chain efficiency, real time insights and visibility, including reductions in dock congestion.
Is retail consolidation right for your business?
Shippers currently utilizing LTL, partial, or underutilized truckload service stand to gain the most from a retail consolidation program. If you can answer yes to one or more of these questions, a retail consolidation program may be the right opportunity for your business.
Do your shipment sizes and purchase orders vary in this unpredictable market?
Would you like your providers to have subject matter expertise specific to the retailers you serve?
Do you need to improve your compliance levels with retailers?
Have your transportation costs for retail customers been increasing?
Is your bottom line affected by out of stock items or compliance fines?
Do you regularly schedule retail deliveries to multiple distribution centers?
Is a lack of expertise, technology, or visibility negatively affecting communications with retailers?
Would preferential appointment status help speed up your deliveries?
What did your answers reveal about the needs of your supply chain? Contact one of our supply chain experts today to get started on your own retail consolidation program.