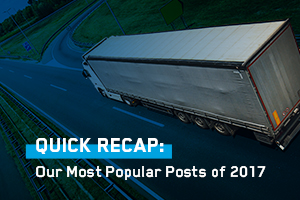 Now that 2018 is in full swing, we've gathered our most popular posts from 2017 in one place. Below, we provide a quick review of four of our posts that discuss last year's trucking trends. These posts set the stage for the upcoming year, one we are so excited for.
Our most popular trucking posts of 2017
1. Out-of-Service ELD Enforcement: 3 Things to Know
In August 2017, the Commercial Vehicle Safety Alliance (CVSA) announced that out-of-service orders regarding ELD compliance will not be enforced until April 2018. CVSA works with state-level law enforcement departments to enforce transportation policy. So how does this fit into overall ELD implementation? There are three key points to understand.
2. How to Align Your Goals and Establish Strong 3PL Relationships
Chasing the highest rates doesn't always pay; the key is to build long-term relationships with your customers. Where can you begin? Here are tips to start building these relationships.
3. ELD Implementation: Lessons Learned From a Carrier Perspective
Many carriers are currently facing important decisions about electronic logging devices (ELDs) in order to comply with the federal mandate. Keith Klein, retired transportation executive, explains the lessons his team learned after implementing electronic logs.
4. When to Adopt New Carrier Technology and When to Wait
From a shipper's perspective, supply chain technology means things like visibility to shipments, proactive notifications before disruptions occur, and better forecasting for future improvements. But technology focused on the needs of carriers is just as important, if not more so, to a successful supply chain. After all, without carriers, freight wouldn't move at all.
Moving forward into 2018
Understanding last year's market is an important step in knowing how to prepare for 2018. More than likely ELDs will continue to be a trending topic throughout the year as will the conversation of carrier technology in general. Our top posts show that drivers are always looking to stay informed on the latest trucking trends and conditions. Hopefully, reflecting on the topics that influenced our businesses in 2017 may also show you some insight into what to expect in 2018.