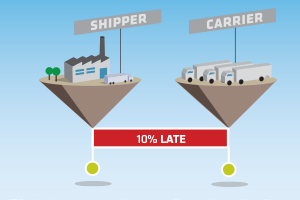 What is the most common cause of on time delivery failures? Transportation-related snafus often get the blame, yet in many cases there is relatively little data on the root causes of missed delivery deadlines. Digging deeper into the issue will help reveal the true cause – and assist in developing the correct solution.
It is everyone's interest to fix these problems (shippers, carriers, customers). Sub-par performances in this area add cost, lower service levels, and generate unnecessary friction between trading partners.
How to Improve On Time Delivery
There are four critical steps shippers should take to address on time delivery issues (check out our infographic below for a visual interpretation):
1. Recognize the problem
Why are shipment arriving late? It's often assumed the carrier is at fault, but there are so many factors that go into each delivery. Shippers should make a concerted effort to find the root cause of late deliveries. Delve into each aspect of your supply chain to uncover the issue (or issues) for on time delivery issues.
2. Capture late delivery reasons
Create a standardized process to understand and track the reasons deliveries are late. Categorize the reasons (i.e. no product availability, no delivery appointment, acts of God, etc.) to make it easy for staff to record. This will give you a clearer picture of your on time delivery struggles.
This process can be done manually, but employing a transportation management system (TMS) makes the process much easier.
3. Analyze the data
After gathering the data for a period of time, patterns will begin to emerge. Prioritize the issues and work with key stakeholders to develop and implement new processes and procedures to address the reasons for late deliveries.
4. Implement solutions
Focusing on actionable issues – problems that are within your control – start to implement the solutions. Monitor the results carefully and adjust if necessary. Improving on time delivery is a continuous process.
Final Thoughts
It is possible to bridge the information gaps and find solutions by drilling down into the freight delivery process. And this can be achieved with the help of specially designed business intelligence tools embedded in a TMS.