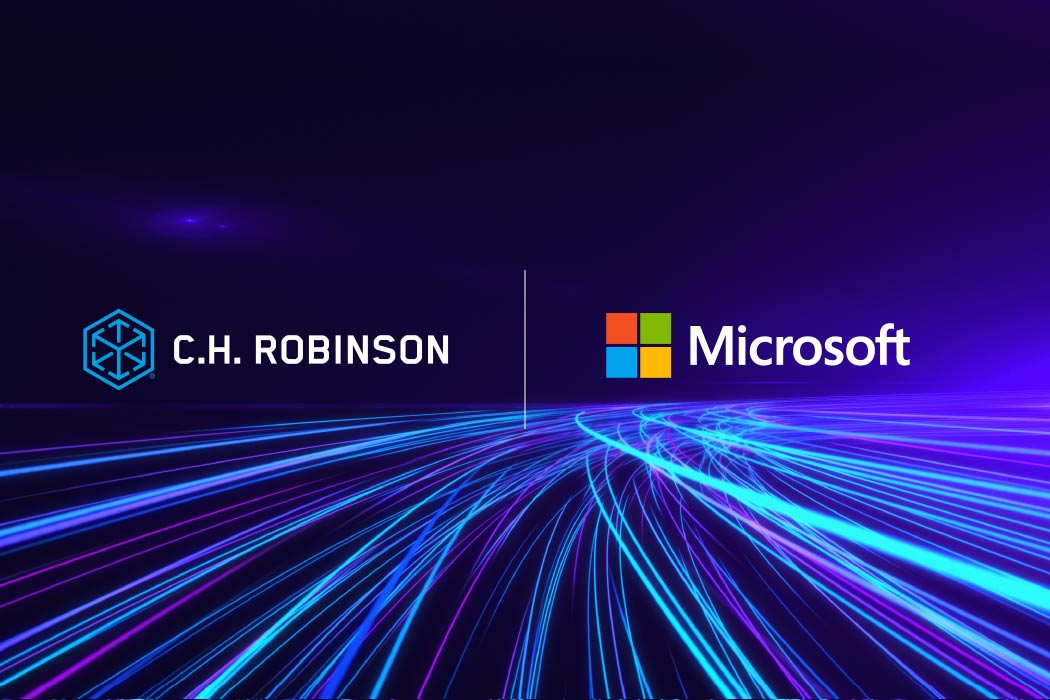 As technology continues to adapt, so does the supply chain. These challenges require solutions rooted in innovative technology, further emphasizing the need for logistics and real-time data on a global scale. According to a recent report by McKinsey & Company, companies' success will be driven by their ability to navigate the current volatile business environment, which means they must rely on an innovative and tech-driven supply chain. As we drive the future of technology in the industry, providing a continuous competitive advantage to our customers is vital.
That's why we are excited about our alliance with Microsoft. To meet evolving supply chain demands, we are pioneering the supply chain of the future by joining forces with Microsoft – pairing the power of our industry-leading technologies C.H. Robinson's Navisphere® and Microsoft Azure. This builds upon TMC, a division of C.H. Robinson's successful implementation of Navisphere, its global multimodal transportation management system, across Microsoft's global supply chain, giving Microsoft industry leading reliability, efficiency and real-time visibility to all inventory, at rest or in motion, anywhere in the world.
Partnering with other best-in-class companies and products brings value to our customers and carriers as we continuously look to enhance our technology built by and for supply chain experts. Through Microsoft's Azure cloud platform, we gain unlimited scalability, premier data security and increased application speed, further demonstrating our commitment to technology-driven efficiencies and providing real results that impact the tech-forward supply chain for our customers and carriers.
Together, our technology helps address the changing demands of ever-evolving global supply chains. For example, as part of this collaboration, we are also integrating IoT device monitoring that measures temperature, shock, tilt, humidity, light and pressure in shipments. This integration enables 100% real-time visibility to shipments as they move from the factory to distribution centers and ultimately to millions of customers.
We are always committed to creating efficiencies that provide unique solutions to the supply chain. Adapting in real-time to supply chain demands and providing our customers and carriers with innovative solutions, while harnessing the trajectory of technology, is key to staying ahead in the ever-evolving supply chain. Our alliance with Microsoft accomplishes exactly that.
As the pace of change in the industry remains at a pivotal moment, our unmatched commitment to tech-forward solutions and continued investment in technology to better serve customers remains a competitive advantage all of our customers can count on. Learn more and connect with an expert.