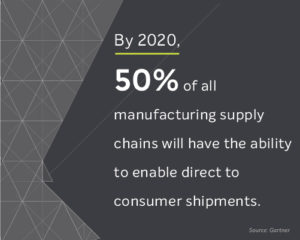 TMS technology can support multichannel operations
Multichannel supply chains—which exist in many industries—require efficient freight transportation to meld the channels into a seamless service offering. Modern transportation management systems (TMS) are well suited for the task: they enable shippers to more effectively manage freight movements in the complex multichannel environment, can be tailored to each network, and provide essential features that are shared by different multichannel operations. The shipper can choose the best mix of options, depending on what it considers most important to gaining a competitive advantage.
4 questions to guide your TMS solution selection process
If your organization is searching for a solution that can more effectively manage freight flows across multiple channels with increased agility and speed and supply chain visibility, the right TMS technology can help you achieve those results. Here are four questions to ask yourself as you consider providers:
What is the geographic scope and maturity of the solution? The provider of the TMS suite should have a global range as well as a local, on-the-ground presence in key markets. In regions where multichannel supply chains are evolving rapidly, local knowledge is essential, as is an understanding of how to manage multimodal global supply chains. A level of organizational maturity is also needed. Logistics is a relationship business, and knitting together complex multichannel freight flows requires tightly woven relationships between control centers.
Is the provider a leader in supporting multichannel freight flows? When a TMS is supporting many types of freight transportation networks across multiple industries, it must be scalable to each network and provide the essential features that are shared by different multichannel operations. In addition, a provider that can evolve with multichannel users offers the benefit of past experience as well as the latest technology and the ability to support future innovations.
How configurable is the TMS solution? Keeping pace with constantly changing multichannel models can be a formidable challenge. For instance, in a country as vast as China, a new product can suddenly add millions of transactions to a supply chain operation. Can the TMS solution be reconfigured on the fly and flex with dynamic markets?
Does the TMS solution include the right level of expertise? Even the most sophisticated, flexible TMS solution needs the skills of expert users to be fully effective. This is especially important in complex multichannel environments.
Learn more about the value of TMS
TMS technology can play a key role in helping you develop new multichannel capabilities, improve existing ones, and differentiate your business. To learn more, connect with one of our TMS experts.