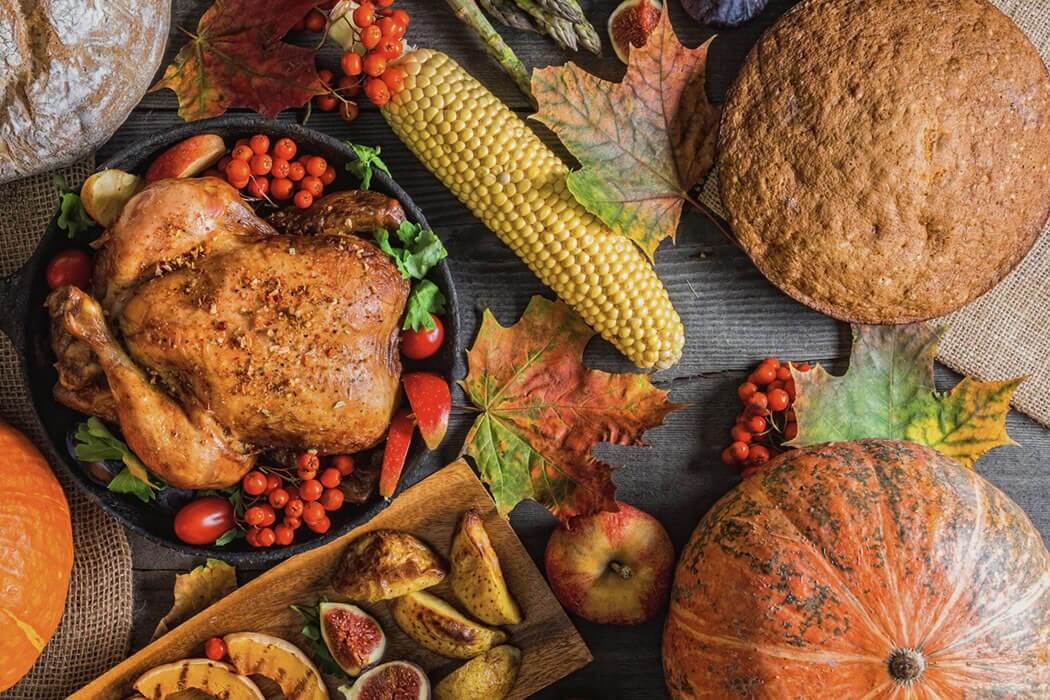 September 22, 2020, marked the first day of fall in the United States. For many, this exciting time of year brings joy—pumpkins, apples, turkey, pastries, and all commodities necessary for successful fall and winter holiday celebrations. Fall also means a significant spike in demand in regions that grow and distribute pumpkins, apples, corn, proteins, confectionaries, and even pies.
Based on data from Robinson Fresh, a division of C.H. Robinson, demand for pumpkins alone has increased an average of 8% year over year over the past four years. As you might imagine, the quantity of product moving at this time of the year can put a strain on temperature controlled capacity. C.H. Robinson's historical shipping trends show that this seasonal demand growth creates a "fall season," similar to floral, produce, and grilling seasons.
Temperature controlled shipping has four "seasons" based on demand
Typically, the broader shipping marketplace talks about seasonality in terms of produce season and non-produce season. Demand patterns and extensive modal experience has taught me that when it comes to temperature controlled shipping, there are four seasons of demand.
1. Floral season
Floral season begins in south Florida early in February in anticipation of Valentine's Day and picks up again in May before the approach of Mother's Day.
2. Produce season
After floral season comes produce season, which begins in late April, slows down slightly after the Fourth of July, but extends through Labor Day.
3. Grilling season
Technically, grilling season runs concurrently with produce season in the summer months and into early fall. This is prime grilling season, which comes with higher demand for proteins and items popular for patio cookouts and family/friend gatherings.
4. Fall season
As the name suggests, fall season begins as summer is ending. Typically, this starts Labor Day weekend and runs through Thanksgiving.
This year Robinson Fresh has seen an increase in demand for commodities outside of their traditional seasonal surges. Items like blueberries and citrus are on this list. One reason for these outliers could be attributed to their specific health benefits amid the COVID-19 pandemic. All the same, when demand increases, stress is added to an already tight temperature controlled shipping environment.
What markets are most impacted by temperature controlled shipping's fall season?
The most impacted markets during the fall season are the Midwest, upper Midwest, Great Lakes, and the Pacific Northwest. It is in these markets you should plan for tighter capacity situations.
Using C.H. Robinson's historical data, every year at this time, temperature controlled capacity shifts to these high demand markets. This often causes a tighter supply of equipment in many other regions—both for reefer trailers and dry vans.
A similar imbalance and shift in supply is often experienced in other seasons. Floral season's imbalance shifts toward the Southeast and produce season primarily impacts the West and Southeast regions of North America.
How can I prepare for the four temperature controlled shipping seasons?
Awareness and advance preparation are paramount when developing a seamless shipping strategy that can adapt to the various seasonal demand changes. The global pandemic makes today's market even more volatile, emphasizing the importance of planning ahead. Focus on the following areas to prepare your business for any shifts in demand—whether anticipated or not.
Work with people you can rely on. Seek experts that act as an extension of your team and have your best interests at heart. They can help you plan for the future to mitigate disruption, so when temperature controlled capacity gets tight and route guide rejections increase, you and your supply chain will be prepared.
Leverage accurate data and forecasting. Use your own company data and industry data to develop a strategy that is flexible when you need it to be. Leveraging supply chain data helps you make more informed decisions to help drive better outcomes and help execute according to your needs.
Scale to cover planned and unplanned shipments. With over 90% of refrigerated carriers having five trucks or fewer, you'll want a provider who eliminates the need to juggle dozens or hundreds of relationships for the capacity you need. With more than 21,000 temperature controlled contract carriers in our network, C.H. Robinson has the largest network in North America and can provide the scale you need in any market.
Create flexible supply chain solutions. As the market shifts, consider alternative options for securing capacity. Can your business benefit from less than truckload temperature controlled service instead? Or perhaps multi-stop truckload or consolidation services are the right choice. The right provider will offer multi-modal, flexible solutions tailored to fit your needs.
Final thoughts
As the seasonal demand for temperature controlled equipment shifts from one season to the next, accessing the capacity you need for your sensitive freight doesn't have to be a challenge.
Connect with a temperature controlled expert to learn more about how seasonal imbalances affect your business and how our unique transportation procurement and capacity solutions can help your shipping strategy in the long run.