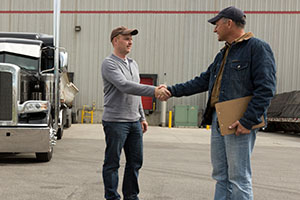 In a previous post, I explained why chasing the highest rates doesn't pay. It focused on the importance of building long-term relationships with your customers instead. Today, I'm going to share tips to get started building those coveted relationships.
Do you know who your customer is?
I often ask carriers I work with this question, and I'm always surprised when they fail to realize that if they're working with a third party logistics provider (3PL), the shipper isn't their customer. Instead, the customer is the 3PL. And it makes sense when you think about it.
In these kinds of situations, the shipper isn't the one hiring you to move the load. The shipper isn't waiting for your check-ins and load updates. The 3PL handles all of that. It's the 3PL's reputation on the line with the shipper. So they want to hire quality, reliable carriers—something that's hard to know about someone who just calls in once from a load board.
How many customers do you need?
Just start with one. You may think that the more 3PLs you haul for the better. In reality, focusing on a handful of 3PLs—ultimately you're aiming for the three to five range—will be far more realistic. Remember, you want to build a great relationship with each of them, which gets far more difficult to do when you're juggling too many connections.
Finding and establishing your first 3PL relationship
Ideally, the first 3PL relationship you establish should be close to home. A 3PL with freight consistently close to your hometown is a smart move to get your equipment filled and moving. Of course, other considerations may make the relationship even more beneficial to you. Think about the following:
1. How long your equipment will be tied up
2. How easy/difficult it will be to find freight in the destination city
3. How expensive fuel rates are in the lanes you'll use
Build on your first 3PL relationship
Once you've begun to establish some consistency with the 3PL in your hometown, you can continue building your 3PL network from there. For example, let's say your hometown is Memphis, TN. You begin hauling for a 3PL out of Memphis regularly. Their freight typically goes to Chicago, IL, or Charlotte, NC. You can then look for a 3PL with freight in Charlotte. Maybe that relationship gets you to Philadelphia, PA, and a third relationship can send you straight back to Memphis.
How to handle shifting 3PL needs
At some point, one of the 3PLs you've worked so hard to establish a relationship with will likely have a customer change. If the 3PL in Charlotte lost their customer in Philadelphia and only offers loads going to Gainesville, FL, don't think of it as a wrench in your plan.
Rather than immediately assuming that your goals and the goals of the 3PL no longer align, it might be an opportunity to widen your 3PL relationships. After all, there may be loads in Gainesville headed to Wilmington, DE, which would still allow you to pick up your regular load from Philadelphia and get home. You don't always need to find an exact match for loads that are no longer available, sometimes a little creative thinking can lead to even better opportunities.
Prove yourself to the 3PLs you work with
By calling the same 3PLs more than once (rather than the old "one and done" mentality), you're only halfway to building the relationships you need to succeed. You will need to prove yourself as a reliable carrier with dependable service and good communication. Once you do, those calls you're making to the 3PL for loads could very well turn into calls from the 3PL offering you better loads, rates, and opportunities.