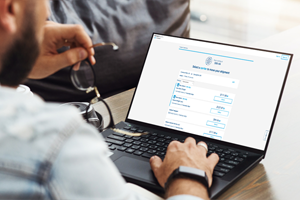 We live in an on-demand world. When consumers click to purchase a product one day, they expect it to be on their doorstep the next—or even sooner. These demands on the supply chain are affecting our customers of every size. 
And if you're a small business, it's less likely that you have an on-site shipping team to help move your product in an instant. You need a different solution. We get it and we get small business. We worked with more than 100,000 of them last year alone. What I hear from small business owners is always the same: they want us to meet them where they are. They need a convenient option that's easy to use and gives them peace of mind when booking their shipping.
That's why I'm excited about the introduction of Freightquote by C.H. Robinson, a web-based, mobile-responsive offering with the first and only technology of its kind to offer multi-modal shipping options for improved savings, reliability and visibility. We listened to our small business customers and specifically designed it to streamline the shipping process for their needs. It's a simple, transparent process that allows them to make the best shipping decision while tapping into C.H. Robinson's scale, information advantage and industry-leading technology.
Anyone can book their freight on their phone, tablet or computer 24 hours a day, seven days a week without any shipping knowledge or expertise. You don't even have to sign up. After all, running a small business is hard enough, and the last thing these entrepreneurs want to do is spend time on the phone finding transportation options.
What I'm most proud of, though, is that we created this solution in collaboration with our small business customers across the country. Our supply chain experts are helping these owners shop smarter, save money and improve their speed to market. For a small volume shipper, it's a game changer. Through our initial pilot, we've already served the needs of thousands of these very customers.
Freightquote by C.H. Robinson is the latest example of our commitment to invest $1 billion in technology over the next five years, doubling our technology investment over the last 10 years. That's because our customers' needs are most important to us, and we're constantly investing in new solutions to address those needs. And we're not done yet.
Read the full release: https://www.chrobinson.com/en-us/newsroom/press-releases/2019/11-13-19_new_self-service_technology_freightquote_by_chrobinson/