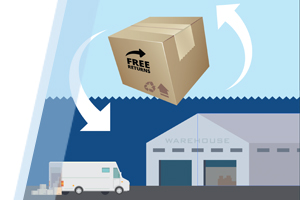 Your shoppers made their lists, checked them twice and scored the best deals. Now they are ready for the gift-giving festivities to begin. But even though Black Friday and Cyber Monday are behind us, there's no slowing down for your supply chain.
Historically, returns peak after the Christmas holiday. But with so many consumers continuing their in-store and online shopping throughout December, returns could very well begin at any point. And they will come in masses. The best way to efficiently handle returns is to have a reverse logistics plan in place—keeping in mind that visibility and communication are key throughout the process.
It all starts with your return policy. Make it easy for your customers to return products with a consumer-friendly return policy. If it's a painless process, they'll be more inclined to spend that refunded money in your store again.
Next, define and streamline your retrieval strategy. Be ready for inbound merchandise to arrive at your warehouse and have processes in place to validate those returns—perhaps by involving a third party. Avoid being caught off guard by large return volumes. Without balancing the velocity of returns, your inbound and outbound operation could quickly cripple.
Then, determine what you should do with your return product. Does it go right back into inventory? Should it be refurbished? Does it need to be tested for quality or product integrity? Or, do you have processes to liquidate that product on the secondary market to recover some of your costs? Also consider where returned product will sit. Does your warehouse have dedicated space and resources? Do you need additional space? Whatever is next for the product, it should happen quickly. Prompt action gives you a better opportunity to resell the product for the highest recovery value and convert that inventory back into cash. After all, every day that a returned product sits is a day of money lost.
To learn more about how to implement an effective reverse logistics plan, connect with an expert.