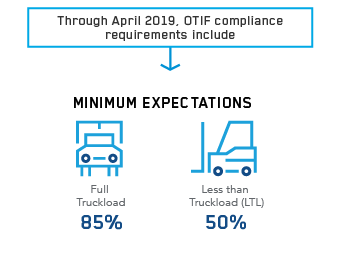 Staying on top of shifting retailer requirements can be overwhelming—especially if you're working with multiple retailers.
Variable and unanticipated demands often bring unique challenges to retail supply chains and transportation. That is why it is vital to work with a provider that has a deep understanding of each retailer's supply chain goals, operations, and compliance requirements.
Recently, a large retailer announced upcoming changes to their on time in full (OTIF) compliance program. The goals are to simplify the program and provide greater visibility to suppliers. While these changes won't go into effect until May 2019, it is important to understand them now to prepare.
Current through April 2019, on time in full compliance requirements include minimum expectations of 85% for full truckload and 50% for less than truckload (LTL).
New beginning May 2019:
OTIF requirements will be separated. Suppliers will be accountable for both (1) on time standards, and (2) in full standards, measured separately.
OTIF requirements will increase and differ according to freight characteristics.
These new requirements will change the way suppliers need to think about delivering to retailers, and suppliers who don't comply with the new program could see negative impacts to both their bottom line and their reputability.
As both a provider and supplier into large, global retailers, C.H. Robinson understands how to navigate tight delivery windows, and the importance of reliably meeting OTIF standards.
Our experience in the retail industry helps retailers reach their efficiency initiatives and enables suppliers build strong reputations as companies that deliver consistently. Our connectivity to a full suite of logistics and technology services—including consolidation, truckload, and temperature controlled—improves visibility and enables you to optimize your business.
For more information and solutions on how to meet retail compliance regulations, connect with a C.H. Robinson retail expert today.