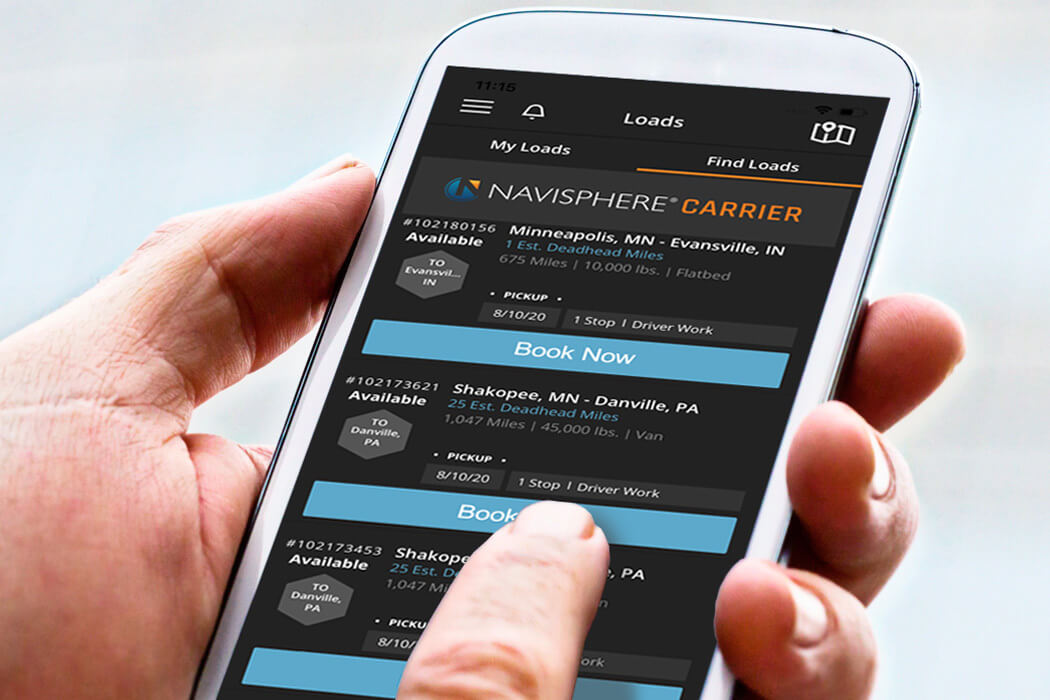 When I started in this industry, working with truckload carriers was very much a people business. Need to find a load for empty equipment? Call your rep. Want to get your truck from A to B? Call your rep. Just about everything was handled with a phone call.
Even with the integration of email, day to day business was still primarily conducted between individuals. But, like many aspects of our world, all that has changed thanks to ever-expanding technology. Today, booking loads online is quickly gaining in popularity thanks to the speed and convenience it offers. Our people are still at the heart of growing and maintaining carrier relationships, but through online booking, carriers gain better access—at all hours of the day—to the loads they want most.
Book loads online: Bring more choices to your business
No matter the time of day, C.H. Robinson makes it possible to find and book the loads you want instantly—without involving a rep at all. There are thousands of loads available every day at the click of a button or the swipe of a finger. This level of access has been a game changer for many carriers. We interviewed three carriers of different sizes to get their perspective on the benefits online booking brings.
Leaders from Wynn Transport, Inc., Callaway Carriers, and 7 Hills Transportation provided their unique perspectives on C.H. Robinson's online booking options, highlighting why online booking is quickly becoming their preferred method of conducting business with C.H. Robinson.
Wynn Transport, Inc., chooses online booking because it's easy to use
"I love online booking because it is a lot faster. It allows me to instantly book the lanes I want easily, without having to wait on the phone."
As an owner/operator, Dinh Nguyen of Wynn Transport, Inc., finds online booking to be particularly valuable for securing the same loads and lanes repeatedly—especially after hours. Because he's often busy driving, it isn't always convenient for Dinh to call and book while his rep is in the office, so searching for and booking loads in the evenings or early morning is especially helpful to his business. And, his rep is still ready to help with questions or issues after a load is booked.
Callaway Carriers uses online booking to find the loads they want most
"I love that you can search by origin, destination, or both. The fact that I can adjust the mileage radius is great."
As the owner of a 40-tractor operation, Henry Niles of Callaway Carriers needs a lot of loads to keep his equipment full. He credits the thousands of load options C.H. Robinson has available to book online with helping him secure the loads his business requires. Henry relies heavily on custom search tools to filter loads and find those that best meet the needs of his business and his drivers.
7 Hills Transportation expands into new lanes with online booking
"Other 3PLs don't provide nearly enough information about the load—even after its confirmed, which causes too many follow up and tracking calls. C.H. Robinson is easier to work with and has tracking already in the system."
With more than 70 tractors to manage, Scott Hauss, operations manager of 7 Hills Transportation, uses online booking to keep his drivers moving, even for lanes they haven't previously covered. The find loads feature within Navisphere Carrier® helps Scott find, vet, and book loads in new lanes. The amount of detail provided for each load online is especially important as he calculates miles, deadhead, rates, and locations.
No matter your needs, online booking creates efficiencies
As our three carrier examples show, online booking can be used to accomplish whatever your company's unique business goals are. And as always, by booking with C.H. Robinson, you get more loads to choose from than any other 3PL in North America.
But of course, we haven't changed the personal connections that are so important in our business. When booking online, you get the loads you want instantly—and your carrier rep can help problem solve or look for ways you can improve service metrics. You get the support you deserve and can focus even more on reaching your business goals. It's a win-win.
Ready to book a load online? Log in to Navisphere Carrier to get started.