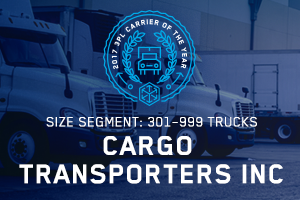 I'm happy to share that Cargo Transporters has once again secured the title of our Carrier of the Year in the 301-999 size segment. They deserve double congratulations as the only contract carrier to hold the title for two consecutive years. I'd say the competition for this award is somewhat fierce, and Cargo Transporters 100% deserves to win again because of their ability to work hard and willingness to always put customers first.
Communication is part of the culture at Cargo Transporters
Several things separate Cargo Transporters from other contract carriers I work with. Trying to list them all would take me days. But one of the first things I think of is their focus on communication.
I've worked with Cargo Transporters since I started at C.H. Robinson—going on 17 years now—and they've worked with C.H. Robinson for almost 30 years total. A long stretch to be sure. And in all that time, I've always been impressed with how much focus everyone at Cargo Transporters has on open communication.
They bring up questions and issues when needed, rather than letting a situation develop in the wrong way, and they are just as open with compliments when things are going well. It makes a big difference in the day to day work and has helped strengthen our relationship.
And they excel at adapting to change
Cargo Transporters was one of the first carriers I worked with willing to automate their load tracking and other processes with electronic data interchange (EDI), and that was almost 10 years ago. We haven't looked back.
They don't shy away from creating more opportunities with customers. In fact, they've continually grown their fleet since they started in 1982 and recently Cargo Transporters opened another terminal office in Battleboro, NC, along I-95.
Their easy acceptance of changing markets, customer needs, and technology really makes everyone's job easier, which makes us want to work with them.
One key thing never wavers: Immaculate equipment
No matter how fast they've grown, every driver at Cargo Transporters takes pride in their equipment. And it shows in their low rejection numbers.
They are the only carrier that I've ever worked with who received a complaint that a trailer smelled "too new." And it wasn't even that new of a trailer! I couldn't believe that was the complaint, but it emphasizes my point about their dedication to quality.
Congratulations Cargo Transporters!
To everyone at Cargo Transporters, it's a joy to work with you every day. I look forward to many more years of building our relationship. Congratulations. Your hard work pays off for a second year in a row!