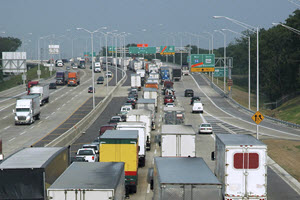 Building Visibility and Trust Through Logistics Automation | C.H. Robinson
As various waves of change continue to hit the transportation market, we are feeling the ripple effect throughout the industry. Government regulations, technological advancements, and other disruptors are causing many businesses to reevaluate their processes and the way they build relationships with other companies. This is particularly true in how evolving customer expectations are impacting relationships between shippers and carriers.
Real time freight visibility is becoming part of doing business
Real time freight visibility is becoming part of doing business | C.H. Robinson
Technology is constantly improving, which means more and more customers want to see their freight in motion in real time. Four hour batch EDI updates used to be the norm. A year or two ago, hourly pickup and delivery updates were satisfactory. Today, many customers require geolocation updates on a map every 15 minutes.
Most large carriers are able to provide this information because they've been able to make the necessary investments in technology infrastructure and equipment to support the transfer of that information. As a result, customers sometimes presume that level of visibility is attainable for every carrier, but it's not that simple: These solutions are not always an option for smaller carriers, for example.
3PLs can help bridge the gap
3PLs can help bridge the gap | C.H. Robinson
As a third party logistics provider (3PL), C.H. Robinson works with both customers and contract carriers, with a goal of providing value in both directions. We are able to bring a portfolio of small carriers that large and midsize shippers might otherwise have difficulty connecting with.
As part of this relationship, we provide customers with the information they need to plan accordingly when loads are delayed. On the flip side, we also aim to support small carrier businesses by opening the door to customer relationships they might not have access to on their own.
Understanding that logistics automation technology solutions can be expensive, C.H. Robinson has created two no-cost mobile apps as part of our Navisphere® platform, Navisphere® Carrier and Navisphere® Driver, to help small carriers provide the required information to customers and continue doing business without negatively impacting your bottom line.
As we move into the future, C.H. Robinson will look into developing additional solutions that can help the small carrier community continue to meet customer expectations while providing ample freight options for your business.
Privacy, customer expectations, and carrier benefits
Privacy, customer expectations, and carrier benefits | C.H. Robinson
A constant debate in the technology realm is the delicate balance between visibility and privacy. Many electronic logging devices (ELDs) and other available solutions are Bluetooth or app-based. While concerns about using your mobile phone as a track and trace device is understandable, the reality is the seemingly less invasive, hardwired options that connect directly to the truck are generally more expensive, so they might not be an option for smaller fleets.
Smartphones are often the only GPS-enabled devices that are readily available to drivers that can provide visibility to freight in transit. Our job as a 3PL is to provide equal value to customers and carriers, and trust is a critical component of that. Our carrier technology is designed to be easy to use but also minimally invasive, only tracking carriers when they are actively transporting a C.H. Robinson load.
In turn, it's important for us to offer benefits back to our contract carrier community. That's why we've included functionality to find loads, upload paperwork, and see payments quickly to help support ease of business for carriers.
Final thoughts
Final thoughts | C.H. Robinson
Supply chains around the world are changing. Velocity is accelerating, driven largely by ecommerce and changing consumer buying habits. In order to keep pace and continue building relationships between customers and carriers, we need to work together to figure out a mutually agreeable solution to increase visibility and build trust at the same time.