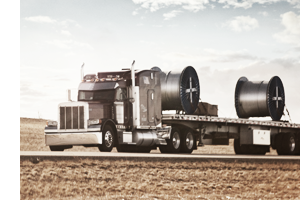 If you operate flatbed equipment, you likely noticed that demand for flatbed trailers is skyrocketing. Flatbed shipping is typically known for seasonality and variability in demand, but today's imbalance with supply and demand is overpowering typical market cycles.
What's causing the demand for flatbed equipment?
Well, it's a mixture of things. There's certainly overlap with dry van equipment and some macro trends (i.e., driver shortages, truck utilization, etc.), but the primary drivers are more specific to flatbed equipment:
Outcomes of the ELD mandate aren't as easily mitigated for flatbed carriers
Flatbed carriers and drivers are feeling a greater impact from the electronic logging device (ELD) mandate for a variety of reasons:
• Seasonal, project based freight limits opportunities for flatbed carriers to build freight networks and optimize drive time.
• 1:1 tractor to trailer ratios eliminates many process improvements dry van fleets are implementing.
• Pickup and delivery locations are distinct, requiring long dwell times for drivers at job sites, ports, mills, and other unique places.
• Securing and protecting cargo is labor intensive, resulting in decreased drive time and yield to the truck.
Many flatbed carriers are now booking equipment days in advance to plan effectively, have drivers home more, and make better use of drive time with ELDs in play.
Ongoing and future legislation changes add to flatbed demand
The current administration has proposed and already passed legislation that will drastically influence flatbed demand now and into the future:
• Tax reform means corporations are making capital expenditures, which tends to result in flatbed demand for plant modernizations, Greenfield projects, machinery upgrades, etc.
• Ongoing tax breaks for renewable wind energy adds to demand for flatbed trailers in the energy sector.
• $1.8 billion infrastructure bill, while not yet passed, could mean many roads and bridges would require flatbed equipment to deliver materials as they are improved.
• The steel/aluminum import tariff may result in more inland steel production, driving higher demand and shifting capacity away from ports.
Economic and industry influencers
Positive economic trends within specific industry sectors also heavily influence the demand for flatbed shipping:
• Improving oil prices combined with operations that are more efficient mean major oil companies are ramping up their U.S. business activities again.
• Agriculture machine sales are increasing due to global population and aging equipment. Many large industrial and agricultural machines require flatbed trailers.
• Manufacturing continues to see positive trends, resulting in additional demand for many commodities hauled via flatbed.
• Recovery efforts from last year's catastrophic natural disasters are ramping up as insurance settlements are finalized, meaning strong demand for building materials on flatbed trailers.
Going forward into the remainder of 2018, pay close attention to rail and LTL tonnage, the approaching tropical storm season, and low unemployment rates that make recruiting more challenging.
5 ways to maximize high flatbed demand
1. Openly communicate with shippers
With the seasonal and project-based nature of flatbed freight, it can be hard to establish strategic relationships with shippers. You can still open the lines of communication with the shippers you do work with and offer as much flexibility as possible on ship dates and loading hours. This can help set expectations and create better driver experiences. And the best shippers will openly communicate with you, too.
2. Try many ways to recruit new and younger drivers
Like the truckload industry, flatbed drivers are in high demand. To combat this driver shortage, consider how you recruit new drivers.
A combination of traditional methods such as print, direct mail, and radio, along with more modern tools may offer the most success. Actively promoting on social media (e.g., Twitter, Facebook, and LinkedIn) is just one new way to reach out to younger drivers—a hot commodity in our business.
3. Strive to retain the drivers you have
The improving economy means the already tight driver labor force will have opportunities for jobs in other fields, such as construction, that do not require them to live on the road. Once you have drivers, actively work to retain them. Even if pay raises are not possible, certain quality of life changes—like being home in the evenings—can make a big difference in driver happiness.
4. Promote specialized equipment, accessories, and training
This tactic is closely related to open communication. If your drivers have tarps, chains, or a more specialized trailer, make sure that shippers—both before and after booking—know exactly what you have to offer. Have your drivers received special training of any kind? That's also a positive point to share that can work in your favor. These may set you apart from others who cannot offer the same extras.
5. Work with a 3PL
If finding shippers and freight isn't your strong point, consider working with a third party logistics provider (3PL). You can utilize the large size and relationships of the 3PL's network to find freight for your equipment in the regions you want most. C.H. Robinson often helps our contract carriers by supporting their sales force. We can help you find the right freight for your equipment—and your fleet. After all, knowing how to be strategic during high demand is also critically important.
The increasing demand for flatbed capabilities isn't a fluke
The current imbalance for flatbed supply and demand is here to stay for now. We've already seen that demand for flatbed equipment in 2018 defies normal cyclical patterns.
This near-term supply and demand imbalance is going to stick around at least through the "typical" peak season. Predicting exactly when the imbalance will subside is challenging to determine due to the natural (and drastic) ebbs and flows of this space.
Get more information on how you can capitalize on the flatbed shipping market.