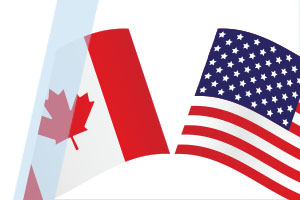 Infographic: Remove Shipping Barriers at the Canada/U.S. Border
Despite Canada and the United States having the world's largest trade relationship, many shippers run into challenges when crossing the Canada/U.S. border. Typically, the challenges come down to three basic issues that will affect any freight crossing the border.

Is your business falling prey to any of these common pitfalls? Streamline your cross-border shipping with this quick infographic:
*Click the infographic to read the pdf version that includes links to additional resources.
How carrier relationships can help at the border
Building strong carrier relationships is just one way to overcome two of the three challenges listed above. As the shipper, you're not the one physically crossing the border, but it's up to you to make it as easy as possible for the driver who is.
Try to align closely with carriers to ensure there is plenty of lead time and expectations are clearly explained—on both sides. And when possible, offer tools and resources to help drivers get ready before reaching the border.
One of the resources C.H. Robinson offers helps carriers check clearance status ahead of time. For shipments traveling from Canada to the U.S., drivers can visit our PAPS tracker. And for loads headed in the opposite direction, from the U.S. to Canada, they visit our PARS tracker.
For additional information on cross-border shipping, download our Removing Barriers to Canada-U.S. Shipping white paper.
Editor's note: This post was originally authored by Kelly Maccormack. Updates provided by Ben Bidwell, director of U.S. Customs at C.H. Robinson.