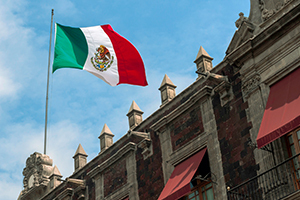 This year marks three successful decades of growing and working with customers and carriers in Mexico. Since 1990, when C.H. Robinson first opened an office in Monterrey, Mexico, the United States has since remained one of Mexico's largest trading partners in the import and export business.
Mexico increasingly more valuable for all world markets
As the world conditions have shifted most recently, Mexico's value proposition as a reliable, dynamic, and attractive manufacturing location continues to stand true. We are proud to have ten offices and over 350 bilingual experts in Mexico now. Our diverse collaboration between both countries is backed by local experts you can rely on. The quality of relationships with shippers, carriers, and suppliers is also stronger than ever.
Fresh commodities now included as leading import
Since NAFTA was signed in 1994, Mexico has been one of the United States' biggest trade partners, and vice versa. In 1995, Mexico exported $66.3 billion worth of goods into the United States. That number increased to $346.18 billion in 2018 as the trade relationship between the two countries has grown over the years. In 2015, U.S. manufacturing exports to NAFTA countries had increased 258% since 1994 when the trade agreement was originally signed. Today, the top exports from Mexico to the United States are vehicles, electrical machinery, mineral fuels, medical equipment, and agricultural imports.
Mexico is also the largest supplier of agricultural imports to the U.S. with top categories in fresh vegetables, fresh fruit, wine and beer, snack foods, and processed fruit and vegetables. U.S. imports from Mexico are up 767% from 1993.
Supply chain visibility continues to lead the way
C.H. Robinson's Navisphere technology continues to provide full visibility to customers in Mexico, whether they are shipping within the country, cross border between the United States and Mexico or exporting goods to countries around the world. The innovative technology platform first launched back in 2013 and has proven to be one of the most effective and important technologies built by and for supply chain experts.
The latest USMCA provisions combined with robust technology will likely continue to improve trade facilitation in cross-border shipments.
We are so proud of the many accomplishments our Mexico employees have had over the last 30 years and look forward to forging ahead in the coming years with the same enthusiasm!
Connect with a local supply chain expert you can rely on to support your business goals in Mexico.