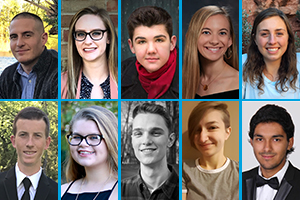 When education and passion combine, amazing things happen. That's just one of the many reasons C.H. Robinson helps fund educational opportunities through the C.H. Robinson Foundation Scholarship Program for contract carriers and employees. This is our sixth year of the program and I'm pleased to announce we've chosen this year's contract carrier scholarship recipients.
2018 Scholarship Recipients
Each year, we choose recipients based on academic performance, demonstrated leadership, participation in school and community activities, work experience, career and educational goals, and unusual personal or family circumstances. This year, each student received $2,500 to apply toward undergraduate tuition costs—in any area of study—for the upcoming 2018-2019 school year.
Below are the ten scholarship recipients for this year:
One of this year's recipients, Dakota Scott from Windom, MN, shared his feelings about receiving a scholarship, "The funds C.H. Robinson has offered will allow me to pursue amazing paths and take great, world-changing risks without having to worry about paying off significant student loans. I know that it is my responsibility to pursue education and the betterment of our world in your honor and I will not let you down."
To learn more about the individual recipients and carriers, please visit our scholarship website.
About the scholarship program
We hope that our annual scholarship can help contribute to educational success for our contract carriers and their children. C.H. Robinson is dedicated to giving back to those who make this company successful.
"The great contract carriers we work with are critical to our success," said Pat Nolan, VP of Operations for North American Surface Transportation, "The C.H. Robinson Scholarship Program gives us the opportunity to proudly support the educational goals of our contract carrier employees and their families."
119 scholarships have been awarded during the program's history. Over a third of those were awarded to contract carriers or their children to pursue their educational goals.
We will begin accepting applications for the 2019-2020 school year in January 2019. Interested candidates should visit our scholarship program website for more information. Scholarships are available worldwide.