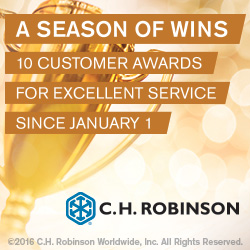 10 Awards Since January: C.H. Robinson is Proud to Accelerate Your Advantage.Transportfolio
Recently, C.H. Robinson received several awards from our customers. From Supply Chain Excellence to Customer Service Team awards, C.H. Robinson is overwhelmed by the outpouring of appreciation.
That's why I wanted to share our gratitude with you—our customers, contract carriers, suppliers, and growers—for letting us transform your supply chain into a competitive advantage.


Additionally, our employees deserve appreciation for these awards. They are the best of the best. Any recognition our company receives is a direct result of our 13,000+ employees. Help us win the top spot in the Inbound Logistics Top 3PL Excellence awards. A vote for C.H. Robinson is a vote for your C.H. Robinson representative. Click here to cast your vote.
Learn more about our recent customer awards: