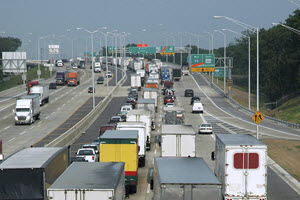 Carrier Advantage Program Helps Businesses Plan and Strategize | The Road
In a trucking market that's often volatile, we understand that for the carrier community, consistency is especially important. That's one of the reasons we started the Carrier Advantage Program (CAP)—to offer incentives for contract carriers who go the extra mile.
If you meet certain volume requirements, demonstrate consistent on-time performance, meet automation requirements and other criteria, you can gain earlier access to freight, pursue contractual freight opportunities and gain extra time to plan for loads.
Carrier Advantage Program requirements
Carrier Advantage Program requirements | The Road
The program is broken into three tiers: base, core and key. Core carriers are required to demonstrate strong relationships by aligning with a few C.H. Robinson offices and must meet a minimum shipment volume requirement. Key carriers must also meet these criteria as well as achieve a certain score on a quarterly benchmarking scorecard, which measures factors like automation, on time performance, bounce rates, service level agreement requirements, and operational efficiency. All C.H. Robinson contract carriers are in the program, but which tier you're in is up to you.
Carrier Advantage Program benefits
Carrier Advantage Program benefits | The Road
In the first year since the program launched, we've seen some interesting results. At launch, more than 700 carriers qualified for "key" status. Now, that number is substantially higher, with more carriers able to take advantage of more strategic, consistent business.
"This program is one of the key success factors for our business," said Anis Tayar, CEO, Nation Express. "The biggest benefit of being involved is it has definitely improved our business sales volume and helped us build a stronger relationship with C.H. Robinson due to easy automation access. Accurate information leads to better service. Generally speaking, programs like CAP improve the professionalism of executing this kind of business, leading to stronger long-term business relationships and sustainability."
Contract carriers are also using cell phone technologies for load updates more frequently than manual processes, which can save time and reduce the number of check calls needed. As a result, we saw a notable increase in updates coming from mobile devices in 2017 compared to the previous year.
While added benefits like controlling and managing loads for pickup and delivery, web offers and quick pay are appreciated, several key carriers say the early freight access has been the biggest perk for their businesses.
"For us, having priority on loads that are more convenient for our trucks is huge," said Perla Vidaurri, general manager, Trancasa. "Less idle time means drivers are able to load faster and get themselves back on the road as soon as possible. This allows us to plan ahead and make better use of each driver's hours of service, which results in more efficient use of our fleet."
"We appreciate being able to book loads in advance without having to compete with thousands of carriers for the same load," said Dawnnita Wright, backhaul specialist, A.N. Webber. "Our planners also know ahead of time where trucks are going to be to be in place, which subsequently helps increase our customer base."
Final thoughtsc
Final thoughts | The Road
CAP is designed to add value for carriers who work with C.H. Robinson regularly. As our contract carrier base continues to grow and change, we acknowledge that the needs and desired benefits may also evolve. If you have feedback or recommendations regarding CAP, please reach out to us via email at [email protected]