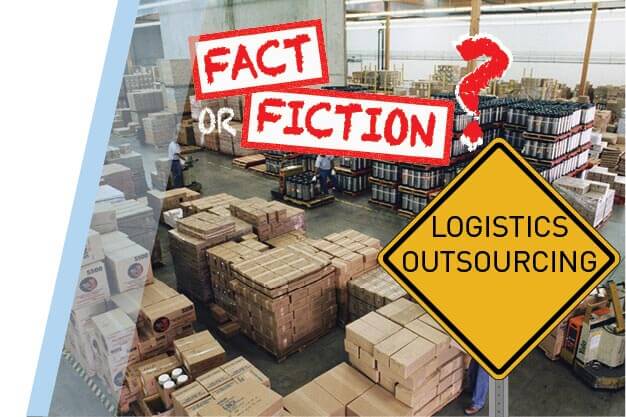 Myth-Busting Logistics Outsourcing
What is Logistics Outsourcing?
Logistics outsourcing is using an external supplier (3PL or 4PL) for logistics services a company cannot provide sufficiently themselves. Companies choose to outsource to save money long term, to achieve greater customer service, to achieve flexibility and scalability, to utilize advanced logistics technology, and to gain industry relationships.
Choosing to outsource logistics should be a strategic, carefully-made decision. Here, we have laid out five common logistics outsourcing myths and debunked them to give you a clear picture of what it is really like.
Common Logistics Outsourcing Misconceptions – What is the Truth?
Outsourcing is a big decision, but myths about outsourcing can cloud your decision-making. In fact, if you are in a room where people are discussing logistics outsourcing, you might hear these common misconceptions:
We can hand over the problems and issues associated with logistics operations by outsourcing.
Don't expect to outsource, wash your hands of logistics, and ride off into the sunset. You and your staff know your business, your customers, and what you want to achieve. The provider needs that input to solve logistics challenges that confront your company. Communication and collaboration with your outsourced logistics provider helps them understand your business and logistics goals. It also builds a high level of trust and ensures that the outsource solution aligns with your supply chain strategy. Without this, you're more likely to experience frustration, blame, and poor logistics performance.
Our costs will increase if we outsource logistics.
That's not what happened for companies surveyed for the "2016 Third Party Logistics Study: The State of Logistics Outsourcing." 70 percent of companies who outsource their logistics said that outsourcing has reduced their overall logistics costs. While your savings may vary, you can determine what it costs you now to staff and maintain your supply chain operation, and weigh those costs against the potential benefits of outsourcing.
Overall service levels will fall and customer complaints will increase if we outsource.
Preventing complaints and maintaining a high level of customer service should be everyone's top priority—including your outsource provider's, since they are an extension of your team. Organizations that collaborate with their outsourcing provider often benefit from the wealth of best practices that the provider brings from other outsourcing engagements. Many companies see improvements in customer service after they outsource. In fact, you are more likely to experience falling service levels and complaints if you leave the provider on their own.
We will lose the connection between our brand and the customer's experience by outsourcing.
Imagine that your company sees final mile delivery as a core competency. By the time you outsource, your provider should believe as strongly as you do that there is a direct connection between final mile delivery, the customer's experience, and, ultimately, the reputation of your brand. An outsource provider that does the job right will always seek to elevate customer experiences, not erode them.
We will lose control of the strategy.
With a well-structured outsourcing arrangement, you can actually increase control. You can require the provider to bring in strong talent to focus on tactical operations while your staff concentrates on strategic issues. Have them participate in daily, weekly, and monthly reviews. Require that they own, implement, and maintain best in class TMS technology that you can use for your operations. Even have them gather reports and provide analysis for metrics you and your company care about.
Final Thoughts
Since the 70s, it's become increasingly expensive for businesses to handle all of their own transportation logistics. As a result, logistics outsourcing has become extremely popular among successful companies; an industry report found that 90 percent of Fortune 500 companies in the United States are working with 3rd party logistics providers in 2017.
As the logistics outsourcing industry grows and more options are available, choosing the right outsourcer can become a complex process. To make sure your business' needs are fulfilled, seek out accurate information and stay on top of industry trends.
Find out the issues you really have to understand before choosing to outsource your logistics by reading a new white paper, Is Logistics Outsourcing Right for Your Company?
Related Article: