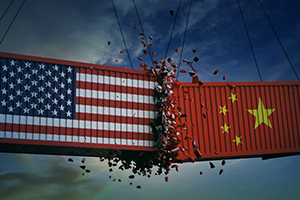 With the May 10 increase in duty rates on certain Chinese-made imports—and China's subsequent retaliation on U.S.-made goods—I think we can all safely agree the United States and China are in a fully-fledged trade war. So, in an atmosphere of uncertainty, what are the key elements supply chain professionals should consider to stay ahead?
Impacts to cash flow
Over the last six months, increasing duty rates from both countries have impacted cash flows in several ways.
For U.S. exporters (especially in agricultural products), China sales are down, resulting in cash flow constraints on the income side. For U.S. importers, duty payments have increased substantially on certain products, leading to much higher cash flow consumption on the cost side.
The old adage that two things move in transportation, goods and money, has never been truer than in today's climate. As I've been discussing the latest tariff changes with importers, a few recurring questions seem to be on most companies' minds:
Will our supply chain be more impacted by the policy changes affecting China-to-U.S. freight or U.S.-to-China freight?
What ripple effects will those impacts have on other areas of our business?
Will we need to increase our U.S. customs bond?
At C.H. Robinson, we're constantly monitoring the situation and communicating with our customers on potential consequences for their businesses. Because we're a comprehensive third-party logistics (3PL) provider—offering customs brokerage and trade compliance services as well as global ocean and air freight logistics—we use our unique market perspective to see end-to-end impacts and help manage our customers' complete supply chains in unpredictable times.
Will there be a surge of imports trying to beat List 4?
In late 2018, many U.S. importers pulled forward inventory in anticipation of potential tariff increases threatened for January 1, 2019. That threat was ultimately delayed until May 10, but talk of a next round of tariffs has already begun.
This new list of tariffs would be known as List 4 and would affect almost all currently unimpacted Chinese-made goods. That list still must make its way through a formal review process, but the new tariffs could be implemented as soon as late July or early August. Whether we will see importers again pull forward their inventory to try and beat potential duty increases remains to be seen.
Changing U.S. domestic freight flows
One of the repercussions of the U.S.-China trade war that has not received as much attention is the impact of the dispute on domestic freight patterns.
Indeed, the trade war has disrupted some U.S. trucking lanes, including an out-of-cycle surge in demand in Southern California related to the pull-forward of inventory in late 2018. Additionally, frozen pork and chicken, typically exported to China, has been routed to domestic cold storage instead, straining domestic refrigerated trucking capacity.
Now that the cost to import from China has increased, companies may find it cheaper to fulfill product with pre-tariff inventory from a warehouse 1,000 miles away (instead of new inventory assessed a 25% duty). As a result, several questions are beginning to emerge: Will companies in fact try to draw inventory from far-away domestic warehouses with lower landed costs? Will new suppliers require the establishment of new lanes? How would these shifts impact carrier networks that gain or lose freight? Only time will tell.
When will this trade war end?
Whether your company has been positively or negatively impacted by the trade war, uncertainty abounds; current policies and rules (in addition to new ones) may or may not be in effect six months, one year, or five years from now. Therefore, for many businesses, scenario planning increasingly appears to be essential:
What will your company do if current tariff levels are maintained for one month? Three months? Six months? Longer?
What will your company do if tariffs increase? Are you making any process adjustments now to prepare for such a possibility?
How would your company react to an announcement of a deal ending the trade war?
As you plan, make sure to bring your transportation provider and customs broker into the conversation to assess the transportation costs of new lanes, new suppliers, and shifting regulatory and compliance concerns. With close collaboration, deep business intelligence, and proactive planning, providers and businesses can make the most of these unpredictable times by mitigating risk and finding opportunity.