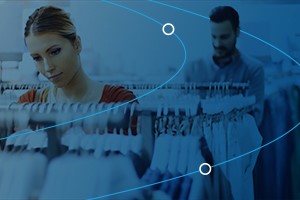 As the evolution of retail and the way consumers purchase goods continues to change, effectively serving both consumers and retailers is a strategic challenge for both shippers and carriers.
Understanding the ever-changing ecommerce landscape that includes new shopping preferences, fast delivery options, and fluctuating fulfillment infrastructure is critical. Crafting an integrated supply chain strategy that helps retailers deliver on their promise and keep prices competitive is at the heart of this challenge.
Long gone are the days when retailers only stocked physical shelves with goods and sold merchandise to shoppers who made the trek to their store during business hours hoping to find what they were looking to purchase. As ecommerce has exploded (online retail has grown 300% from 2000 to 2018) and mobile devices and social media proliferated, the balance of power has shifted. Consumers are deciding when, where, and how they shop.
Increasingly, they are shopping online. Ninety-six percent of Americans have made at least one online purchase and 51% of those surveyed say they prefer to shop online.
Fast delivery matters
So, what does this mean for shippers? Shippers face faster turn times, a need to provide end to end logistics and supply chain visibility, opportunities to extend their brands from website into homes, and tighter compliance and regulations from retailers (i.e., on time in full). Everything must move more quickly. There is reduced margin for error or disruption across supply chains because consumers are demanding goods faster than ever.
Two-day shipping has become the norm; consumers expect fast, free shipping for their purchases once they place an order. In a recent survey, 96% of survey participants said the availability of free shipping impacts their purchase decision. Free shipping is so important that 26% of survey respondents said they would rather pay slightly more for an item at a retailer offering free shipping than pay less for the same item at a retailer that charges shipping fees.
Two-day shipping standards are likely contributing to online shoppers' impatience with delivery times. A recent study found that the average length of time consumers are willing to wait for free shipping is 4.5 days. In 2012, they were willing to wait 5.5 days on average.
Demand for new shipping options
To meet consumers where they are and provide the choice, convenience, and customization they demand, retailers need to up their game, or risk obsolescence. Fresh, shopper-friendly physical and online store designs; diverse product offerings; convenient, low-cost shipping options; and personalized, return capabilities and seamless omnichannel experiences are essential. And the backbone of all of these—the critical strategy for retail success in this new landscape—is an efficient, nimble supply chain that can deliver faster and cost-effectively.
Retail supply chains by the nature of their industry are plagued by variable and unanticipated demands. A flash sale, a comment made by a celebrity about a product on social media, changes in weather, or a supplier bankruptcy can all wreak havoc in supply and leave retailers scrambling to meet consumer demand. Visibility and flexibility within the supply chain is more important than ever.
At C.H. Robinson, we have the technology, people, and processes to help retailers and their vendors keep up with the changing retail landscape including specialized retail offerings such as reverse logistics, nationwide consolidation, and last mile services. We are bringing visibility to the supply chain based on our work with the largest, most sophisticated retailers in the world.
Our retail experts understand the unique challenges of retail supply chains and how to translate them into solutions. In this new retail landscape, you need a logistics provider that can help you navigate ever-changing compliance requirements to manage your supply chain spend and maintain your reputation within the industry. Reach out to one of our experts to help manage through the volatility and changes today.