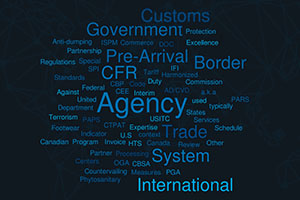 Everyone is talking about trade and tariffs—and the potential impacts on businesses and countries. But do you feel lost in a sea of jargon as you listen to the talk? People don't mean to be rude. But as they explain what's at stake and recommend courses of action, they may take for granted that you can speak what is essentially a foreign language as well as they can.
Important Trade Acronyms and What Their Purpose Is
Our goal is to help you participate in and contribute to these very important discussions on trade and tariffs, and how they are impacting the world around us. To help with that, we have outlined 10 popular trade acronyms in the chart below.
| | | |
| --- | --- | --- |
| Acronym | Stands for… | Purpose |
| CBP | Customs and Border Protection | CBP is charged with keeping terrorists and their weapons out of the U.S., while facilitating lawful international travel and trade. CBP manages customs, immigration, border security, and agricultural protection. (Note: the "P" in CBP stands for "Protection," not "Patrol"—a common mistake.) |
| CEE | Centers for Excellence and Expertise | CBP's goal for the CEEs is to put an end to port shopping and create uniform decision-making through all ports of entry. CEEs are charged with facilitating trade, reducing transaction costs, increasing compliance with import laws, improving enforcement efforts, and increasing uniformity of treatment at the ports of entry for identified industries. |
| AD/CVD | Anti-dumping and Countervailing Duty | CBP's Anti-dumping and Countervailing Duty Operations enforces U.S. anti-dumping (AD) and countervailing duties (CVD) laws. AD occurs when a foreign manufacturer sells goods in the U.S. at less than fair value, causing injury to the U.S. industry. AD cases are company specific; duty is calculated to bridge the gap back to a fair market value. CVD cases are established when a foreign government provides assistance and subsidies (e.g., tax breaks to manufacturers that export goods to the U.S.), enabling the manufacturers to sell the goods cheaper than domestic manufacturers. Domestic industries or labor unions petition CBP to investigate CVD cases, which are country specific. |
| PGA | Partner Government Agency (a.k.a. OGA or Other Government Agency) | PGAs are divisions of the U.S. federal government that work with CBP to regulate specific products imported into the U.S. Examples of PGAs are the Animal and Plant Health Inspection Service (APHIS), part of the U.S. Department of Agriculture; Office of Textiles and Apparel (OTEXA), part of the U.S. Department of Commerce; and the Food and Drug Administration (FDA), part of the U.S. Department of Health and Human Services. |
| SPI | Special Program Indicator | CBP manages a Generalized System of Preferences (GSP) for duty-free treatment of goods from designated beneficiary countries. To facilitate foreign trade, the government has many special programs for specific types of goods that provide for reduced or special duty, or duty free rates when imported from specific countries or within certain boundaries as provided in the law. The Census Bureau defines SPI codes used to designate these Special Programs, and the codes are implemented at the country and tariff levels for validation and duty calculation purposes. |
| HTS | Harmonized Tariff Schedule | HTS provides the applicable tariff rates and statistical categories for all merchandise imported into the U.S. The HTS is published by the United States International Trade Commission (USITC), Office of Tariff Affairs and Trade Agreements. CBP is responsible for administering the tariff and for processing import entries. |
| CTPAT | Customs Trade Partnership Against Terrorism | CTPAT, a voluntary supply chain security program led by CBP, aims to help the trade community strengthen international supply chains and improve U.S. border security. Today, more than 11,400 certified partners—importers, carriers, consolidators, licensed customs brokers, and manufacturers—have been accepted into the program. |
| CBSA | Canadian Border Services Agency | CBSA is charged with keeping terrorists and their weapons out of Canada, while facilitating lawful international travel and trade. CBSA manages customs, immigration, border security, and agricultural protection. |
| USTR | United States Trade Representative | USTR negotiates directly with foreign governments to create trade agreements, resolves disputes, and participates in global trade policy organizations. They also meet with governments, business groups, legislators, and public interest groups, gathering input on trade issues and discussing the President's trade policy positions. |
| NAFTA | North America Free Trade Agreement | NAFTA is a Free Trade Agreement between the United States, Canada, and Mexico that entered in force on January 1, 1994. NAFTA Tariffs were eliminated progressively and all duties and quantitative restrictions, with the exception of those on a limited number of agricultural products traded with Canada, were eliminated by 2008. NAFTA also includes chapters covering rules of origin, customs procedures, agriculture and sanitary and phytosanitary measures, government procurement, investment, trade in services, protection of intellectual property rights, and dispute settlement procedures. The United States is currently renegotiating NAFTA provisions with Canada and Mexico. |
It's one thing to know the acronyms, of course. It's another thing entirely to understand how these organizations, programs, agencies, and more work together. Get up to speed on these commonly-used acronyms, or contact one of our Trusted Advisor® trade policy and customs compliance experts. We can talk you through the latest issues facing your business and industry. Or, attend one of our upcoming seminars on customs and trade compliance. One way or another, we can help you make sense of trends and offer recommendations that can help.