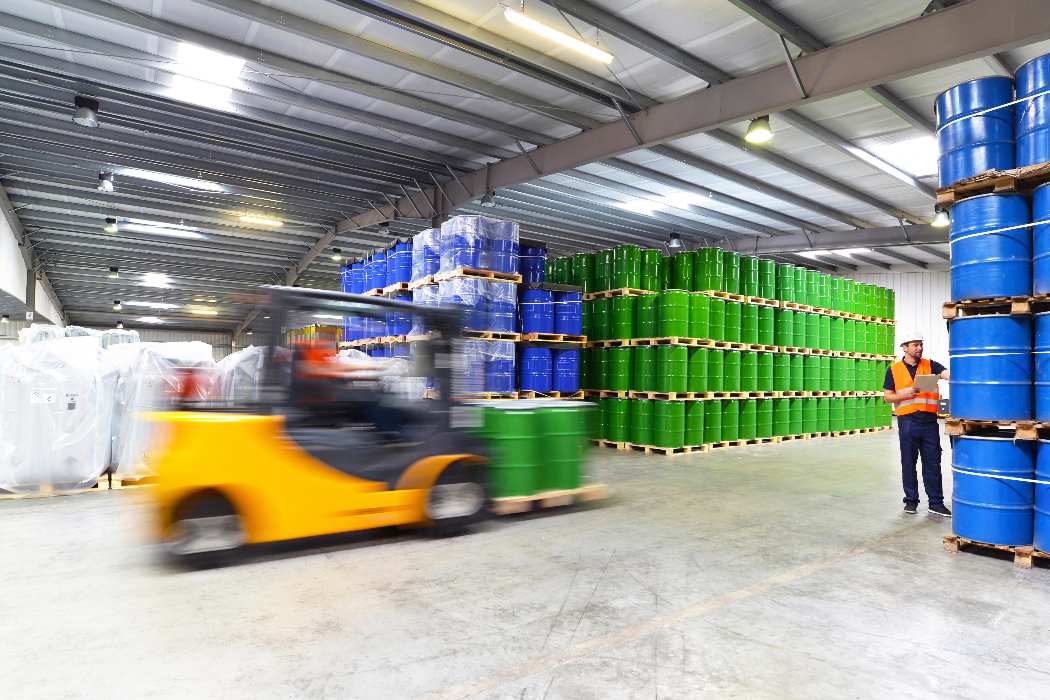 When you don't need a full truckload to move your products, less than truckload (LTL) could be the answer. Used to transport freight that isn't large enough to require a full trailer, LTL shipping allows you to pay for only the portion of the trailer your freight occupies. This lowers transportation costs, potentially providing you with substantial savings.
However, the smaller, shared nature of LTL freight means it is subject to additional unloading, sorting, and reloading along a transportation route—adding a layer complexity that can be difficult to navigate for some industries.
While LTL may not seem like the best solution for moving chemicals, it is actually an excellent option because it may allow you to ship smaller quantities more frequently. The LTL shipping process for freight that falls into the product class 'chemicals' can be complicated due to strict regulations that govern how hazardous materials are transported.
Also, traditional LTL freight moves through a hub and spoke system that could be suboptimal for the chemical industry. But with careful consideration, it is possible to leverage all the benefits of LTL for your smaller, chemical shipping needs.
6 Factors to consider when planning LTL chemical shipping
1. Ensure shipments follow hazardous material regulations and compliance
Chemical shipments usually involve hazardous materials that are subject to strict European regulations. Navigating legal requirements, labeling, special packaging, and necessary documentation can be stressful. It's critical to find a reliable 3PL provider familiar with regulations involved in transporting chemical shipments.
2.
Consider product compatibility and segregation

Chemicals, when packed together with certain other chemicals, can cause a reaction. It's vital to ensure proper segregation and compatibility with other products packed with your shipment. A 3PL provider well versed in the chemical industry will help to ensure your loads are not transported with others that could create a dangerous reaction.
3.
Require standards for time-sensitive deliveries

Although LTL shipment is convenient for smaller parcels, delivery can take longer and must be planned in advance. Longer delivery times or delays can critically impact chemical shipments that may require delivery within a stricter timeframe. On time in full (OTIF) standards are the best way to navigate this potential pitfall. Requiring OTIF standards from your 3PL provider will help ensure your chemical freight is delivered within the necessary timeframe.
4.
Monitor for fragility and temperature requirements

Chemical products can be sensitive to physical shocks, vibrations, or pressure changes. To ensure proper handling, use technology to measure humidity, temperature, and other factors.
5. Use expert carriers to ensure safety
To handle chemical shipments safely, carriers must have specialized knowledge, certifications, and equipment. Be sure to verify the expertise of your carriers when considering an LTL strategy. A trusted 3PL provider can often help you find the correct resources.
6.
Consider cost and risk management

LTL pricing structures consider weight, volume, and hazardous factors. To manage your costs and mitigate risk, your chemical LTL shipments should not route through multiple distribution facilities. Crossing too many docks can be dangerous for your load. Seek out a 3PL that can help you reduce risk while managing costs.
Help with your LTL chemical shipping strategy
Though shipping chemical freight has added complexities, with thoughtful planning and the right partners you can get all the benefits of LTL while ensuring proper handling of your shipments. At C.H. Robinson we understand the challenges unique to the chemical industry and have the expertise to safely transport your freight. Our experts know how to minimize reloading, ensure product compatibility, control temperature, manage your costs, and mitigate potential risk.
Contact one of our experts for smarter solutions. They can apply their experience to your LTL shipping challenges for optimal shipping performance.