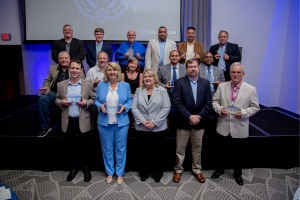 Last week, we at C.H. Robinson had the great pleasure of hosting our 2018 Contract Carrier of the Year Award ceremony in Minneapolis, Minnesota.
The Carrier of the Year Awards honor some of the most innovative and productive North American truckload carriers in our network. The event recognizes contract carriers who have provided outstanding service; this year's winners are also leaders in technology use and collaboration with the C.H. Robinson team. It was a true privilege to welcome the awardees to our corporate headquarters, show them around our campus, and host a fun evening celebrating their many accomplishments.
C.H. Robinson's 2018 Contract Carriers of the Year
We awarded twelve contract carriers—out of our network of over 76,000—in ten different categories. This year's winners include:
Truck owner-operator: Jose Sanchez—Maywood, CA
Truck owner-operator: StanTranz—Walkertown, NC
2–10 trucks: Avalon National, LLC—Cassadaga, NY
2–10 trucks: Jeffrey D. Leyk—Burtrum, MN
11–50 trucks: Jack Rust—Rogersville, MO
51–100 trucks: Pope Trucking, Inc.—Pearson, GA
101–299 trucks: A.N. Webber, Inc.—Chebanse, IL
300–999 trucks: Nussbaum Transportation—Hudson, IL
1,000+ trucks: Covenant Transport, Inc.—Chattanooga, TN
Flatbed: Cheetah Transportation Systems—Houston, TX
Temperature Controlled: Orbitz Trans, Inc.—Riverside, CA
Rookie of the Year: DJP Trucking, LLC—Trevor, WI
Celebrating our freight transportation relationships
C.H. Robinson teams and carriers shared many personal stories of working together to go the extra mile during the three-day event. The occasion also offered a chance to step back from the busy day-to-day world of freight transportation and reflect on the essential carrier/provider relationships that make C.H. Robinson's services so powerful.
"The close relationships we have with our contract carriers are fundamental to the reliable quality that make up our diverse truckload shipping capacity network; these awardees represent many of the most exceptional out there," said Mac Pinkerton, president of North America surface transportation, who emceed the presentation ceremony.
"We're delighted to be able to celebrate these carriers that make freight shipping more efficient and more productive for all, and I'm excited to see how we continue to grow together," he added.
Highlighting first-class freight management all year long
Though our annual ceremony is a special occasion, we're proud to acknowledge our extraordinary contract carriers every day through our Carrier Advantage™ Program. We created this program to provide carriers with benefits that keep their business moving. The benefits of the Carrier Advantage Program include:
A dedicated account manager
Contractual freight opportunities
Early access to freight
Reduced QuickPay program fees
Web-offer capabilities
All our Contract Carriers of the Year have obtained Key status, the highest recognition tier within the program. Our Carrier Advantage Program is just one way we at C.H. Robinson keep our relationships central to connect trucks and freight in situations when no one else can.
Please join me in congratulating our 2018 Contract Carriers of the Year!
We're already looking forward to the stories we'll hear and the connections we'll create at next year's ceremony.