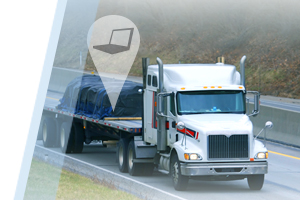 While flatbed shipping is extremely important to our economy— industries like oil and gas, construction, and manufacturing depend on flatbed shipping— it involves a lot of challenges; procurement can be difficult, there is rampant decentralization, and technology tends to be overlooked. To combat challenges and optimize flatbed shipping processes, use a third-party logistics provider (3PL).
By leveraging a 3PL's expertise and capabilities, flatbed shippers have the potential to increase visibility to freight, and develop consistently across all modes of transportation. Here are five key ways a 3PL can improve the flatbed shipping process, as well as dramatically impact the visibility of transportation activity:
Gain Business Intelligence-Shippers take advantage of business intelligence (BI) tools when it comes to the majority of shipments, but often miss the same opportunity when it comes to flatbed shipping. By utilizing a 3PL's BI tools, such as a TMS platform, shippers have the ability to drill down into their freight and break down information across all modes. The utilization of BI allows an organization to perform a mode-specific cost analysis to help ensure they make the best decision when it comes to selecting the appropriate mode of transportation. Lastly, accurate seasonality forecasting across the business can be a major benefit, especially in the flatbed industry.
View Real-Time Tracking & Tracing—Improving efficiency is a focus for all shippers. A 3PL can provide on-demand, simplified tracking, and automated alerts for increased awareness of shipment status. Proactive tracking also allows for better utilization of jobsite crews giving full visibility to the current location and delivery estimated time of arrival (ETA) of a particular shipment. Utilizing a 3PL's website/mobile app can be a great tool for on-the-go notifications.
Assess Risk-In the flatbed industry, it is critical to stay up to date on current liability terms, especially with over dimensional and other unique shipments in the mix. A 3PL allows shippers to obtain the most recent information available through active score carding and carrier insurance and authority reviews. These practices help organizations actively mitigate their risk and confirm all parties are on the same page.
Streamline Payments—A consistent process for invoicing and payables can be achieved via a 3PL. The ability to obtain PODs online offers convenience that will make business processes more efficient. On the carrier side, carriers can receive payment up front, which is increasingly important in a high-fuel market.
Final Thoughts
As you can see, 3PL technology can have a profound, beneficial impact on flatbed and transportation business. A growing number of flatbed shippers want to dig into their shipment information and find ways to make positive changes. Working with a 3PL is the key factor that allows them to do so.
Learn more about the flatbed services a 3PL can provide your business.