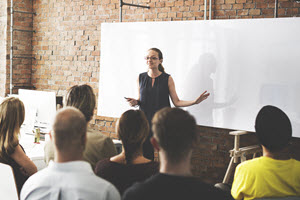 What is a 3PL & How Can They Benefit Your Business? | Transportfolio
A third party logistics provider (3PL) can help you reach your logistics goals and increase the overall efficiency of your organization in the process. Whether your business is big, small, new or old, a 3PL is well worth considering if shipping is a high priority for your business.
So what exactly is a 3PL?
So what exactly is a 3PL? | Transportfolio
At the most basic level, 3PLs offer logistics services to support certain aspects—sometimes all aspects—of shipping operations. Typically, 3PL providers are integrated into a company's warehousing and transportation procedures.
By scaling and customizing services, 3PLs can best meet your specific needs. You can choose the level of involvement one has based on your needs and goals. They can provide a single service or deliver a bundle of services that extend across multiple aspects of your supply chain. These services work with your processes to increase your supply chain visibility. Additionally, leading 3PLs create value in ways that enhance your operational, financial, and end customer performance.
3PL vs. 4PL
3PL vs. 4PL | Transportfolio
Third party logistics and fourth party logistics (4PL) are both purchased professional services that help businesses plan and execute logistics initiatives.
So, what is the difference between third party and fourth party logistics? A 4PL most often focuses on the design and execution of business processes and oversight of the moving parts of a business's supply chain. They often collaborate with multiple 3PLs (transportation and warehouse 3PLs), asset-based carriers, and warehouses utilized by the business. Conversely, as an underlying service provider, 3PLs tend to focus on discrete functions of supply chain operations.
What is 4PL?
Fourth party logistics—more commonly abbreviated as 4PL—is when a company uses an integrator that brings together resources, capabilities, and technologies to streamline the design and execution of a company's supply chain.
If you choose to work with a 4PL, they will supervise your transportation and warehouse 3PLs along with any asset-based carriers and warehouses you use. This oversight helps ensure your goods are moved efficiently throughout the entire supply chain. Generally, 4PLs target the complete supply chain process, are often involved in each component, and can act as a single point of contact for all involved parties.
Key examples of 3PL: The major functions
Transportation
When it comes to transportation, 3PLs can engage carriers, consolidate less than container load (LCL) or less than truckload (LTL) freight, track freight payment and insurance documents, and work with private fleets.
Working with a 3PL can also help lower your transportation costs, drive efficiencies, and develop solutions for complex supply chain challenges. And with connectivity to various phases of supply chain operations, third party logistics providers are often able to provide real-time visibility to your inventory as it is in motion.
Global shipping
Shipping globally can be complicated and stressful for businesses. A 3PL can handle global shipping logistics considerations like customs, freight forwarding, and consolidation to relieve your allocated time and money for those processes. As a representative of a customer's business, a third party logistics provider also works to require all trade compliance requirements are met, costs are managed, and execution goes as planned.
Information technology
A 3PL often uses information technology to manage ecommerce, customer relationships, transportation, and warehouse operations. Tools like electronic data interchange (EDI), application programming interface (API), and cloud-based systems are the most popular tools trusted by 3PLs. No matter which tool is utilized, the goal is to provide increased visibility to supply chain processes as well as shipments in transit.
Biggest advantages of a 3PL
Working with a third party logistics provider offers many advantages. Here are some of the most commonly cited benefits of working with a 3PL.
Gain expertise and knowledge
Supply chain logistics can be complex; fulfillment, warehousing, and shipping all come with major challenges. When it comes to supply chain logistics, 3PL organizations are experts and can support customers with years of experience and industry connections to quickly streamline processes.
Additionally, 3PLs often give insight into issues that come up when shipping internationally. Such issues include documentation, customs, duties, and differing shipping regulations. Working with a third party logistics organization can also relieve the stress of trying to comply with international shipping protocols.
Save time and money
Using a 3PL can greatly reduce or even eliminate the need to invest in warehouse space, technology, transportation, and employees to carry out logistics processes, allowing for more focus on your core competencies.
Third party logistics providers can also make organizations proactively aware of supply chain mistakes that could be costly and risky. By providing industry forecasting, 3PLs also help optimize inventory levels to save on inventory holding costs.
When working with a 3PL, organizations can save time by receiving the expertise needed to carry out supply chain logistics efficiently.
Scale operations and be more flexible
When a company uses a 3PL, they can scale space, labor, and transportation according to current inventory. Additionally, they are often able to ease the transition between seasonal periods and industry fluctuation.
When expanding into new markets, businesses can rely on a 3PL to aid growth in new regions. Always looking for ways to improve aspects of supply chains, 3PLs have the tools and technologies necessary to make adjustments that could prove challenging for businesses on their own. Management software can analyze and monitor supply chain procedures to eliminate inefficiencies. Third party logistics providers bring continuous improvements to your logistics process, which ultimately leads to savings and greater efficiency during your logistics initiatives.
What to consider when selecting a 3PL provider
There are countless third party logistics providers to choose from and choosing the correct one for your business is essential. It is important to remember that, when you work with a 3PL, you are adding an extension to your business, so choose wisely.
Here are a few things for you to consider when making a 3PL decision:
Business volumes
Evaluate your organization's inventory and typical business volumes. Choose a logistics provider that can handle your current operations and scale should your processes increase or decrease.
References and past performance
See references from the 3PL's current customers to get a real sense of what it's like to work with them. Pay attention to their ratio of on-time versus delayed deliveries, how they handle problems, and how they communicate with their customers. It is a good sign when they have longstanding relationships with their customers; it means they build positive, productive connections that are mutually beneficial.
Technology
Look at the technologies your business uses and pick a 3PL that is compatible with them. You want to be sure that your chosen 3PL can work as seamlessly as possible with your current business operations.
Additional 3PL resources
For more information about the benefits a 3PL can provide to your business, check out these links:
Outsourcing Generates Supply Chain Efficiencies: Toshiba, the electric motor company, lacked visibility to international shipping costs and services, hindering their international supply chain growth goals. Learn how working with 3PL C.H. Robinson helped the company outsource supply chain operations, resulting in year-over-year cost savings.
The Benefits of Carrier and 3PL Collaboration: Carriers choose to work with 3PLs for a variety of reasons. Hear from Leonard's Express CMO, Mike Riccio, about why and how his company chooses to align themselves with strategic third party logistics providers.
Final thoughts
Third party logistics providers can offer expertise, help streamline supply chains, and save time and money. Trusting 3PL experts with your shipping logistics can really make a difference in the way your business functions and allow you to focus on increasing your overall value to customers.
The bottom line? Your supply chain strategy needs to meet unique demands. Learn how C.H. Robinson brings 3PL solutions to overcome challenges in your industry.