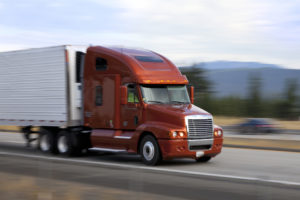 Last December, the electronic logging device (ELD) mandate went into effect for the broader carrier community, marking a change in how professional truck drivers and commercial motor carriers log hours of service (HOS). The federal ELD mandate, which states that fleets previously using paper logbooks needed to equip their trucks with ELDs, went into full enforcement—which includes issuing non-compliant drivers with out-of-service citations—on April 1, 2018, with the exception of a limited 90-day waiver for the transportation of agricultural commodities that remains in effect until June 18.
Regardless of the HOS-tracking mechanism a carrier uses, shippers can implement certain practices in the produce industry that better optimize carriers' time and help make fresh produce more competitive in the freight market.
What is the ELD mandate?
Under the mandate, carriers and owner/operators must use authorized ELDs in their vehicles. Fleets that were using an automatic on-board recording device (AOBRD) before December 18, 2017, have an additional two years to comply. The mandate is not changing the hours of service (HOS) for a driver; rather, it is changing the method of recording from a paper book to an electronic log—an ELD synchronizes with a vehicle's engine, automatically recording driving time. The mandate is also an attempt to improve driver safety and make it easier to efficiently and accurately track, manage, and share records of duty status (RODS) data.
ELD and HOS exceptions apply to certain vehicles and carriers, during planting and harvesting periods, and for the transportation of agricultural commodities within a 150-air mile radius from the source of the commodities. Specifics around ELD HOS and agriculture exemptions are spelled out here.
While carriers and owner/operators are directly responsible for complying with the mandate, this shift in protocol can significantly change day-to-day operations for drivers, fresh produce logistics, and the produce industry.
Best practices for ensuring that fresh produce shippers' management processes align with the ELD mandate
It's easy to project assumptions that the ELD mandate will force drivers and carriers to be more diligent in adhering to HOS. Whether or not this is true, this is a good opportunity to examine your processes to determine if there are strategies you can employ that will help position your freight to be as attractive as possible in an environment where carriers are seeking freight that minimizes driver down time. There are several ways produce shippers can streamline their processes.
Two key best practices to consider include:
1. Optimizing loading processes.
As timing becomes more important for carriers, so does the need for organized, known, and efficient loading and unloading processes. To help optimize drivers' time and reduce wait time, shippers can offer appointments in an expanded window of time throughout the day. Appointments allow drivers to have flexible and known loading schedules, which, in turn, helps them effectively manage their drive time and make the most productive use of their time as allowed within HOS rules.
2. Increasing lead time whenever possible.
Short lead times may contribute to higher carrier rejection rates. Ideally, with better planning processes in place, you can provide carriers with at least 48 hours lead time on every shipment. Longer lead times help carriers meet their network commitments and business goals, and it gives you a better chance of securing the capacity you need before someone else books it.
Final thoughts
Like many commodities, produce must move swiftly and efficiently through the supply chain. Temperature-sensitive goods demand proactive planning, quick turnaround, and expertise in temperature controlled shipping so that they maintain the correct temperature all the way to their final destinations. The ELD mandate highlights the importance of shippers' roles in helping to optimize carriers' time, and it will become even more critical as the produce peak season approaches. Because of this, carriers and shippers may rely more heavily on third party logistics providers (3PLs) to help identify and solve capacity shortages, handle potential rate increases, and address other issues that arise from the mandate.
If you have any lingering questions about how the ELD mandate could impact your fresh business, connect with one of our experts.
Editor's Note: A version of this post was originally published on Robinson Fresh's blog, Freshspective, on April 12, 2018.