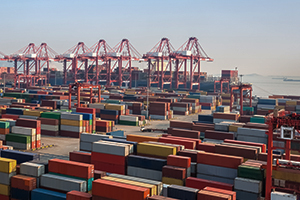 Succeeding in global shipping can be difficult; you need to navigate transportation options, customs compliance, and ever-changing industry practices. In order to help you remain compliant, keep costs down, ensure efficiency, and stay on top of new trends and technologies, we've created this guide to help you conquer all of your global shipping challenges. Here's what you need to do to be successful in the market.
Developing an optimal global shipping strategy
Individual countries have different shipment regulations, and goods need to travel long distances. Global shipping can be difficult to organize, and costs tend to be high. However, a well-planned global shipping strategy—or a program that outlines how you distribute goods internationally—can help your business meet international regulations, keep costs down, and optimize supply chain processes.
An important component of a global shipping strategy is vendor management. Your global vendor management strategy should revolve around purchase order (PO) management of global vendors, typically through technology. To properly manage the POs, you need a single point of contact between you and your vendors—usually a specialized provider. As POs come in, the provider calculates the dates for cargo to be picked up and continues to verify as the delivery dates approach.
To plan and execute a global shipping strategy with a comprehensive vendor management program, you need both intelligent data analysis and supply chain expertise, which can be achieved with a global technology platform and a supply chain consultant.
Global shipping options and how to choose the right one
You need to make decisions about how you will transport your goods globally. If your cargo needs to cross oceans or extremely long distances, your most likely choice will be air freight or ocean shipping. Each method has its advantages and disadvantages. Use this guide to determine which is best for your business:
Air freight
Shipping globally via air offers two major benefits: speed and reliability. Although it can be less budget friendly, air freight gets your goods where they need to go, quickly and dependably.
There are three major types of air freight— next flight out, consolidated, and deferred. Learn more about each type to determine which best fits your shipping needs:
Next flight out

: Sometimes called expedited air freight, next flight out puts your goods on—you guessed it—the next available flight. To ship via next flight out, you need to pay a premium, as well as locate capacity last minute.

Consolidated

: As with other types of consolidated shipping, consolidated air freight combines your cargo with other shippers', so you only pay for the space you need. While consolidated tends to be less expensive than other air freight options, consolidated shipments move on a set schedule, so you need to plan your timelines carefully.

Deferred

: Deferred air shipments are for low priority freight, as they are placed on planes with extra space. Finding an aircraft with available space can take a few days, so you should only ship via this method if your cargo does not have a fast-approaching, hard-set delivery date. Shipping deferred tends to offer the greatest cost savings.
Combining air freight with other methods of transportation, such as ocean shipping, as part of a multimodal global strategy is an excellent way to boost efficiency and, when done strategically, cut costs.
Ocean shipping
When determining if ocean shipping is right for your business, consider the following factors:
Cost

: Ocean shipments are billed by container (standard containers are 20 feet or 40 feet) and charged at a flat rate. In the case of less than container load shipments, billing is done by the cubic meter. In general, ocean shipping is a very cost-effective global transportation option.
Speed

: A potential downside of ocean shipping is the lack of speed; ocean shipments can sometimes take weeks to arrive. Keep your delivery deadlines in mind when deciding whether to use ocean shipping or a faster method.
Reliability

: Ocean shipping reliability is growing, thanks to ongoing alliances between carriers. However, dangerous weather conditions that can knock ocean delivery schedules off course should always be a consideration.
In the air versus ocean shipping debate, use this rule: If your shipments have a hard, quickly-approaching arrival deadline and your budget allows, ship via air; but if you have more arrival date flexibility or want to save money, ship via ocean.
How to remain customs compliant when crossing borders
Trade regulations are always changing, so it's incredibly important to stay up to date on compliance protocols. Use the following strategies to ensure your cargo is always compliant:
Utilize an experienced, compliance-focused broker

: A compliance-focused broker can help you with ISF filings, bonds, duties, taxes, and other complex processes. They can also answer any questions that may come up and help you optimize your global business strategy.
Employ knowledgeable, trained internal staff

: In addition to a robust compliance program that includes a manual, staff training is an absolute must, since compliance relies on smart decisions and processes across the organization.

Understand common compliance fines

: Based on C.H. Robinson's experience, the most common customs compliance fines are due to improper valuation, classification, and misunderstandings of free trade agreements. Avoid being penalized by utilizing a compliance broker who can ensure your freight is shipped properly.

Prioritize documentation

: Snags in documentation cause compliance issues and delays, so have all documentation in order before the cargo ships and send to brokers as early as possible.
Remaining compliant ensures your freight crosses the globe safely, efficiently, and without fines.
5 global shipping trends for 2019
Over the past few years, robust demand, positive inventory developments, and higher rate levels have increased most global carriers' margins. These trends are helping the global logistics industry, but there are other trends whose impact is not so clear. Consider the following trends:
Increased consolidation

: The popularity of consolidation has been increasing in recent years, and all signs point to continued growth in the future.

Tariffs

: U.S. tariffs on Chinese products have impacted shipping trends this year, and could continue. The 301 tariffs, Lists 1 and 2, went into effect in July and August of this year, implementing 25% duty on $50B worth of Chinese goods. In addition, List 3 added a 10% duty on $200B of Chinese goods on September 24, 2018. The proposed increase on January 1, 2019 to 25% on List 3 products is currently on a 90 day hold. If no deal is reached between the U.S. and China within 90 days, then the tariffs could increase to 25% around March 1, 2019. To learn more about this trend, view our tariff webinar.

Carrier alliance shakeups

: Well-known alliances like 2M+HMM and Ocean Alliance may soon be changing due to carrier consolidation. This could potentially complicate how shippers select carriers in future.

Higher capacity

: Higher capacity is driving the need for larger vessels, which will likely operate in Asian and European trade. Therefore, rates could fluctuate, and carriers could use tactics like blank sailings to stabilize supply, demand, and rate levels.

Technology adoption

: Shipping technologies like visibility and automation platforms, ecommerce, ELDs, cryptocurrencies, and digital marketplaces are being adopted across the industry. However, almost half of bookings are still made manually, so there are still fundamental areas that are awaiting logistics technology adoption.
Adapting to trends is crucial for success, so keep on top of industry shifts, and adjust your global shipping strategy accordingly.
Final Thoughts
Global supply chains tend to be more complex than domestic ones—they have more moving parts, meaning there are more opportunities for service failure. Thus, prioritize creating a global shipping strategy with thorough global vendor management programs, practicing solid PO management, strategically selecting transportation methods, utilizing a global technology platform, and maintaining supply chain visibility to successfully and consistently move shipments across borders and oceans.
Learn how C.H. Robinson can help optimize your global shipping strategy for success in the cross-border market.