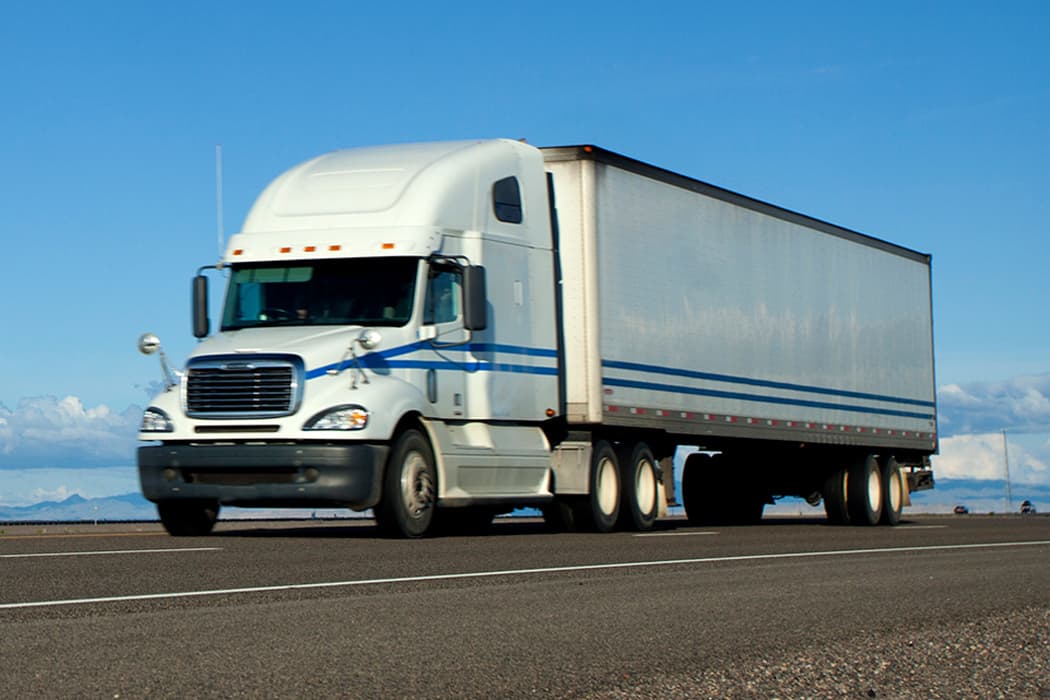 Every year, we recognize a handful of our 73,000 contract carriers with our Carrier of the Year Awards. And every year, we have the opportunity to highlight all they do. Because this is an exclusive award, we select our winners based on a list of criteria including their ability to consistently deliver on time and in full for customers, their adoption of carrier technology to drive efficiencies for themselves and shippers, and their effort to go above and beyond to successfully support shippers' needs. We also listen to our carrier reps, who tell us how our work with these carriers makes the lives of our shippers and truck drivers easier too.
Making a personal connection to the winners
Of course, our criteria list doesn't cover everything about these carriers. The best part of the awards, for me, isn't just the glory these carriers receive, it's also hearing their stories, connecting with them personally and learning what this award means to them. I love knowing that some carriers are able to be home more often with their families because we offer the most loads of anyone in North America, allowing truck drivers to optimize lane selection and schedules. It's also invigorating to hear that they can carry more loads, innovate, and grow their business faster because of the technology we've developed to drive efficiencies and savings. At times, our work together even helps support a carrier's ability to hand down a family legacy and that is amazing to see. Here are a few comments from carriers on what this award means to them.
What the award means to Daily Express Inc.
"This award strengthens our relationship with C.H. Robinson as we work together to provide safe and reliable services to those who care about their freight and the care of which is it handled."
– Daily Express Inc.
What the award means to Dayton Freight
"Thank you to C.H. Robinson for this wonderful recognition. We are humbled to receive this accolade and thank our dedicated employees for their commitment in serving our customers."
–Dayton Freight
What the award means to Millwood Trucking
"We are honored to be recognized as Carrier of The Year in our division and appreciate this acknowledgement. We look forward to continuing our relationship in the future, while offering the same high level of service as we have provided for the past 40 years."
–Millwood Trucking, Inc.
What the award means to Old Dominion Freight Lines
"Thank you on behalf of the Old Dominion family. We really appreciate the relationship. We respect your knowledge and your common-sense approach to the partnership, and I think it's just a pleasure to work with you, and we really appreciate that. You know everybody in the C.H Robinson family is a pleasure to do business with. Thank you very much for the for the honor."
–Old Dominion Freight Lines
What the award means to Skyway Express
"I want to say thank you, everybody. It's an honor. One day I can be doing dispatch. One day I can be driving. Working with C.H. Robinson makes my life way easier. 95% of my runs are with C.H. Robinson so it's an honor to be here today and all I want to say thank you."
–Skyway Express
The 2021 Carrier of the Year Winners
The full list of the C.H. Robinson 2021 Carrier of the Year Winners includes:
Berber Trucking, Tranquility, California
Blunt Enterprise LLC, Mansfield, Missouri
Daily Express, Inc., Carlisle, Pennsylvania
Dayton Freight Lines, Inc., Dayton, Ohio
Dieselgrid, Savannah, Georgia
Freeport Logistics, Inc., Phoenix, Arizona
Gabriela Transport Services, Kitchener, Ontario
J&R Schugel Trucking, Inc., New Ulm, Minnesota
Millwood Trucking Inc., Nashville, Arkansas
Nathan's Trucking, New Berlin, Wisconsin
Old Dominion Freight Line, Inc., Thomasville, North Carolina
Rented Mule Express LLC, Chatsworth, Georgia
Road Hogg Transport LLC, Hilliard, Ohio
Seneca Foods Eastern Fleet, Geneva, New York
Seneca Foods Western Fleet, Payette, Idaho
Skyway Express, Inc., Chicago, Illinois
Timmons Transit, Inc., Jonesboro, Arkansas
Saying thank you
As a part of the celebration for this fourth annual Carrier of the Year Awards event, the winners will also be recognized through C.H. Robinson's ongoing carrier appreciation initiative, which has donated $100,000 to drivers while encouraging people across the nation to write digital thank you notes to truck drivers who help keep the world moving, even during a pandemic.
In honor of the 17 Carrier of the Year Award recipients, the C.H. Robinson Foundation is increasing its previous donation amount of $1 per thank-you message to $17 per thank-you message sent via ThankTruckDrivers.com. The donation, of up to $25,000, will go to St. Christopher Truckers Relief Fund, which helps truck drivers in need.
Thank you to all the outstanding Carrier of the Year Award winners we announced last week, and I can't wait to see how we continue to grow together as we work closer than ever with our carrier network.