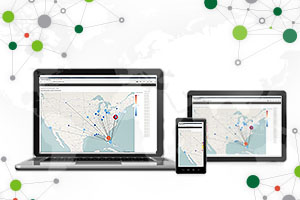 Digging into Fresh Food Supply Chains: Trends, Challenges, and Best Practices | Transportfolio
When I head into a store or restaurant, I can't help but think about all of the behind-the-scenes work it took to get the products I use every day onto the shelves or plate in front of me. Accessibility to the items we consume is the result of the complex processes of the fresh food supply chain—safely, efficiently moving product from fields to shelves—all orchestrated by supply chain professionals around the world.

Recently, I joined Adrian Gonzalez on an episode of Talking Logistics to discuss the fresh food supply chain. Here are a few highlights from our conversation.
The logistics of a healthy side–a fresh fruit cup
Explaining the complexities and numerous factors that impact the fresh food supply chain is better done with a tangible product in mind. So, think about a fresh fruit cup. Consumers know that mixed berries and tropical fruits don't magically appear in restaurant kitchens. Rather, fruit cups are possible thanks to fresh supply chains.
Many key players and moving parts in fresh produce logistics
Let's break down the different players involved in getting fresh produce from the field to store shelves or restaurant kitchens—from upstream on the supplier side, to transportation, to distribution.
Inventory management processes are key
Retailers, restaurants, and foodservice companies all want to make sure the right products get to their locations at the right time, at the right temperature, at the right price. That's why the right inventory management processes are important.
3 critical attributes of a best in class operation
By nature, supply chains are complex. But with supply chain and vertical experts on your side, best practices and proven processes in place, and the right technology platform providing you with the visibility and data you need, you can execute and manage the complexities of fresh food supply chains.
Data management leads to improved operational performance
Real-time data lets you make faster, more accurate decisions for your supply chain and can help uncover hidden costs. Suppliers, transportation providers, and distributors can all have very different levels of technology, and those technologies can impact your data. Learn more about the importance of data management in this clip.
Two trends in the fresh food supply chain
With consumer habits changing by seemingly the day, retailers, restaurants, and foodservice companies need to be able to execute on inventory turns faster. After all, consumers expect the items they want to be available—at the price marked on the menu, display, or advertisement. That's where inventory management and cost containment come into play.
5 questions to assess your fresh supply chain
Without a doubt, the fresh food supply chain can be difficult to navigate, but working with experienced, collaborative providers can make all the difference. In this clip, you'll get five key questions to guide your conversation and help ensure you're working with a company that aligns with your supply chain strategy.
You can watch the episode in its entirety here. If you'd like to explore options to improve your fresh supply chain, connect with one of our supply chain experts.