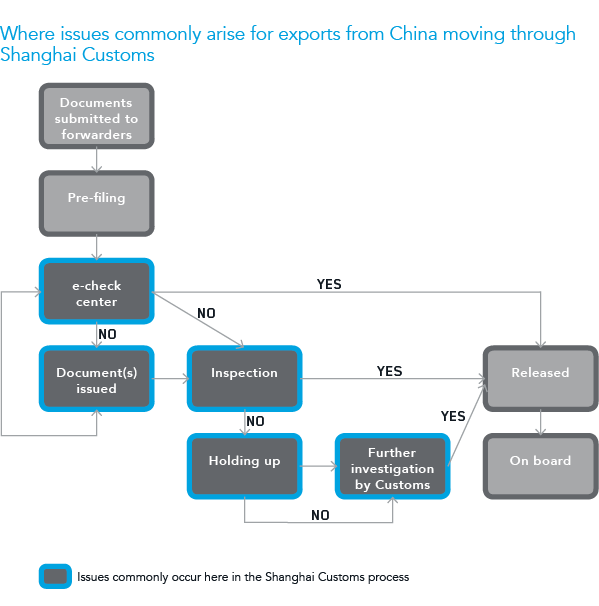 A Brief Introduction to China Customs: How It Works in Shanghai | Transportfolio
It surprises many China exporters to discover that there is no single customs entity in China, and no unified customs export processes, standards, and requirements across the country. Each Customs office has its requirements, and exporters need to learn the requirements for the areas where they will seek clearance for their China exports to avoid potential delays. Still, it is helpful to look at how the export process works at the Shanghai Customs office to understand the roles that exporters, freight forwarders, customs brokers, and the Customs office all have to play. There are steps you can take as a China exporter for faster clearance through Shanghai Customs, and things your forwarder should be doing to help you if your products are held for inspection.

To get the picture of the process for exports through Shanghai Customs, review the graphics below. You'll see the specific responsibilities of each party in the customs clearance process and areas circled where many delays occur.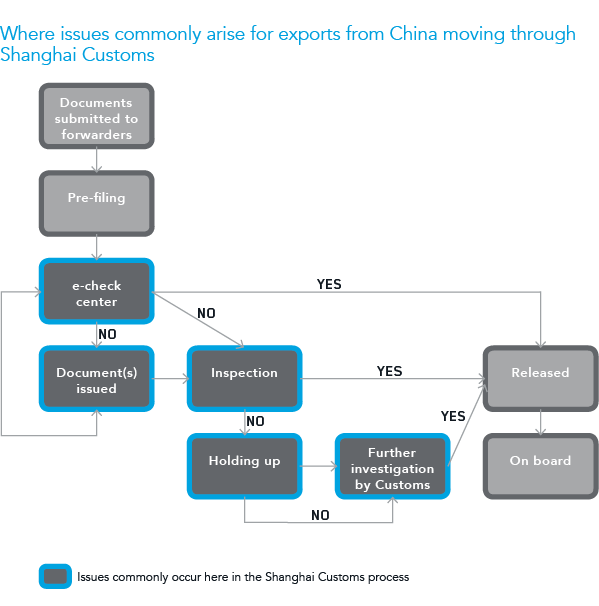 Generally, China exporters hold the key to speed up customs export clearance from China. These tips can help ensure you're accurately completing all your declaration documents.
Observe the laws. This is indeed the fundamental principle. If you have questions about what is required, talk to your freight forwarder or customs broker.
Get licensed by Customs for import and export clearance. Exporters must either obtain registration licenses and be successfully registered with Customs, or must entrust a foreign trade company to perform the clearance on their behalf.
Prepare all necessary declaration documents and declare all information to customs faithfully. Customs has the right to reject any declaration documents that do not match the requirements. Exporters should provide true and accurate information about their goods in the formats that are required to make sure everything goes smoothly.
Use the proper Harmonized System (HS) customs classification code. Exporters can obtain some tax refunds, based on certain HS codes. Customs may impose fines for any shipment declaration with an incorrect HS code.
Provide other relevant documents, if needed. For instance, Customs may require exporters of chemical cargo to provide the molecular structure. For dangerous goods (DG) cargo, MSDS, Original Technical Description of Dangerous Goods in Packaged Form, and Original Proper Package Certification of Dangerous Goods are needed.
As noted earlier, exporters often struggle with requirements because customs offices in China have different requirements. For instance, the Shanghai Customs office has no recognition standards for loose cartons and general less than container load (LCL) cargo, but has port-specific requirements for palletized LCL bonded cargo.
As a result, when products come through the Waigaoqiao (WGQ) port, Shanghai Customs accepts the quantity (QTY) to be declared as cartons (CTNS), boxes (BOXES), or other small packages. But if those same products come through Yangshan port, it is better to declare the QTY as pallets (PALLETS), or the goods may be rejected by customs due to QTY discrepancy. Your freight forwarder and customs broker should help you flag and correct issues like these before they delay clearance for your products.
Note that these requirements continue to change. China Customs recently posted a new policy that went into effect on January 1, 2018; it stated that going forward, the QTY discrepancy will not be an issue for bonded cargo.
Oversights and errors can lead to inspections. A good freight forwarder can help you by preventing such oversights before they affect your shipments. And if your products are being held for inspection, your freight forwarder should care about your lead times and costs, and they should always have a Plan B for your shipments.
What should I expect from my freight forwarder?
If your products are being held, your forwarder should let you know that an inspection is occurring, and contact Customs to find out why. If the goods do not pass inspection, the freight forwarder must take steps to get a release from Customs as soon as possible, even if that means arranging a face-to-face meeting with Customs to get further explanation.
Finally, once your shipment is cleared, your freight forwarder must be able to give you options for expediting your shipment. In our business, we flag goods as "hot shipments" and give them priority, reserving space and rearranging space on the first available sailing once goods are released to prevent any further delay.
Customs clearance is an important part of the whole process. All parties to the transaction must strictly observe the laws and regulations of Customs in China. Customs is always trying to take more practical steps to expedite the clearance process, including creating a paperless clearance process that many exporters find helpful. With this information in hand, we hope you can find the process a bit less intimidating in the future.
Do you have questions about this post or about customs in general? Connect with an expert today.