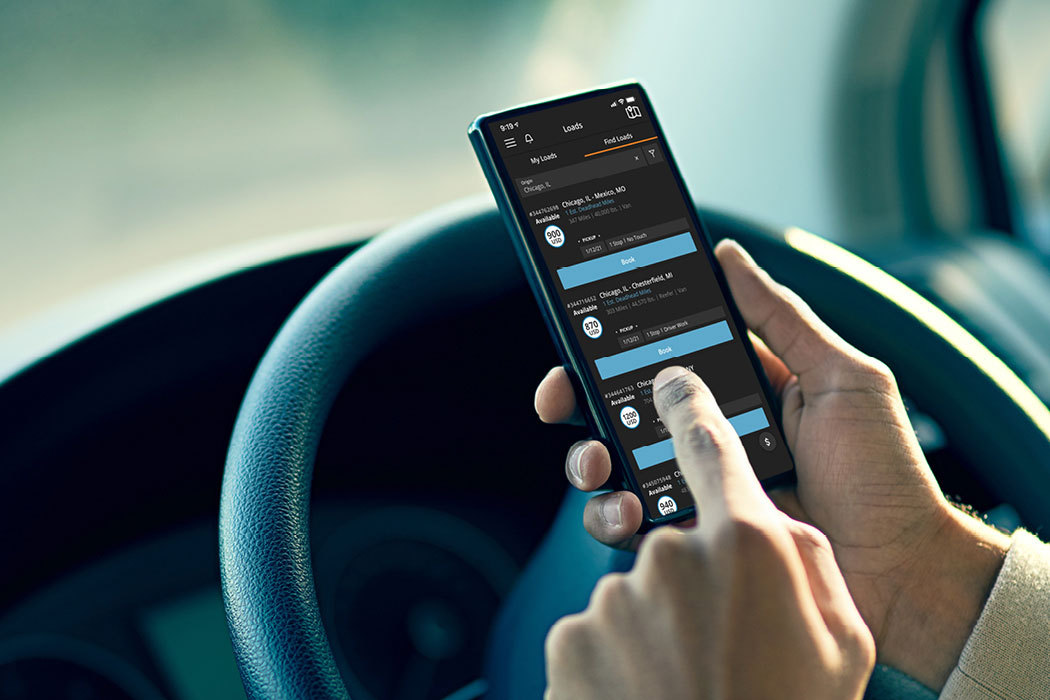 As businesses grow, they always have to evolve to reflect the demands of the market. And in a world where reliable carriers are more critical than ever—thanks in part to ecommerce and heavier demand—that evolution means the use of more advanced carrier technology.
Carriers and drivers often experience the pain of early mornings and late nights. Long days and demanding routes are part of the job description. The good news is carrier technology can enhance the way shippers and carriers connect—minimizing some of the sacrifices carriers make to get shipments where they need to go.
The right supply chain technology means you can haul smarter.
Carrier technology keeps trucks moving
For carriers around the country, maintaining a constant flow of business is the key to success. It can also be one of the most challenging aspects of hauling freight—especially during times of market volatility.
Carrier availability is a critical component of supply chains everywhere and can directly impact a shipper's on-time performance and transportation costs. Finding the right load for the right truck can be a bit of a matching game. It' one that comes with an added challenge: What works this time might not be the best fit the next time around.
The key to this particular puzzle is having a wide variety of load options easily available. With more loads available online than any other provider in North America, C.H. Robinson can offer carriers the loads you want in the lanes you need. Best of all, you can instantly search, bid on, and book these loads with Navisphere® Carrier—anytime, anywhere.
Carrier technology enhances operational efficiencies while managing risks
When talking about supply chain visibility, the focus is often on shippers. Drivers are responsible for providing regular in-transit updates, yet the information is most often used to show shippers their freight is on the move. In reality, visibility can be just as important to carriers. It helps them understand where their drivers and equipment are at, so they know when and where to pickup their next load. Plus, visibility can help carriers communicate early arrivals and delays. And it's another aspect of smart business that can be improved through carrier technology.
Providing in-transit updates means providing quality service to customers. And in doing so, C.H. Robinson contract carriers are rewarded with the best freight and payment terms via the Carrier Advantage Program. Strategically, this same information can lead to improved service levels and better relationships with shippers. As part of the Carrier Advantage Program at C.H. Robinson, contract carriers can access current and trending service information in Navisphere Carrier. Carriers can improve their tracking automation score by connecting an ELD/GPS with C.H. Robinson or download the Navisphere Carrier app. Carriers with the highest on-time delivery and hourly tracking scores will get the loads you want, quickest payment, and unbeatable service at every turn. want, quickest payment, and unbeatable service at every turn.
Carrier technology improves cash flow
In the United States, 59% of truckload capacity is controlled by owner-operators. For these companies, clear financial processes and consistent cash flow can be the difference between carrier profitability and bankruptcy. Today's carrier technology can help reduce time spent on managing costs and cash flows.
Smartphones and mobile apps mean many aspects of getting paid can start while carriers or drivers are on the road. With the Navisphere Carrier mobile app, carriers can request a cash advance at pickup, upload and manage bills of lading (BOLs), view financial documents, review current payment statuses, check on invoices, and enroll in Quick Pay.
Haul smarter. Every load, every mile.
The ability of carriers to streamline processes, cut costs, and satisfy customers all comes back to technology. People are still at the heart of growing and maintaining carrier relationships, but through carrier technology, carriers are even better positioned to reach their goals.
Navisphere Carrier gives you the power to haul smarter. Every load. Every mile. And, as always, highly experienced C.H. Robinson representatives are only a phone call away.